I'm extremely sad that we don't yet have a virtual reality OpenSim viewer for the iPhone. (If you're new to this blog, check out What is OpenSim?)
But that doesn't mean that we iPhone users can't explore virtual reality at all.
I recently bought a Google Cardboard headset — one of the cheap ones actually made from cardboard — assembled it, and started looking for apps. (Where to buy Google Cardboard.)
Here's what I found.
Tuscany
Remember that video of the grandmother trying out the Oculus Rift for the first time? The Tuscany demo came with the Oculus Rift, so everyone has seen it. Unless, of course, you don't have an Oculus Rift.
Well, now if you have $5 to $10 for the Google Cardboard, you can experience the Tuscany demo on your iPhone.
Download the Tuscany — Beenoculus app here.
It looks fabulous. Okay, the field of view is much narrower than on the Oculus Rift. And you can see the individual pixels — at least, on my iPhone 5 you can. And there are no keys or joysticks you can use to move around.
So here is what you do. You load up the app. Once it's running, you put the iPhone in the case and close the Velcro latches. You hold it up to your face — unless you sprung extra for a headband, in which case you don't have to keep holding it.
Then you look straight down until you see a red circle where your feet should be. Keep looking at that red circle for a couple of seconds until it turns green, and you'll be moving forward. Turn your head side to side to change the direction in which you're moving. Look back down at the circle until it turns red again to stop moving.
You can go inside the villa and look around — check out the ceiling. And you can walk around the entire periphery of the property. The view over the bay is just amazing. Listen to the birds.
Now go grab your own grandma and make her do it.
And check out the other apps by the same developer.
Roller coasters
Now you've been to Tuscany, the next thing to try is a roller coaster. Everyone is always screaming when they ride virtual roller coasters wearing the Oculus Rift. It's got to be fun, right?
Well, it's not quite as much fun on the Google Cardboard because of the narrower field of view. But it's still pretty cool.
My favorite free app was the Roller Coaster VR app by FIBRUM. Nice graphics, pleasant sounds, and some gorgeous scenery made this a very pleasant ride. And it's short, too — not enough to make anyone nauseous.
So feel free to share this app with your grandmother, as well.
And check out these other apps by FIBRUM.
I tried out a few other rollercoaster apps, as well. The Dive City Rollercoaster by Shoogee is from the same folks who brought you the Durovis Dive headset. It's set in a futuristic location, has a modern coaster track and some nice loops.
My least favorite of the free apps was Rollercoaster Simulator by Andrew Nakas. Sure, there was a choice of three coasters to ride, but the graphics were minimalistic. It seemed more like a proof of concept than something you would show to people, like your friends or your grandmother.
There are also paid coaster apps in the iPhone app store. I tried out Coaster Extreme! Endless 3D Stereograph by Snow Storm Software, which cost $0.99, Coaster! 3D Stereograph by Snow Storm Software, which cost the same price, and also their Coaster in Space! 3D Stereograph by Snow Storm Software.
They felt like programming experiments more than games, with basically no graphics at all to speak of. Don't waste your money on this bunch.
I didn't even bother trying out the VROOM Coaster by Snow Storm Software.
After my bad experience with the Snow Storm apps, I was reluctant to spend $2.99 on Cmoar Roller Coaster VR by Cmoar — but it turned out to be the best of them all. A weird combination of a Western mine and flying dragons, this coaster has some excellent scenery and some amazing jumps.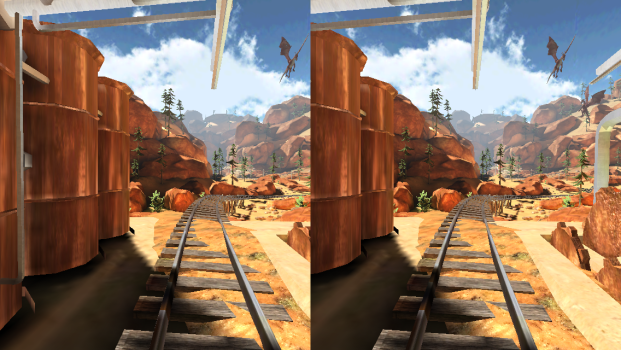 My only quibble with this particular app is that I sometimes had trouble focusing. I don't know if that was just me, though — I was getting tired and I really should have been wearing my glasses.
Cmoar just completed a successful Kickstarter campaign for their headset, too, which could be hitting the market this summer.
Insurgent
So you've done the Tuscan villa, and rode a virtual roller coaster. Want to see what a really powerful virtual reality experience is like?
Check out the Insurgent VR app from Lions Gate Films. When you first load it up, there's a menu — look at the "Shatter Reality" option to the left until the simulation loads.
You're sitting in a chair — you can look down and see your legs and arms. The people talking to you look you in the eye. The limited field of view disappears, you quickly get used to the graphics quality — and you feel like you're there. When the probes came at me, I flinched.
The app isn't really interactive. You can look around, and that's about it. But it does put you in the middle of the action, so it feels as though it's happening around you. If anything can make you see the potential of virtual reality, this app is it.
Fantastic Voyage
Next, I've got an app for you where you can actually do something for a change.
InMind VR by NIVAL, INC. puts you in the cockpit of a minituarized submarine-like vehicle that travels through the brain of a depressed patient. Your job is to look for the red-colored neurons and focus in on them long enough to shoot them down.
Somehow, that will make the patient feel better.
It feels like a cross between a roller coaster game and a shooting game. You focus on the target by moving your head, and the trick is to keep it centered on the neuron while your vehicle continues to move.
The graphics were great, the voice-over narration was appropriate, and my only complaint was that the game was too short.
Snowboarding
Shakedown VR by Videotron Ltee is a cute and short app where all you do is spend a couple of minutes snowboarding.
I was briefly amused, and then deleted it.
Snow Globe
If you have little kids, they might be entertained by the Snow Shaker Maker by Brilliant Basics. You pick what you want to go into your snow globe, then you put the iPhone into the headset and you're inside the snow globe you created, while snow falls and holiday music plays.
Might be a nice diversion during the really hot summer months.
Duck hunt
More of a proof of concept than an actual game, Moorente by Die Etagen GmbH lets you shoot down ducks that are remarkable for their extremely short stubby wings. It's a miracle they can fly at all.
You shoot them by looking directly at them, so the duck is right in the center of your crosshairs.
That's it. You just stand and shoot down ducks.
Sailing
Another simple app is Brave the Wave VR by Ginger Kong, where you sail a boat by tilting your head to one side or the other while giant burgers, gold coins, and piranhas come flying at you.
The game makes no sense, the graphics are low quality, but, on the plus side, it's free.
Test drives
Several car companies have been offering virtual test drives, or virtual previews of car options and accessories, usually only for showroom visitors, and with the Oculus Rift.
The Volvo Reality app, however, lets you take a test drive on your own smartphone, without leaving your home.
It's nicely done, and certainly exposed a lot of people to their XC90 SUV who wouldn't have heard about it otherwise. As the the number of these virtual marketing experiences grows, however, companies are going to have to do more than just show some pretty scenery.
You know what I would like to see? A movie-tie in, where a company's car is involved in some kind of stunt or car chase, and you get to experience it as a driver or passenger in that car.
Real estate
Virtual reality apps seem like a no brainer for showing off real estate properties. But it probably takes quite a bit of time to take 360-degree videos of properties, or to recreate them using 3D graphics.
So there don't seem to be too many apps out there just yet. Ermont 360 VR by Figaro Classifieds has three virtual tours of properties recreated in 3D.
A similar app is the Timpaan Verandawoning by Smart2it. It lets you walk around the property, but not go up or down the stairs. Look down for a couple of seconds to go, or to stop.
And Casa Maracanã VR by Alex Sartorio Coelho features one virtual property — a particularly ugly, cement-wall one.
However, Casa Maracanã has doors that open when you walk up to them. I was on the edge of my seat with excitement. What was behind that door? A dark closet. You can also go up and down the stairs.
Museums
You'd think virtual museum apps would be all over the app store. But while there are plenty of traditional apps, there are few 3D ones.
One I like, that does away with the nausea-inducing effect of gliding through a virtual space while your body is sitting still is Goggle VR Neuschwanstein Castle by IUW. It handles navigation by hanging arrows in the air — look at the arrow for a few seconds, and you're teleported to a new location.
You get both interior and exterior locations. But, unless you're planning on buying yourself a castle — or are just a really really big fan of castles — I wouldn't spend the $1.99 that this app costs.
Instead, check out the free Neon Museum app by Massive Square. Nice videos, and the same kind of teleport-to-move navigation that reduces queasiness.
Another app that is kind of museum-ish is the VR/Exposition by VR/Heroes. You're in a large gallery space with a handful of pictures hanging on the walls.
It's free, but I'd skip it until they do something more interesting with it.
Scroll down for some generic video player apps — there are more museum tours there. Which makes sense, since all the museums have to do is just record the video and don't have to create their own virtual reality app on top of it.
Dinosaurs
Looking forward to the new Jurassic Park movie? I know I am.
But the app Jurassic Virtual Reality (VR) by Lunagames Fun & Games didn't do much for me. You move in the direction you're looking at until you stop because you've hit something. You turn by turning your head. You can wander around until you see some dinosaurs, but that's about it.
It would keep a kid in a car entertained for a couple of minutes. On the plus side, it's free.
Sharks
I had high hopes for Sharks VR by Lakento because I like sharks.
Unfortunately, the app seems optimized for the 59 Euro Lakento headset, and requires external controllers.
So with a Google Cardboard headset, the best you can do is look around. You can't swim, and you can't shoot the sharks.
3D videos and photographs
There are several apps in the app store that let you watch 3D videos with your Google Cardboard headset.
360Heros by 360Heros Inc. has a large collection of 3D videos shot with GoPro cameras.
There are also a few videos in the Kolor Eyes – 360° video player by Kolor app.
And in the im360 app by Immersive Media. This one also has some museum tours, as well as other types of recorded 3D videos.
The app Polar Sea by Wemersive offers helicopter videos of the polar seas.
There's the TC360 Player by Total Cinema 360, which comes with a showreel of some 360 degree videos you can watch, to whet your appetite.  This player is also supposed to be able to play other videos, but I couldn't get any of them to load, except for this cruise ship tour app from Azamara Club Cruises.
I loaded up the Azamara3DI.com website in my phone's browser, and it offered the option to load the 3D tour.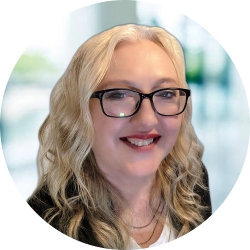 Latest posts by Maria Korolov
(see all)