Press release: 23 million America adults already experimenting with virtual reality according to new study
NEW YORK — As the technology world braces for major virtual reality product releases, many millions of Americans have already experienced the technology, according to a new study released today. According to YouVisit's Virtual Reality Appetite Index, around 23 million American adults, 11 percent of the online adult population, have already tried virtual reality, even ahead of consumer product launches due this winter, including the release of the Facebook Oculus Rift, Sony PlayStation VR and HTC Vive headsets.
A further 30 percent of online Americans aged 18 and up express a desire to try the technology, indicating a receptive market for the forthcoming wave of headset innovation and virtual reality content development.
According to Digi-Capital, the virtual reality industry is projected to grow to around $30 billion annually by 2020.
The YouVisit study also found that younger consumers are the most likely to have trialed virtual reality, with 18 percent of 18-24 year olds reporting that they have already tried VR and 46 percent eager to try it. But it is not just younger generations that show pockets of interest. Perhaps surprisingly, one in seven Americans aged 65 and over wants to try virtual reality.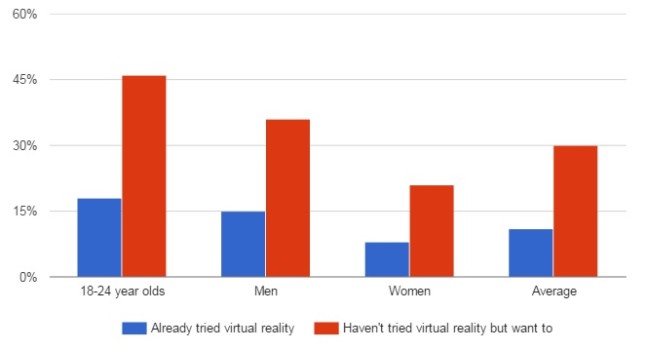 The virtual reality industry has some work to do in capturing the interest of women, however. More men than women have tried virtual reality technology (15 percent vs. 8 percent) and more men say they have not tried virtual reality but want to (36 percent vs. 21 percent).
One possible reason for this gap in enthusiasm and adoption is the industry and media focus on gaming as the primary use case. According to the survey, 40 percent of men would be inclined to use virtual reality for gaming, whereas just 15 percent of women would use the technology for this purpose.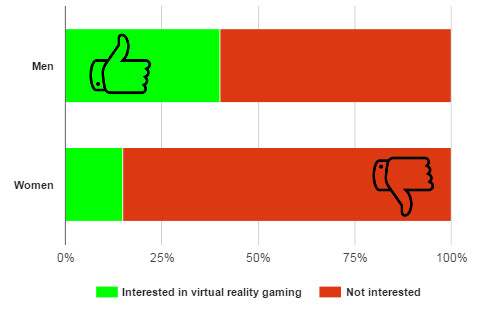 "Given that some of the major consumer releases are still a few months away, it's a hugely positive sign to see this level of adoption and enthusiasm for virtual reality," said Abi Mandelbaum, CEO, YouVisit. "To push adoption to the next level, however, the industry needs to develop a greater diversity of experiences that appeal to consumers beyond gaming. One thing that will truly propel virtual reality will be democratization and the corresponding "social' effect – when consumers themselves or someone within their personal networks are involved in the creation of virtual reality content, they are much more likely to try, share and even evangelize for the experience. This acceleration is not as far off as some may think either, given the cameras under development and the platforms that are already available."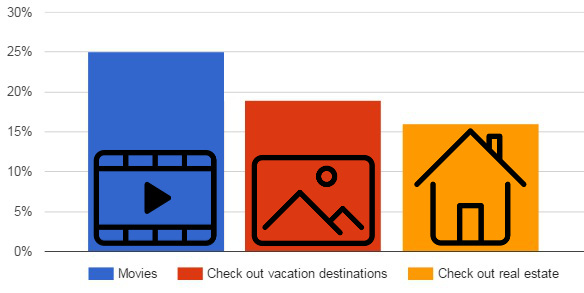 Other interesting findings from the Virtual Reality Appetite Index include:
A quarter of Americans are interested in using virtual reality to watch movies. Watching movies was the use case preferred by women, with 20 percent saying they would use VR for watching films.
One in five (19 percent) would use virtual reality to help pick a vacation destination and one in six (16 percent) would use it to view property.
Respondents living in rural communities were the least likely to show interest in almost all use cases, including gaming, movies, theater, music concerts and viewing vacation destinations, when compared to urban and suburban respondents. However, rural respondents ranked higher than suburban respondents for using virtual to check out a property.
Consumers can experience the world's biggest library of virtual reality content by downloading the YouVisit smartphone app available for both iOS and Android devices. For those who will not be able to initially get their hands on a headset, a host of content is accessible as interactive 360-degree virtual experiences on YouVisit's website, www.youvisit.com.
Survey Methodology 
The findings are based on a Google Consumer Surveys poll of more than 1,000 online Americans aged 18 and above, conducted in late August 2015. Google Consumer Surveys automatically field a validated, representative sample of respondents and allocate users according to the demographic spread of U.S. Census data of Internet users.
About YouVisit
YouVisit offers the only fully integrated platform for creating, distributing and monetizing virtual reality and other immersive experiences across all devices, including headsets, mobile and desktop. The company has already empowered thousands of organizations and individuals, including leading brands in the travel, education, real estate and entertainment spaces, to create and share memorable and interactive virtual experiences that both engage and convert target audiences. Learn more at www.youvisit.com

Latest posts by Press Release
(see all)