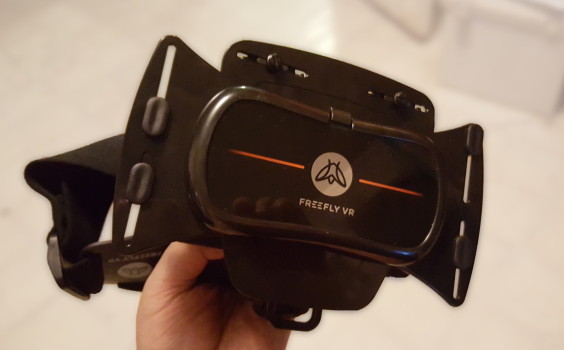 My Freefly VR headset came in the mail a couple of days ago — I ordered it from Amazon exactly a week earlier.
Bottom line: this is a great headset, and I'm looking forward to comparing it with the Samsung Gear VR, which is being shipped to me as I write this.
It's definitely significantly better than the Sunnypeak, which I reviewed here. But then again, it also costs twice as much.
What's good about it
Very nice wide field of view, with excellent graphics quality.
The company claims a 120-degree field of view, with 42 millimeter lenses. By comparison, the Oculus Rift has 100 degrees field of view, Google Cardboard v2 has 100 degrees, and Samsung Gear VR has 96 degrees.
And yes, you can feel those extra 20 degrees — instead of seeing the world through a square frame, it fills up your entire field of view. It feels really immersive, especially when I used it with my Galaxy S6.
I should repeat that. It is EXTREMELY immersive. I tried it with my favorite app — the Go4DVR app from Goggle Tech, where you're walking around a space station. It really felt that you were there. I kept reaching out for things, and ducking under stuff.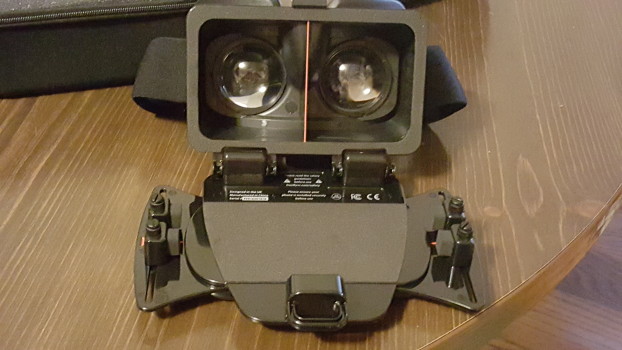 I also have an iPhone 5, which is smaller. Experience is still pretty good, but the field of view is narrow so you don't quite get the same effect.
The Freefly VR headset is light. It is really light. I weighed mine on a kitchen scale and it came in at 12 ounces, compared to 18 ounces for the Sunnypeak and a reported 16 ounces each for the Samsung Gear VR and the Oculus Rift. Of course, my smartphone weighs 5 ounces, so you have to add that weight in for all the headsets except the Oculus Rift, which has a built-in screen.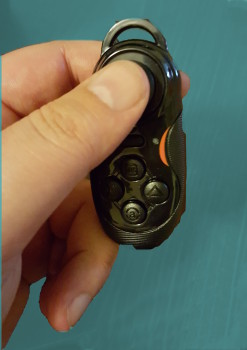 The Freefly VRÂ comes with a Glide VR controller. At first, I couldn't find the instructions for it, and had to fiddle around to figure out how to get it to work. Later, I discovered that the instructions where right there on the Glide VR controller box.
You plug it into a USB cord to charge it — it didn't come with one, but my Galaxy S6 charger worked fine on it. Then you press the tiny start button in the middle and hold it down. It helps if you have a flashlight, since the labels of the buttons are in black on a black background. Then I had to go into my phone's settings, under Bluetooth, enable Bluetooth, wait for it to find the device, and select it.
I tried it with the DebrisDefrag for Cardboard app, which was the first app I could find that needed the controller. To shoot things, I had to switch the little slider on the left to "game" and then press the X button to shoot down the space rocks as soon as I was looking straight at them. The explosions were very satisfying, but it would have been helpful to have some crosshairs. Or maybe my aim is just bad.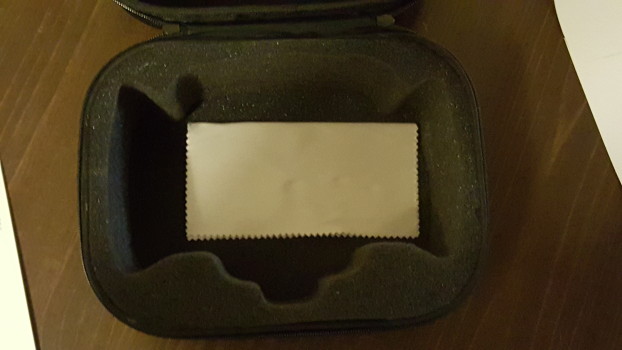 The Freely also comes with a nice padded carrying case.
What's not so great
Wearing the Freefly VR headset does get a little hot, since the leather is padding is tight against your face. I have found this to be a common problem with all closed-side headsets.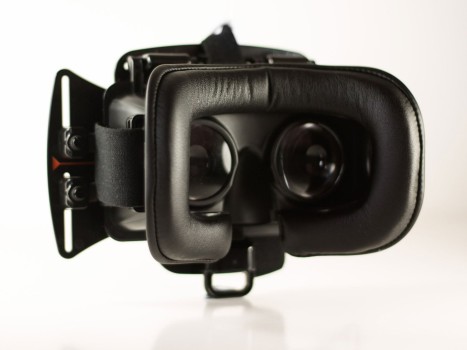 There is no adjustment for the distance between the two lenses, or the distance between the lenses and the phone. Most other mid-priced headsets have at least one of those, and usually both.
The Freefly guys say there's a reason for this, because of the extra-wide lenses they use, and they picked the distance that would work for most people.
I do have funky vision and wear glasses sometimes, and I do appreciate it when I have the opportunity to adjust the lenses.
With the Freefly, everything seemed a little out of focus to me, especially when there was text on the screen.
The only other quibble I have with it is that it looks pretty goofy. The little wings make it really easy to adjust it to fit your smartphone, but look a little odd.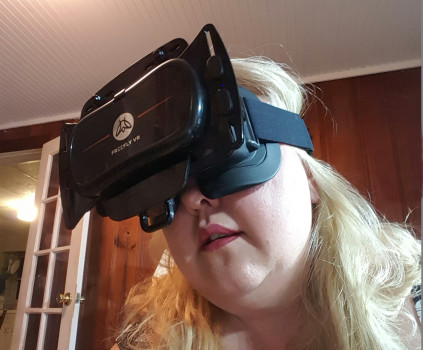 How it compares
I have a couple of other headsets — a $22 Goggle Tech C1-Glass, which is open sided, a couple of cardboards, and a $40 Sunnypeak.
The Sunnypeak would be the closest comparison in terms of price and form factor. The Freefly is much, much lighter than the Sunnypeak and is much more comfortable to wear. It also seemed a big sturdier and better designed in the way it was put together and how the phone fits into it. But the Sunnypeak has both kinds of lens adjustments, so everything is in focus for me.
The Sunnypeak also didn't come with a controller, but the Freefly controller worked fine with it. Well, obviously, since the controller works with the phone itself — the headset is just a dumb plastic holder.
If you don't have vision issues, of the two, I would definitely recommend the Freefly. If you do have vision issues — well, you definitely can't wear your glasses with the Freefly, and I just tried — nope, nope, nope. So check the return policy before you buy it, or have a friend get it and try theirs, first.
How to order
It's currently $85 on Amazon, but I got mine with a promo code for about $60 (sorry, the promo already expired). The controller is sold separately for $11, so, the headset itself cost me about $50 — and it was definitely worth the price.
You can also buy the headset directly from the company for $79. If you're outside the U.S., the company ships worldwide, or you can check your local Amazon store.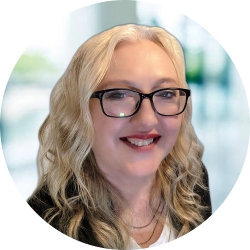 Latest posts by Maria Korolov
(see all)