Update: In August 2016, I bought a FiiT VR 2S, and that is now my new favorite. Another headset I'm recommending is the BoboVR Z4 headset, which has a 120-degree field of view, built-in headphones, and a built-in control button.
As some of you know, I'm a big fan of open-sided headsets, like the $22 Goggle Tech.
Since we don't have a decent virtual reality operating system yet for smartphones, I have to take the phone in and out of its virtual reality headset each time I want to load a new app, or choose a new YouTube video. Some headsets (cough, Gear VR, cough, Ling VR, cough, Firefly VR, cough) make this very dificult.
With open-sided headsets, however, this is a non-issue — you can just touch the screen.
I now own three different open-sided headsets — my AntVR arrived today — and I thought I'd compare the AntVR, the Google Tech, and the Baofeng Small Mojing.
First, the overviews.
Goggle Tech C1-Glass
This headset is smaller than a pair of glasses, folds flat, and comes in a very nice, curved carrying case. It fits easily into a purse or bag. Lenses can be moved apart or closed together, and the smartphone fits easily and sturdily into the grips.
I have a silicon case on my smartphone, a Galaxy S6, and it fits fine with the case. A larger case, however, might not fit as well and you may have to take your phone out of it first.
I bought mine on Amazon for $22, where it's available in black, white, red, and green. You can also buy the glasses from the company itself, which is based in San Jose. The company also makes a fully-enclosed headset.
Baofeng Small Mojing
This headset is very similar to the Goggle Tech. It also folds flat, is smaller than a pair of sunglasses, and comes with a case. The case is white translucent plastic and not as attractive as the Goggle Tech case, and the glasses themselves are also more angular. Lenses can be moved farther or closer apart.
It comes in pink, blue, orange and purple and also in black with green trim on the lenses.
I bought mine on AliExpress, where you can get them now starting at around $12 each, but I got mine for around $7, so keep an eye on the prices. The manufacturer is based in China, but many of the AliExpress listings offer free, quick shipping. It's made by Baofeng Mojing, a Chinese video streaming company that makes some higher-end virtual reality headsets as well.
The plastic is a little stiffer than on the Goggle Techs, and I had to create my own QR Code for them.
AntVR
The biggest headset of the bunch, this one still has open sides, but is enclosed on top and on bottom. It is also the only one that comes with a strap. It makes a great set for watching YouTube videos, since the top and bottom block out the light, the open sides allow air to circulate so that it doesn't overheat, and the strap lets you watch without having to hold the set up with your hands.
While a bit heavier than the other two headsets, the AntVR also has a slightly wider field of view.
I bought mine on AliExpress for $39, and it took about three weeks to arrive. It's on sale now for as little as $35. The Beijing-based parent company AntVR also makes a fully-enclosed headset.
It also folds flat, but is much bulkier than the other two, and does not come with a case. The top and bottom flaps fold in, with the top flap on a spring to hold the smartphone securely — or to pinch fingers if you're not careful.
Recommendation
I like all three of these sets. I recommend the Goggle Tech for carrying with you and using it to show off virtual reality, since the case looks the nicest.
I recommend buying the Baofeng as a cute toy to give away to friends instead of buying them a cardboard case.
And the AntVR is now my go-to headset for watching movies and playing games.
| | | | |
| --- | --- | --- | --- |
| | Goggle Tech C1-Glass | Baofeng Small Mojing | AntVR |
| Price | Â $22 | Â $12 | Â $35 |
| Distance between lenses | Â Adjustable | Â Adjustable | Â Adjustable |
| Strap | Â None | None | Â Yes |
| Case | Yes | Yes | None |
| Weight | Â 28 grams | Â 40 grams | Â 160 grams |
| Field of view | Â 90 degrees | Â 90 degrees | Â 100 degrees |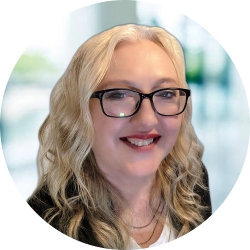 Latest posts by Maria Korolov
(see all)