Jessica Lyon, the head of the Firestorm Viewer project, is now recommending the rival Alchemy viewer for OpenSim users.
"Alchemy may be the most compatible viewer to OpenSim right now," she said, thanks to the efforts of viewer developer Cinder Roxley.
Lyon was speaking at a taping of the InWorld Review. Watch the video below, starting at the 1:06 mark.
"Cinder is heavily involved in OpenSim in various avenues," Lyon said. Meanwhile, the Firestorm team is heavily tilted towards Second Life support. "We don't have a developer on our team who does OpenSim."
Firestorm is currently the most popular viewer in Second Life — more popular even than the official Second Life viewer.
"We have 400,000 users each month logged into Second Life, unique users logging into Firestorm on the Second Life grid," she said. "And through OpenSim, maybe a thousand, maybe ten thousand a month, so we have to keep our focus on where we can do the most good."
Meanwhile, both Linden Lab and the OpenSim team add new features and tweak their platforms, but there's a lack of information coming out of the OpenSim developers, which makes it hard to maintain compatibility.
"OpenSim is going to need to develop their own viewer," she said. "It boils down to that. Our older versions of Firestorm are more compatible with OpenSim than our newer ones, and that's a gap that's just going to continue to grow as we stay compatible with Second Life."
How to install
Like most Second Life-compatible viewers, the Alchemy login screen defaults to Second Life.
To configure it for OpenSim grids, launch the viewer, click on "Me" at top left, then click Preferences.
Select the "Grids" tab from the panel on the left, then add your grid by pasting its loginURI. You can get the loginURIs for all the active OpenSim grids here. Then just click the "Add" button.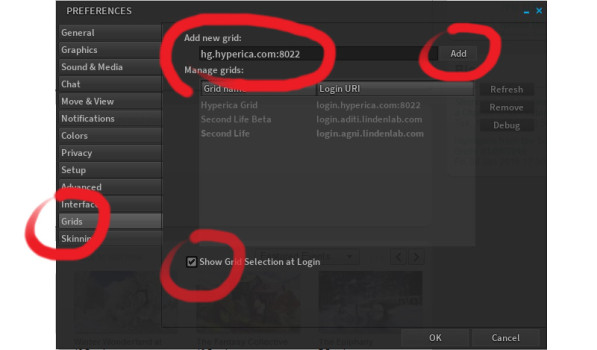 To show the grid selector on the main login screen, check that option before clicking "OK" to close the preferences window.
According to Roxley, who's worked on both the Firestorm and Alchemy teams, there are a number of differences between the viewers.
"Firestorm is more geared towards developing new features and being sort of the kitchen sink of viewers with everything in it," she told Hypergrid Business. "Alchemy's focus has been on increasing performance and intuitive design. Most people who try Alchemy notice right away that it's more like the Second Life viewer in appearance, but most of the work we do on it is under the hood where things are very different. In fact, we work closely with Linden Lab to push our under-the-hood changes back upstream which makes it easier for us to stay inline with their changes while preserving our own."
These features might not always be immediately noticeable to users, she added.
In addition, Roxley said, she decided to clear the slate and write OpenSim compatibility from scratch.
"This made the OpenSim base much cleaner and accounts for fundamental differences that didn't exist when OpenSim was added to other viewers — things like varregions, hypergrid, export controls weren't around in 2010," she said.
For hypergrid travelers, the main difference between the two viewers is that there are no hop:// links in Alchemy, which uses a different scheme called x-grid-location-info://.
I've been using the Alchemy Viewer on and off for the last couple of weeks, and have only been able to find a couple of minor difference between Alchemy and Firestorm. For example, the Phototools feature in Firestorm, which is kind of like an Instagram filter for your snapshots, is missing. Instead, you can use the less functional Environment Settings in Alchemy and its icon is a little cloud.
Since half of what I do in OpenSim involves taking snapshots, I'll probably stick with Firestorm just for that, unless other issues come up.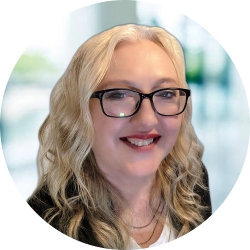 Latest posts by Maria Korolov
(see all)