Five million Google Cardboard-compatible headsets have been shipping, Google announced yesterday.
The accompanying graphic shows a lot of headsets made out of cardboard, and two — the Mattel Viewmaster and the Goggle Tech C1-Glass — made out of plastic.
Google didn't provide any details about how they track these numbers, and whether Chinese headsets — which don't normally come with official Google Cardboard QR codes — are included in the totals.
It is, however, the first solid number showing the explosive growth in light-weight, inexpensive, mobile-based virtual reality.
Google also reported that more than 25 million virtual reality applications have been downloaded, more than 350,000 hour of virtual reality videos have been watched on YouTube, more than 750,000 virtual reality photos have been taken with the Cardboard Camera app — which was only released in December — and more than half a million students have gone on virtual expeditions as part of the Google Expeditions program.
The company also says that there are more than 1,000 virtual reality apps in the Google Play store.
The announcement was posted by Clay Bavor, Google's new VP of virtual reality.
Meanwhile, Google has been working to make the Cardboard experience a little better. Earlier this month, it upgraded its Cardboard software developers kit with spacial audio. This means that users who wear audio headsets while using their Cardboards will hear sounds as coming from the directions they're supposed to come from in the virtual experience, creating a more immersive effect.
Google is also rumored to be working on its own, higher-end headset as well.
Samsung's Gear VR has demonstrated that the user experience can be improved if the virtual reality headset had some additional capabilities of its own, on top of what was in the smartphone it is paired with.
However, Google can also be working on its own, higher-quality headset in order to improve the specifications for Android smartphones to offer more support for virtual reality in general. After all, smartphones were not originally designed to be virtual reality devices.
With Apple now rumored to be — finally — looking at virtual reality, and the Oculus Rift, HTC Vive and PlayStation VR finally hitting the consumer market this year, Google Cardboard will need to step up its game to keep ahead of the competition.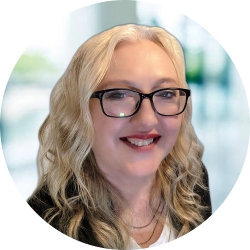 Latest posts by Maria Korolov
(see all)