The Dlodlo Glass V1 headset looks like a pair of sunglasses and weighs just 78 grams, or less than three ounces. It has a field of view of 100 degrees — a little higher than the Gear VR's 96 degrees, and almost as good as the 100 degrees of the Oculus Rift and the HTC Vive.
It has a resolution of 2560 by 1024 pixels per eye — compared to the Rift's Oculus Rift's 1080 by 1200 per eye.
It also has a very impressive 90 hertz refresh rate — this is the rate recommended for virtual reality, the same as the Vive and the Rift — and a 10 millisecond time delay, which is lower than the 20 milliseconds recommendation. The Vive is 22 milliseconds, and the Rift is 20.
It's powered the company's own D-Box Android-based mini computer, which can plug into your smartphone to play Google Cardboard apps, or into your desktop for PC-based virtual reality applications.
The Dlodlo headset is a bit heavier than regular sunglasses, because it has some built-in electronics, including the sensors it needs to know how you're turning your head, as well as the displays.
It's expected to come out in August, with a price tag of around $500.
I'm particularly interested to see how the field of view is accomplished. Usually, glasses-style headsets — typically used for watching movies — have narrow fields of view.
If it does work as advertised, it will demonstrate that it's possible to build a virtual reality headset with the form factor of sunglasses. Imitators are likely to emerge quickly, putting downward pressure on prices.
In addition, the electronics are likely to shrink over time while performance improves, which will only accelerate the pace of growth for virtual reality.
I can definitely imagine a future where we have smart glasses that can replace regular glasses or sunglasses, that connect to our phones wirelessly, that can do augmented reality, and that can go all the way to full virtual reality.
That will bring us closer to a time where the virtual world is always close by — just like the online world has become as close to us as our smartphones.
Watch a promotional video from the company below:
Dlodlo also has a more traditional virtual reality headset — if you can call something "traditional" that's only been on the market for less than two years.
The Dlodlo Glass H1, available on AliExpress for $80, promises a field of view of 100 to 120 degrees, depending on your smartphone, has built-in motion sensors with less than 10 milliseconds of latency, has adjustable focus, and has Gear VR-style controls — volume buttons, a back button, and a trackpad.
It reminds me a bit of the Pico 1 headset, which also had a trackpad and extra buttons and sensors — but they only worked with the company's own app.
That's a problem with any non-standard interface. On the one hand, buyers get functionality that they can't get anywhere else. On the other hand, you have to get developers to write custom software for your headset.
Samsung's Gear VR deals with this via a partnership with Oculus, which gives it a channel to connect to developers and get that custom software. But its app store still only has a fraction of virtual reality apps that are available on Google Play.
Google's Daydream platform has been released, offering more functionality than Cardboard, including an external motion controller.
Smartphone and headset manufacturers around the world are hurrying to get to the market with their products, as are app developers. It would make more sense for manufacturers who don't have the market power of, say, Samsung or Apple, to stay with Daydream and get the benefits of being part of a large ecosystem.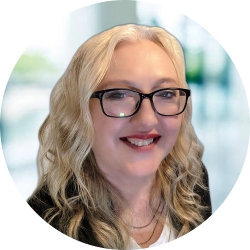 Latest posts by Maria Korolov
(see all)