AltspaceVR, a pioneering social virtual reality platform, announced today that it will be now offering virtual reality replays of live events.
The full virtual reality environment is recorded, as well as the performances, so that future visitors will be able to experience the event as if they were there.
"You can have the same experience," said AltspaceVR CEO Eric Romo. "Any viewing angle. You can move around the room — it's exactly the same experience."
If several people are attending the event replay at the same time, they can also interact with one another.
"We'll be doing a marathon of past events at scheduled times," Romo told Hypergrid Business. "We think the social interaction is the best part."
Recent live events in AltspaceVR have featured comedians Drew Carey, Duncan Trussell, and Reggie Watts, Rick & Morty producer Justin Roiland, NBC weather anchor Al Roker and NBC political journalist Chuck Todd.
The marathon is scheduled for Friday, November 11. The AltspaceVR event schedule is here.
The new replay functionality will also allow the company to make events accessible to a wider geographical audience, he added.
Currently, many events are scheduled for the convenience of people on the west coast of the U.S., since that is where the company, and many of its customers, are based.
"But we have tons of users in Europe — 30 plus percent are in the EU," Romo said. "We have a big community there of people who would love to attend these events but its not practical for them."
The virtual reality recording also captures audience sentiment in the form of the virtual emojis shared by the original live audience, he said. However, audience members themselves are not recorded, and neither are videos or slides presented during the event.
"It's important to maintain people's privacy and not record them without them knowing," he said.
However, in the future, AltspaceVR also plans to offer the ability to record business and training events. At that point, participants could be recorded, with their permission. And the company is currently evaluating how to record slides, videos and other embedded content.
Saving copies of slides and videos may be the best option for some events, but it could also create licensing issues, and force AltspaceVR to become a document and video management company. Linking to an external video on YouTube or a slide presentation on a slide sharing site might work for other events, but if the video or slideshow is taken down or updated, it might not longer match the presentation itself.
"We're experimenting back and forth to see what the right way to support it is," Romo said.
Meanwhile, the company is focusing mostly on the consumer market, rather than enterprise applications, he added.
"Right now, the folks who are making headsets are all really squarely focused on the consumer," he said.
AltspaceVR currently runs on the HTC Vive, the Oculus Rift, and Samsung Gear VR platforms.
There is currently no support for other mobile-based headsets, like Google Cardboard. However, there are plans to offer support for Google's newly-released Daydream VR.
"We don't have a date for launch yet, but it's absolutely super important for us to be on their platform," he said.
The company is also keeping an eye out on Microsoft's efforts in this space, since there are some early indications that the company is seriously looking at the enterprise market.
"If they had a way to support virtual reality headsets with the normal laptops that you would see in the enterprise, that would be an interesting angle," he said.
He added that Microsoft is expected to release more details next month.
When AltspaceVR begins offering more features for enterprise users, the avatars will need to be updated as well. Currently, the avatars are cartoonish.
"The word we tend to use is 'stylized,'" Romo said. "IÂ would be the first to admit that I do not know what works in a business setting in a virtual reality. We definitely want to support a lot of options that would work in a business setting."
AltspaceVR is the first social virtual reality platform to offer event recordings. However, vAcademia, a Russian virtual world environment platform serving the education market, offered a similar feature in 2011. Unlike AltspaceVR, however, vAcademia is not accessible via virtual reality headsets but only via a desktop application.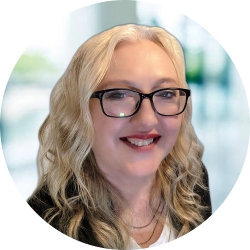 Latest posts by Maria Korolov
(see all)