At a time when grid outages and scandals are in the news (okay, just the one grid, but they do create a lot of news) it's nice to see a grid do something positive.
On Tuesday, I saw this post from DigiWorldz show up in my social media, which leads to a kind of resident bill of rights for their grid.
A few items immediately jumped to my attention:
The money-back guarantee for unsatisfied customers
Free region backups, uploads, name changes and moves
The grid also pointed out that it is legally registered as a company in the state of Ohio, and has a registered agent on file with the U.S. Copyright Office.
The DMCA registration — which costs $105 — protects grid owners from copyright-related lawsuits in the U.S. Foreign grids benefit from this as well, if they have U.S. customers. Registration is basically low-cost insurance against copyright trolls and also against over-zealous content creators. But registration also benefits creators as well — if a grid fails to take down infringing content, it could lose its protected status.
Although only the U.S. has a formal registration process, the underlying principles are the same everywhere. If you allow people to upload content on your platform, and someone uploads infringing content, you're safe from lawsuits as long as you take the content down when you find out about it.
Copyright protection was a hotly debated issue in the early days of OpenSim. Some people thought it was unfair that creators were making money off of their work, and that everything should be free. Others — a larger group — thought it was unfair that they couldn't take content they had already paid for and use it on another grid. And a few just wanted to steal stuff for the fun of it.
Today, no grid is on the record as supporting copyright infringement. The availability of fully-licensed Linda Kellie content and work by other public-spirited creators has led to the widespread removal of freebie stores populated with donated, "don't ask, don't tell" types of content. And the growth of the Kitely Market has created a new class of content that buyers can legally take with them to other grids.
However, only a handful of grids have registered agents on file with the U.S. Copyright Office.
I agree with DigiWorldz on this — content creators and residents should both consider this when deciding which grid to invest time and money in. It's a sign that the grid is investing in its future, and is taking things seriously.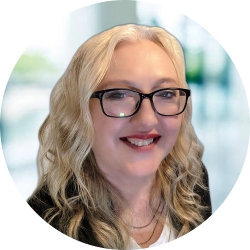 Latest posts by Maria Korolov
(see all)