More than 70 virtual and argumented reality companies will showcase their products, innovations and demos at CES 2017, starting this Thursday in Las Vegas.
The full list of those exhibiting in the gaming and virtual reality category can be found here and include new virtual reality headsets, 3D cameras, motion and eye tracking technologies and 3D imaging.
Dacuda and ZEISS will be showcasing the world's first mobile room-scale virtual reality system that uses standard mobile phones on the ZEISS VR One headset. It employs an inside-out tracking system — meaning there is no outside camera that does position tracking.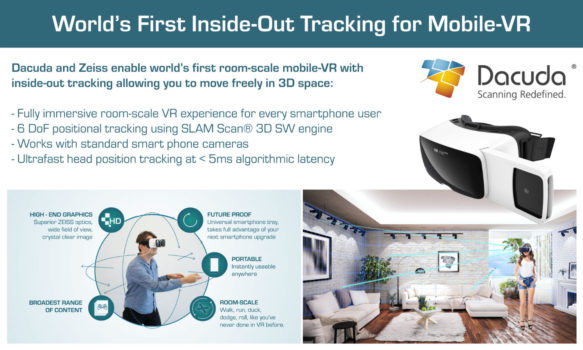 "This is groundbreaking because almost all mobile VR solutions currently on the market — including the excellent Samsung Gear VR and Google's impending Daydream — have only three degrees of freedom tracking," Dacuda spokesperson Vicky Sue told Hypergrid Business.
Three degrees of freedom refers to headsets that only track if the user is turning their head — looking left and right, tilting the head left and right, and looking up and down. Six degrees of freedom adds straight-line motion in all directions, making for a more immersive experience.
"Although Google Tango also offers six degrees of freedom on mobile phones with a world of, primarily, augmented reality capabilities, it also requires special hardware, such as a motion camera, structured-light projector, and an IR camera," she added.
Another company hoping to improve motion tracking is Ximmerse, which produces outside-in and inside-out room-scale mobile virtual reality systems.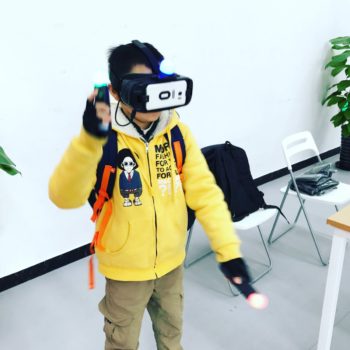 Lucid VR will exhibit its new LuciCam, a $400 180-degree 4K camera that enables anyone to create a true virtual reality and 3D video or photo and instantly share it on Facebook and YouTube.
It's different from popular 360-degree cameras like the 360fly and the Gear 360 because it captures depth, for a more realistic virtual reality video.
Development kits started shipping yesterday and the general consumer version will begin shipping in the next three months, Lucid CEO Han Jin told Hypergrid Business.
"With additional enhancements beyond its original specs, you can see it and try it yourself at the Lucid VR Booth 50,000 in Eureka Park, Sands Expo," Lucid VR Spokesman Erica Zeidenberg told Hypergrid Business. "We have a limited number of review units as well."
3dRudder will exhibit a new take on a motion controller that uses feet:
Vrtify has a virtual reality music library platform where, by working with artists and music publishers, it brings users to virtual concerts and recitals to experience music. The platform is in beta testing right now.
VR and AR conference sessions
Eight conferences on virtual reality and augmented reality out of all the conference sessions at the CES 2017 will also bring together various players and stakeholders in the sector.
They include: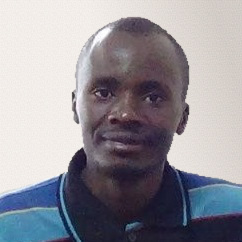 Latest posts by David Kariuki
(see all)