If you are a 360-degree photographer, or want to become one, then working with Google Street View and becoming one of their Trusted Photographers will definitely help establish credibility in the industry. In fact, Google actually helps their contributors get hired to create virtual tours.
According to Google, market research conducted in July 2015 showed that listings with a virtual tour are twice as likely to generate interest.
In this new realm of democratized photosphere and virtual tour creation, it can be hard to tell a hobbyist from a true professional. In order to help clients make the decision on who to trust with a project, Google created the "Google Street View Trusted Photographer Certification."
It means that the photographer have submitted at least 50 images for Google Street View that are level, in focus, stitched well, correctly spaced and of an even height.
To get started, you first need to download the Google Street View app for either Android phones or iPhones.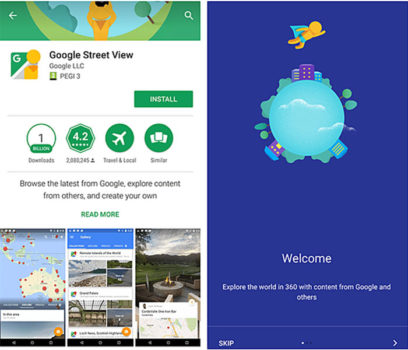 The full list of criteria for certification are here.
This video by Willem Van Zyl gives a full Snapseed and Google Street View workflow from taking photos, editing to uploading your final work.
This one by Plus Your Business shows you step by step on how to import and edit your Street View photos.
What you can do after becoming Google Trusted Photographer
A trusted photographer has the ability to upload their work directly to various platforms Google has created that display photospheres and virtual tours.
This includes Google Maps, Street View, Google Earth, Google My Business and of course, Google Search. These interactive images may be internal or external shots depending on the client and if a business that operates from inside a building via the business see inside button on Google Street View.
Once you become a trusted photographer, you have a competitive advantage over other panoramic photographers in the area. And when your work is published on the platform, your clients may see a boost in search results.
Another benefit of using the Google Street View platform rather than a commercial virtual tour service is that the Google version is free and people can easily find it.
Google also has an online community for its photographers, called Local Guides Connect.
This article was adapted with permission from
Source from the Veer VR Blog.