OpenSim's public grids reached a new high in active users this month, as traffic went up more than 7 percent, or nearly 2,500 actives.
There are now 34,881 active monthly users on the grids that report these figures.
The OpenSim Community Conference last weekend accounted for 335 of the new actives, but the rest were distributed among 90 other grids.
The gain in active user numbers was the highest since July, and does not include data from several large grids including InWorldz, Great Canadian Grid, and The Adult Grid which no longer publish traffic numbers.
Land area dropped by more than 8,600 regions. OSgrid's land area fell by more than 11,000 regions, so without that cleanup, OpenSim land area would actually have increased.
OSgrid runs a regular clean-ups where unused region slots are removed from the grid map.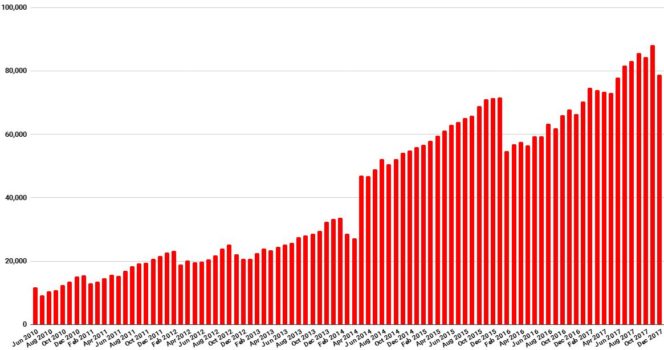 Virtual Worlds Grid gained the most land area, the equivalent of 964 standard region, followed by ZetaWorlds with 447 regions, 3rd Rock Grid with 231, Kitely with 221, and PMGrid closing the fifth spot with 48 regions.
Despite the cleanup, OSgrid retained its place as the largest OpenSim grid by land area, with 18,921 regions. It was followed by Kitely with 17,332 regions, Metropolis with 6,943 regions, Atek Grid with 6,270 regions, DigiWorldz with 5,257 regions, and Lost Paradise with 4,354 regions.
OpenSim also recorded an additional 8,469 new user registrations across all the grids this month.
Kitely was the most valuable grid this month when it comes to bringing in new users with 1,354 new registrations. It was followed by InWorldz with 1,026, and education-focused grids Emilac with 849 and Eureka World with 804. Eros Resort added 789 new registered users, and OSgrid added 708.
These stats do not include most of the mini-grids running on the DreamWorld distribution of OpenSim, or private company or school grids.
According to the latest DreamWorld stats, there are more than 3,256 grids, out of which 1,132 are hypergrid enabled and 15 percent being mini-grids created with this installer alone so far. out of the 1,132 are hypergrid enabled.
OpenSim is a free, open source virtual world platform that's compatible with the Oculus Rift. It allows people with no technical skills to quickly and cheaply create virtual worlds, and then teleport to other virtual worlds. Those with technical skills can run OpenSim worlds on their own servers for free, while commercial hosting starts at less than $5 a region — compared to $300 a region for the same land in Second Life.
A list of hosting providers is here. Download the recommended Firestorm viewer here. And find out where to get content for your OpenSim world or region here.
You can also add your grid in the stats if it is not being crawled by OutWorldz. OutWorlds also provides OpenSim users with free  mesh items, OARs and free seamless textures that you can download and use on your grids.
Popularity
When it comes to general-purpose social grids, especially closed grids, the rule of thumb is: the busier, the better. People looking to make new friends look for grids that already have the most users. Merchants looking to sell content will go to the grids with the most potential customers. Event organizers looking for the biggest audience… you get the idea.
The greatest gainer in active user numbers in the last one month was Eureka World with 406 users, followed by OpenSimulator Community Conference with 335, Sacrarium with 267 and AllCity with 146. Craft World also gained more than 100 active users.
Eureka is an educational grid, the OSCC grid was the site of this month's big conference, while Sacrarium is a new Russian grid that has been criticized for lax content protection policies.
Top 25 most popular grids this month:
Metropolis saw the biggest drop in active users this month,  with 502, followed by Moonglow with 261, GreekLife with 200, Islands of Enlightenment with 124 and Kitely with 119.
Dreamworld stats
The Hypergrid Business database currently tracks 1,277 grids, of which 269 were active this month.
OutWorldz has another system for tracking grid counts, and currently has a total of 3,256 grids. This is up by 735 from last month. Out of the 3,256 grids, 1,132 are hypergrid.
The total tally includes 15 percent of DreamWorlds or grids created with the DreamWorld software that allows users to easily create and run grids at home as well as to connect to other OpenSim grids.
Of the 3,256 grids, only about 367 grids are online — 12 grids less from last month's tally. The test to determine whether sims are online runs every hour and offline grids tested every four hours.
The details of statistics can be found on Hyperica directory of grids. and the daily summaries here on the OutWorldz website.
Any grid owner can add their grid into the list on the OutWorldz website if OutWorldz is not currently tracking its online status.
Kitely delivers to a record 240 grids

There are currently 11,014 products listings in  Kitely Market containing 20,858 product variations, of which 16,005 are exportable.
Kitely Market has delivered orders to 240 OpenSim grids to date.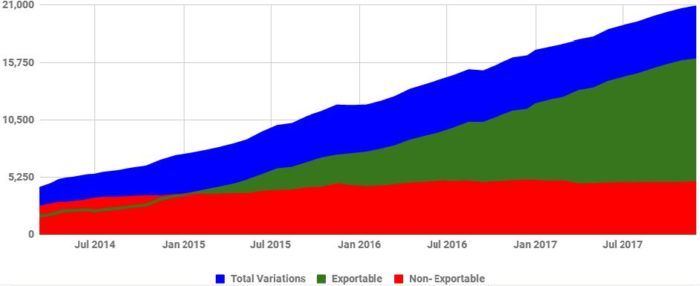 Ever since Kitely turned on the hypergrid export functionality, exportable content has been growing at a much faster rate than non-exportables, as merchants increasingly become comfortable to selling to the hypergrid.
However, non-hypergrid grids can also accept Kitely Market deliveries, giving their residents ready access to a wide, legal, and ever-growing collection of content.
Last night Kitely updated its servers during a low usage period between midnight and 4am Pacific Time. The upgrade took four hours instead of the planned 12 hours, Kitely CEO Ilan Tochner told Hypergrid Business.
"The result is that our system is now running on faster servers than it did previously," he said.
VirTec network starts to show recovery
VirTec, a network of vending machines that work on multiple grids and support a variety of currencies, contiued on the growth path is began in September.
The value of transaction on the network increased in the last month by more than 48 percent.
The network also attracted a total of 78 merchants, the highest since February this year.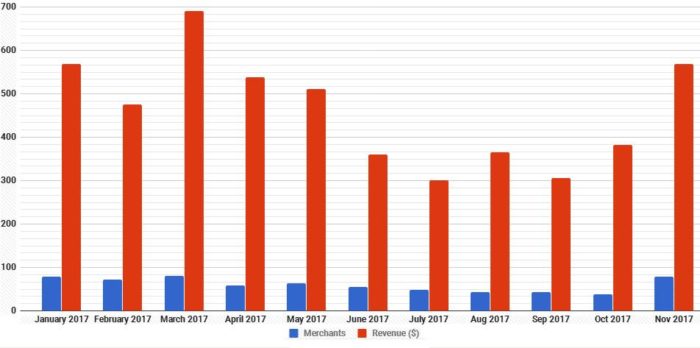 VirTec vending machines allow merchants to sell goods using their choice of currency, and also provide sales statistics and other functionality over and beyond the built-in sale function available in OpenSim.
DigiWorldz bought the vending machine service in April and runs the product as a separate brand.
HIE Expo will be held this weekend at Craft World
The Hypergrid International Expo has changed its conference venue to Craft World grid. The event will take place at 9 a.m. Pacific Time on December 16 to December 17 in the new Auditorium regions.
One of the four regions is for the stage, and three for the public.
Those willing to participate can also visit the new location and join Language Groups that will be used to transmit presentation in various languages — French, German, Italian and Spanish, with English translation.
The multi language conference will feature presentations from various grids, conference and training sessions. It will be the first expo of the group which formed just this year to advance various group interests for hypergridders including commerce and social interests.
The new hypergrid address is:Â craft-world.org:8002:HIEexpo
Immersive Reality offering free parcels
The Immersive Reality grid is offering free parcels and stores to anyone on the hypergrid. To get the free offers, visit the grid and click the mailbox in front of the parcel or store every 30 days to keep the land or rez something within 24 hours of claiming that land or store to keep it.
Each land measures 768 to 4,096 square meters for adult regions and 144 to 400 sq meters for the moderate region.
The hypergrid address es are  grid.immersiverealitygrid.com:8002:Boom Town and grid.immersiverealitygrid.com:8002:IRHQ.
Orchid Heights holds Advent Hunt
The Advent Hunt is an hypergrid-wide hunt where people can win gifts every day from different stores on the Orchid Heights, a region in DigiWorlds. It started in December 1 and is still on.
"People can open every day a gift on the advent calendar on the this region and will receive a beautiful gift, made by one of the creators on this region — Dexter, Eclipse, Dollies and G-Music," Orchid Heights manager Suzan Moennink told Hypergrid Business.
She formerly ran ZanGrid, which shut down about a month ago. Some of the people and content from ZanGrid have moved to the Orchid Heights enclave on DigiWorldz.
There are Christmas toys on the four shops. A person searches for a toy with the number corresponding to the date that they visit the region and then they will receive the gift.
"So for example the 4th of December you go search for the toy with the number four," she said. "You can click on it and you will receive a gift. On the 5th of December you go look in the four stores for the toy with the number five and so on."
Each number is open for two days after that you will not receive a gift anymore from an earlier date.
In total there are 24 gifts.
There will also be a Christmas party from 12 noon to 2 p.m. Pacific Time on Saturday 23 at the Orchid Heights club where DJ Digital will entertain those in attendance.
The hypergrid address is login.digiworldz.com:8002:orchid heights
Some of the places to visit this holiday
There is a long list of winter-themed and Christmas-themed grids and regions to visit for hunts, gifts, creation and other activity during this holiday season.
Transitions
Hypergrid International Expo grid enters the new list of grids we track. Others include Reserects Worlds, Jazzn's DreamWorlds, Winsome Grid, The Haven Grid, and the Out & Proud Grid.
The following 12 grids were marked as suspended this month: 2nd Oakdene, Alluris Estates, Américas Worlds, CINECA GRID, Kingdom of Creation, KRRRL, Lupopas Welt, PTDE, TUIS Open Grid, UFSGrid, Unreal, and Virtual-EPI.
Grids that have been suspended for more than two months will be marked as closed. If your grid isn't on the active grids list, and not on the suspended list, it may have been marked closed when it shouldn't be. Please let us know.
And if there's a public grid we're not tracking, please email us at editor@hypergridbusiness.com. There's no centralized way to find OpenSim grids, so if you don't tell us about it, and Google doesn't alert us, we won't know about it.
By "public," we mean grids that allow hypergrid visitors, or have a website where people can register for or request accounts.
In addition, if a grid wants to be included in the monthly stats report and the most active and largest grid lists, it needs to have a stats page that shows the number of unique 30-day logins, and the total number of regions on the grid. In order for the grid not to be under-counted, 30-day active users stat should include hypergrid visitors, and the land area should be in the form of standard region equivalents, square meters, or square kilometers.
December Region Counts on the Top 40 Grids
The list below is a small subset of existing OpenSim grids. We are now tracking a total of 1,277 different publicly-accessible grids, 269 of which were active this month, and 199 of which published their statistics.
All region counts on this list are, whenever available, in terms of standard region equivalents. Active user counts include hypergrid visitors whenever possible.
Many school, company or personal grids do not publish their numbers.
The raw data for this month's report is here. A list of all active grids is here. And here is a list of all the hypergrid-enabled grids and their hypergrid addresses, sorted by popularity. This is very useful if you are creating a hyperport.
You can see all the historical OpenSim statistics here, including polls and surveys, dating all the way back to 2009.
Below are the 40 largest grids by total land area, in terms of standard region equivalents.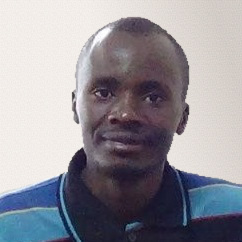 Latest posts by David Kariuki
(see all)