DigiWorldz and Discovery Grid were the two top destinations of former InWorldz residents looking for a new home, with respondents almost evenly split at 38 and 36 percent, respectively. Kitely was in third place, with 18 percent of respondents.
InWorldz, one of OpenSim's oldest and most successful grids shut down late last month due to financial problems.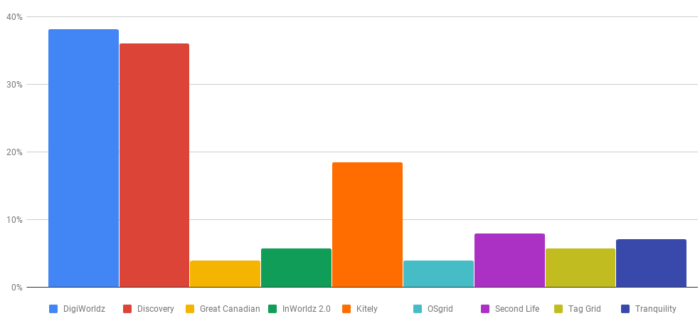 In addition, 8 percent of respondents said that they would go back to Second Life, 7 percent said they are moving to Tranquility Grid, and 6 percent said they were waiting for InWorldz 2.0, whatever that might be.
Tag Grid, formerly known as The Adult Grid, received 6 percent of the vote, Great Canadian Grid and OSgrid were chosen by 4 percent each, and 3 percent opted for Metropolis.
3rd Rock Grid, Gevolution, Kinky Grid, and Tangle Grid came in at 2 percent each.
The following grids were selected by 1 percent or fewer of respondents: 3rdLife Grid, Craft World, Dynamic Worldz, Encore Escape, High Fidelity, Lost Paradise, Misfitz Grid, Panthera Grid, Sansar, Social Mouse, Virtual Highway, Virtuality Grid, and ZetaWorlds. Three people also said they were moving to their own personal grids.
Of all the above grids, only Tag Grid and Virtual Highway are closed grids. The rest are hypergrid-enabled, including both DigiWorldz and Discovery Grid, meaning that people can teleport between grids just like they would between regions on a single grid.
InWorldz users not only voted with their feet, but also with their money. According to Kitely, Kitely Market sales to DigiWorldz and Discovery grid jumped dramatically when InWorldz closed. Sales to other grids, including Kitely itself, also went up — for a total increase of 300 percent, hitting a new record high for the platform.
Many respondents also left comments about why they picked the grid they did, and some also added their avatar names so that their friends could find them again.
I've lightly edited the comments for grammar and punctuation and repetition, and sorted them by grid.
DigiWorldz
"DigiWorldz. Felt it was my best option. Nice, friendly staff."
"DigiWorldz. I was pointed to that grid by my group. (Chloe Machinespecifics)"
"DigiWorldz. One of my besties and I had already been discussing moving before the InWorldz closing announcement, so we'd looked into a couple different grids. I already had a couple friends and acquaintances at DigiWorldz, and it seemed to have the most developed and cohesive community. (Lil Lowey)"
"DigiWorldz is wonderful with very helpful people!"
"DigiWorldz is the most responsive grid I have ever been on. They are really interested in helping you get settled in."
"DigiWorldz and Discovery grid. I'm Craig Denimore both places."
"DigiWorldz seems to work a lot better than most and such a warm welcome from all. (Jessica Splendrexx)"
"DigiWorldz. Friendly, welcoming, good sim prices."
"DigiWorldz. Never go to a closed grid again. Great staff. Less lag then InWorldz, fantastic prices for starter grids great IDEA."
"We moved to Digiworldz from Inworldz because it was much easier to get started. The board of landmarks was invaluable to us and buying a sim was easy and inexpensive. I have been to Discovery and the new users were lost as to how to find their old favorite places that moved there and the resources they needed. I found myself telling them how to search the places there as no Admins were around. DigiWorldz always has Admins available at welcome center and on chat which we have found to be a lifesaver during this crazy time."
"DigiWorldz, Kitely. It was recommended on the InWorldz forum but really it is the best grid I have been in yet. people are just amazingly friendly and helpful. best place I could have landed."
"DigiWorldz, Discovery. Favorites clubs are there and the people."
"I have been with Digiworldz since 10/15/17. I have moved from IW to Genesis Metaverse then to Digiworldz. This grid is amazing, the staff are very friendly and helpful. Even the residents are helpful and willing to lend a hand. They always make you feel welcome, try to make you as comfortable as possible. Yes it has some flaws but what grid don't. The one thing i have found the Owner is more involved in his own grid, he will go out of his way to fix a matter and is always on top of things. Digiworldz is my home! I'm proud to be a part of this grid. Thumbs up to All of Digiworldz, the VIPS,The Staff and the Owner."
"DigiWorldz has the family feel we so loved in InWorldz. They have been genuinely welcoming, and even let me wear my 'Owner if InWorldz Refugees' tag at the Welcome Center and help great new arrivals. Some residents even have special deals for us."
"DigiWorldz, Discovery. Have accounts in other grids as well but will try to rebuild my business only in these two."
"DigiWorldz. My friends all went here. (Matt McCarthey)"
"I was already exploring the hypergrid, and we already had land. so DigiWorldz is our temporary home till InWorldz is back online. (Echo Marlowe)"
"DigiWorldz to me it a lot like InWorldz was back in the old days so hoping to grow with DigiWorldz as it grows. (Martina Seetan)"
"DigiWorldz, Kitely, Tag Grid, My standalone Pegasus Dreams. I'm a mentor in Tag Grid, been in all three for a long time. Went with DigiWorldz because they are the most stable, Tag Grid because I like the quiet and Kitely because of the marketplace."
"DigiWorldz, Kitely, OSgrid. I use the others but picked Kitely for stability, cost, the ability to backup my own OAR files and the adult Leadership that always answers questions with a judgment free attitude (even some of my really dumb questions)."
"DigiWorldz, Kitely, Discovery, Gevolution. (Contessa Lacombe)"
"DigiWorldz. i tried it out and liked the grid and the people here."
"DigiWorldz. I am NOT a refugee — I am a very welcome migrant/ visitor to DigiWorldz where I met great new friends who embraced me and made me feel welcome. I use the same name Zeta Mistwalker. ONE LOVE"
"DigiWorldz, Discovery. A substantial portion of my friends from InWorldz transferred to Discovery and I really like the grid's emphasis on experiences like riding, boating, hiking. A handful of others went to DigiWorldz, but I've already had someone there scold me for saying an expletive in a PG area, so that may not turn out to be the grid for me."
"DigiWorldz. Had the most people in it."
"DigiWorldz. The people are very very friendly."
"I picked DigiWorldz not only because of the price options but because it seems very stable, has great support, Gloebit options, and not only a large community but many land masses to fly/sail/explore "
"DigiWorldz. My partner and I set residence up in DigiWorldz in February after being in InWorldz for five years. Things had became unstable in InWorldz so we came here. Staff is professional, and the residents as well as staff are friendly and helpful. We are thankful we were already here when the ball dropped."
"DigiWorldz, Kitely, Discovery. Business, friends."
"DigiWorldz, OSgrid, Metropolis, Craft, 3rd Rock, Second Life. My main role play group was on InWorldz, until I find another I will just bounce around the grids I checked above."
"DigiWorldz. I used to be known as Melanie Portsmouth, over on InWorldz. Everyone who knew me as a friend, over there, is welcome to add me as a friend. I am now based on DigiWorldz, where my name there is Melanie SweetCake. If anyone who completes this poll has moved to DigiWorldz, you are very very welcome to add me there."
"DigiWorldz. Friends recommended it. I love it so far! Feel Free to add me if you'd like! (Kalina Blackheart)"
"DigiWorldz. Cathy Elton is my name, and I came here because it seemed so similar to IW and the people all were so friendly and helpful when I came."
"DigiWorldz, 3rd Rock, InWorldz 2.0. DigiWorldz for Star Trek virtual move, 3rd Rock for northern ie Chanwood move, and waiting for InWorlez 2.0."
"DigiWorldz, Discovery. CandiceK chose DigiWorldz as home because the people are super friendly and splitting time on Discovery because her spiritual home Rockin The Blues is there."
"DigiWorldz, Discovery, Tag Grid, Great Canadian Grid. Just checking different worlds out. (Luna Stormfeather)"
"DigiWorldz. The friendliness of the people as well as the size."
"DigiWorldz. Stability."
"DigiWorldz. Nice people run the place."
"DigiWorldz. People are great there. Good support."
"DigiWorldz. Pricing structure and support."
"DigiWorldz. Friends went there."
"DigiWorldz. Nice folks there."
"DigiWorldz. Peeps are cool that run the place."
"DigiWorldz. I have several friends from InWorldz and Second Life who suggested I join them in DigiWorldz. (May OMingzi)."
"DigiWorldz. DigiWorldz has been consistently featured in the best tech support lists and is fairly well known for quick response time, tech-wise, consistent up-time, friendly residents, and extra helpful staff and mentors. I am feeling really a HOME feeling here… that goes a long way. For me, the people make or break a grid.""DigiWorldz, Kitely, Discovery, Tag Grid, 3rd Rock. (Salacia Gustafson – Animation Nation)"
"DigiWorldz, Kitely. I think looking at the future, Kitely has the longest breath. What happened to InWorldz forces you to look behind the curtains of the grid. Not saying you will ever know everything, InWorldz proved that. DigiWorldz feels a tad more like a community. I do think people are in need for that too. I am still wandering around; taking my time, before I will make a decision."
"DigiWorldz, Tag Grid, Tranquility. I was already in Tranquility, then heard about DigiWorldz so joined there. Before InWorldz closed, I heard about Tag Grid, so thought I would give that a go too! I have rental sims in Tranquillity and DigiWorldz, so feel free to drop in. RaeAnj Barclay in all worlds."
"DigiWorldz. I picked the grid cause people are friendly and helpful. In InWorldz most was about drama and jealousy. Thank god it is over!."
"DigiWorldz, Discovery. i was already in DigiWorldz and also created an avatar in Discovery. (Carole Rivera)"
"DigiWorldz. Saw a comment here about DigiWorldz and decided to check it out. It will be my "replacement" as everyone is so nice and helpful and there is a InWorldz transition and support group there. Still on Second Life too. MusE Starsmith everywhere."
"DigiWorldz. Plenty of support by the staff, and always hopping with people!."
"DigiWorldz. I heard good things about this grid, friendly helpful, staff, warm welcome for all coming from Inworldz, lots of help to find homes, clothing, and a place I am happy to call my home."
"Discovery. Discovery, because our friends moved here. Glad we did, as we have found Discovery to be a great choice. Very friendly, very helpful staff and community. ."
"DigiWorldz, Tag Grid, Virtuality Grid, Panthera-grid-club. TAG is my Main Home now I have had an account there for a few years & my store was there before IW went down. I also have regions in 2 more Panthera, very new grid & Virtuality Grid which I am really enjoying. Rosa Dagostino in all grids."
"Discovery. Yes I picked it after looking at other worlds, Thank you!"
"DigiWorldz. The best welcome I ever had in all grids! And such good service!"
"DigiWorldz. For its pro-active stance on content protection."
"DigiWorldz, Kitely, Tangle Grid. I'm AlizaDouglas5515 in Discord as The Sultry Pixel channel with the same avatar name in InWorldz. I've had Amoriana Douglas in TanGle Grid for a couple of years but have now decided to bring all my creations to OpenSim from my InWorldz and Second Life stores as theThe Sultry Pixel with Kitely as my base of operations because of its generous pricing for worlds and excellent online marketplace. Please come visit Amoriana Douglas at Beesbury Bay: grid.kitely.com:8002:Beesbury Bay. I have Gwayne Beesbury as a role play character in DigiWorldz where our entire Game of Thrones role play troupe have decided to reside. Look for Jeren or Beth Tyrell in DigiWorldz for information on the Game of Thrones role play group. I expect to resurrect my OSgrid building character from 2008 because he still has all my great CC textures that I can use to finish rebuilding my most recent .oar files surviving on my hard drive that I had uploaded to Beesbury Bay earlier this afternoon. Which is another reason I chose Kitely for my primary home; for the superior worlds manager and full control of my worlds with almost zero need for the technical skills I had painfully learned in order to host my own regions in OSgrid a decade ago."
"DigiWorldz. Took a look at Discovery and was disappointed in the welcome center. No one said hello – and since there were no other visitors around, I'm guessing they were talking to each other in IM's. I asked a question that never got answered, that's when I knew it wasn't a place I wanted to be, so I went to visit DigiWorldz and guess what? People greeted me and was warm and friendly so I decided to make this my new home. Discovery listen, if you want people to stay at your grid I would suggest friendlier more helpful people at the welcoming area."
"DigiWorldz, Discovery, Tag Grid, Second Life. (Trinity Humburg, Trynatie Mason)"
Discovery
"Discovery Grid, because it offers the best future! (Modee Parlez)"
"Discovery, Tag Grid, because of the great community, knowledgeable staff, opportunities. (Peabs)"
"Discovery Grid, because at this time it appeals to me. I have many reasons but seems to be very stable and lots of friendly people around."
"Discovery Grid, because a lot of people from InWorldz went there. (Ciena Wyllo)"
"Discovery Grid. I picked this grid because I feel that the grid management is competent and pricing is amazing for var regions. Also huge sailing area and several friends from InWorldz are here."
"Discovery Grid. Simply Lily's Designs – Mesh Clothing and Prim Built/Mesh Hybrid Homes."
"Discovery Grid seemed like a good choice for me and what I want to do with my virtual world life. the grid is beautiful and land prices more then reasonable. InWorldz name was Angelique Nicole89 same as it is at Discovery Grid."
"Discovery. (Lindee Ellsmere)"
"Well shoot, I forgot to say I went to the Discovery Grid. xoxo (Lindee Ellsmere)"
"Discovery. It came recommended."
"Discovery. Moved here due to a lot of our friends were relocating here, land was cheap and lots of prims available. People here are so helpful and friendly and the hyper grid is available."
"I picked Discovery Grid most friendly people, price for the land, the connection with the hyper grid and the name. Discovery Grid suits the transplants from IW because we are totally on a journey to find a new home. Since I have been here I am surrounded by lots of other IW people and it is comforting. Only thing I do not like is the price of the currency exchange is crazy high. Something needs to be done about that 🙂 So far an awesome welcoming experience!"
"Discovery. Because the owners are topnotch scripters I know from the earlier days of InWorldz."
"Discovery. My InWorldz landlord was in Discovery Grid. (Stjarna Szondi)"
"Discovery. Great grid with stability and outstanding development team."
"I know, trust, and respect the people running Discovery Grid. They are very hands on and helpful."
"Almost everyone I know in InWorldz is in Discovery."
"Discovery. Balpien Hammerer is one of the admins. That worked for me."
"Discovery. Friends invited me."
"Discovery, InWorldz 2.0, Lost Paradise. Lost Paradise is a very quiet grid, probably too quiet for some. So far I have not discovered a community there or seen more than two people online. Those two people were however very helpful and friendly. The Lost Paradise grid is a great place to build. Land prices are very reasonable. I also explored the Discovery grid. Immediately after landing, I met several friends from InWorldz. Discovery may turn out to be a good alternative for InWorldz. I will always keep a presence in Second Life. It's where my virtual life began. I'm Laetitia Aluveaux in all worlds."
"Discovery. Chose Discovery Grid because I trust the developers and owners."
"Discovery. My InWorldz friends are now all in Discovery and it seems a really friendly place with everybody willing to help and a lot of potential to grow."
"Discovery. Discovery, because it is the most promising one in terms of residential use, economy, stability, development and possibilities, imo. A reliable grid, ran by professional and friendly people, a lot of folks I know from old InWorldz and all regions are connected with large waters to sail or fly. Dedicated and skillful work by the developers. Great for physics. Affordable prices for land as well. (Lamat Lisle)."
"Discovery. Most of my friends moved there."
"Discovery. (Arathorn Dragomir)"
"Discovery, OSgrid, InWorldz 2.0, Second Life. Still awaiting InWorldz 2.0, but InWorldz was my primary grid, first life, where I have almost nine years' investment I'm not going to let go of. I already had accounts on the other grids I checked, so I'm just passing the time till InWorldz 2.0 goes live and hope some of my stuff survived this heartbreaking tragedy."
Kitely
"Kitely, Metropolis, 3rd Rock, mostly on the basis of performance. But following friends is a huge part of the decision. I looked at Discovery and DigiWorldz, but found they do NOT live up to the hype. Fortunately, my choices are on the hypergrid so keeping in touch with dear friends will be a doable thing. Why is InWorldz 2.0 on this list? It is not a 'done deal' that it is even going to happen."
"Kitely, Discovery. Most of my friends came here."
"Kitely for stability and building, Discovery for club and social."
"Kitely, Discovery. Discovery is optimized for vehicles and has better sailable seas so suits me as a sailor. Also it has a feel reminiscent of InWorldz in the early days. I'm keeping Kitely as an option because many of my friends are there and it has a good reputation for technical stability."
"Kitely. I know from reliable friends that it is exceptionally well managed. It is hypergrid enabled. They have very reasonable prices for regions (worlds). You can do your own OAR files. The Kitely Market is the best online market with years of improvements and permissions are very strong on Kitely."
"Kitely, Metropolis. Kitely seems to have a good owner and devs. I met a friendly greeter there who helped me too. I did not feel pressured to just stay in one place like I did at InWorldz. I did not feel pressured to buy land either but I do see the lands offered to be a giant savings and quality. I do not know why you put InWorldz 2.0 on the list. They could not handle a grid the last time and a second version could be vaporware that never happens. Metropolis has lots of good places to shop for free stuff to get me going. The downside I think Kitely has is it needs to show how many are in world. I do not know if people are on or not. it feels a little lonely lonely except for that greeter. But I bet a group or two could come in and make it very active. They do have activities now though. I think I will make it home."
"Kitely, Discovery, Great Canadian Grid, still on Second Life. Some friends recommended Discovery Grid and the people running it. Worth a try. I'm intentionally using my ongoing name. Pleased there's a hypergrid connection."
"Kitely. I see this to be the strongest grid for the future, sound technology, great tech support. I believe it will be how other grids will need to operate if they plan on surviving."
"Kitely. Kitely's owner is amazing and really helpful. The worlds are fast and inexpensive. The people are really friendly and there is a lot to do."
"Kitely, Discovery. for sure a grid that is not blocking the sacrarium grid! Best items on open grid will be found and offered there!"
"Kitely. (Saros Eclipse, Mostly Harmless)"
"Kitely, Discovery, InWorldz 2.0. (Tanya Matahari)"
"Kitely. Kitely has a good set of price levels and seems more professionally operated."
"Kitely. Professional, large, friendly priced, marketplace."
Second Life
"I never left Second Life, so I will stay for educational meetings."
"Second Life. For the diversity of people, music and events, the wide choice of high quality clothing and avatar accessories, the great boats and sailing community, the big map for exploring."
"Second Life. Went through Avination, Island Oasis and now InWorldz and others, some of which are still around but had problems – think we will stick to Second Life for now. Already have business on Kitely and we have our DreamWorld if ever feel the need to connect hyper grid."
"Already established in Second Life and Kitely. I'm not moving anywhere new, just putting all my focus back on Second Life and Kitely where I'm already established as a designer. I originally chose those grids because they are professionally managed and offer good commerce and conditions for designers. My InWorldz friends are in Second Life too, so I only miss the peace and the relaxed atmosphere I loved so much in InWorldz."
"Second Life. Second Life is the biggest and most established grid. I am surprised you did not even list it here. I don't want to learn in a year from now one of these other grids is going south and I don't see that happening with Second Life. In the past their prices shrug me off but they keep lowering land prices now, they even announced that Second Life will migrate to a cloud in a year or two."
"Second Life. Though I had been a big InWorldz fan I had never totally disassociated with Second Life, and in the last couple years as InWorldz slowed noticeably I've been back to SL more and more. Knutz Scorpio."
"Probably going to Second Life. Though for a while I was almost 100% in InWorldz I never disassociated myself completely from Second Life, and when things began slowing in InWorldz I started logging into Second Life more."
"Second Life. It's where I started and where I will stay."
Tranquility
"Tranquility. An amazing grid full of kind and wonderful people, place I am happy to call home."
"Tranquility. I joined Tranquility Grid, and met the most wonderful and most helpful people around, really knowledgeable and willing to teach and help you learn, free home for 30 days, 500T$ for joining as a gift, lots of daily events and lots of freebies around the welcome sim :)."
"Tranquility. $9 a sim. Tranquility has some growing pains but for putting up with the you get a sim free with an order of pizza."
InWorldz 2.0
"InWorldz 2.0, Great Canadian Grid. places I was already in and happy till lost."
Tag Grid
"The Adult Grid, now renamed Tag Grid. I had an account there. (Lady Sakai)"
"Tag Grid. Inexpensive, super friendly people, lots to see and do."
Great Canadian Grid
"The Great Canadian Grid. Except I did not move — I had moved there years ago — but had a presence in InWorldz – simply restrengthening my bonds there."
"DigiWorldz, Kitely, Discovery, Great Canadian Grid. I live at Great Canadian Grid because they are family."
"Kitely, Great Canadian Grid. Already had a Kitely avi and then doing research found Great Canadian Grid… leaning towards preferring Great Canadian Grid."
"Great Canadian Grid. I have here this from friends I went to this friendly grid and I'm stay here now for three years."
OSgrid
"OSgrid, InWorldz 2.0. I already have a presence on OSgrid and I look forward to InWorldz 2.0."
Metropolis
"Metropolis. it runs now for many years stable and got right now a better page design."
"Metropolis. Heard of it from a friend."
Gevolution
"Gevolution. I have a very stable 10×10 with 250k prims at a very reasonable price.)"
"Gevolution. (Rose Grayson)"
Kinky Grid
"Kinky Grid. My name was Becca Diamondfire and I picked this grid because its servers are great we find no lag or any of the other problems that other grids have, it is a all adult grid so there are no kids running around and no G or M rated sites only A!"
"Kinky Grid. Because my friends are the founders and the atmosphere is great. I feel so liberated here. We have no G or M rated sims, just adult rated. We can sail grid-wide and land prices are perfect. Yes, it's a new grid, but it has potential and competent management. No fuss, no drama, just friends and like minded members. Come visit. Come join us. Kinky is the new frontier! (Lizzy Borden)"
"Kinky Grid. Very happy to have found this grid, friendly people and lots of fun."
Tangle Grid
"Tangle Grid. I have found it is a great drama free grid. Been around for five years and has great region prices. (Lady Evil)"
Misfitz Grid
"Misfitz Grid. Open and friendly community."
Panthera Grid
"Panthera Grid. Panthera is a friendly grid with very good prices for land including a whole region with 20,000 prims for $4.90 a month, also 1/4 sims for $1.50 a month with 5,000 prims. Johnboy's world is also here with a whole region of free items and houses and the whole grid is very stable with virtually no lag, it was a no brainer to come here."
Social Mouse
"Social Mouse. Personal choice, cool people and not that large."
"The Social Mouse. The Social Mouse is a small but growing grid. I think it would be cool to make new friends and settle in before too many people join."
Virtual Highway
"Virtual Highway. I joined Virtual Highway because they are a closed grid like InWorldz was."
ZetaWorlds
"ZetaWorlds was the best fit for me to fill my dreams with great staff and smooth regions. (Kelly4u Lynn)"
My personal world
"My own grid called Mainlandgrid.world. had enough of the way OpenSim is going so going to try to do my own thing."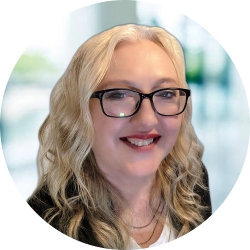 Latest posts by Maria Korolov
(see all)