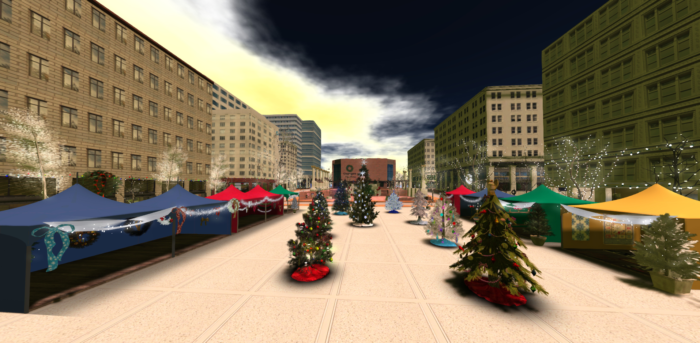 I'm barely able to type this right now. I have a massive turkey hangover.
But that's not stopping me from scouring the web for Black Friday deals. This is probably a bad idea, because my sales resistance is so low, but I just can't help myself.
But it's not just your local mall and your favorite online shopping sites that are offering deals today — there are goodies for OpenSim residents, as well!
Check out this roundup of offers. It's a great time to pick up a little something-something for your in-world friends, to reward yourself for not bringing up politics last night — or to console yourself because politics did come up, and now everybody hates everybody else!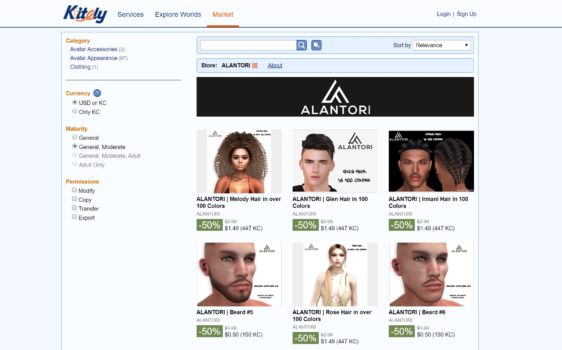 First, start off your shopping right at the Kitely Market. Kitely has made it easier for merchants to hold Black Friday and Cyber Monday sales this year. Unfortunately, there's no single page that lists all the best offers, so you'll have to hunt around. If you find something cool — or are a merchant offering something cool — let us know in the comments or email me at maria@hypergridbusiness.com and I'll add it to the story.
Right now, I'm seeing Black Friday sales at the Alantori Kitely Market store.
The Kitely Market is also a good place to get Christmas, Winterfest, and New Year's themed merchandise.
Land sales on OpenSim grids
Several grids are offering deals today on region rentals, so if you've been thinking about getting a region, but have been putting it off, this is a good time to make the move.
Tag Grid, the most popular OpenSim grid that's not on the hypergrid, has a Black Friday land sale, with half-off of new full-size region rentals. The price is frozen for as long as you rent the region — but hurry up, the sale is only for today!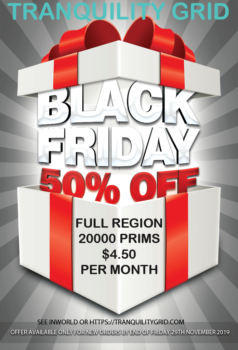 Tranquility Grid is also cutting region prices in half for its Black Friday sale, with a full 20,000-prim region for just $4.50 a month. That is an excellent deal for a full-size region, and the price holds for as long as you keep the region.
Their deal isn't officially posted on their website yet, so contact the grid owners to get in on the fun, or just keep checking the website.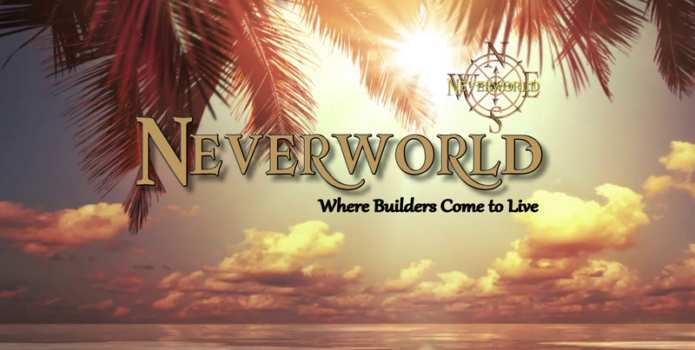 Neverworld grid is offering two-by-two variable-sized regions with 75,000 prims for just $7.50 a month.
And a standard region, with 15,000 prims, is just $2.50 a month. No, that is not a typo. $2.50 a month!
The best part is — if that price wasn't already great — is that the deal runs through the end of the year.
I'll be updating this page with more deals as I find them, so check back in!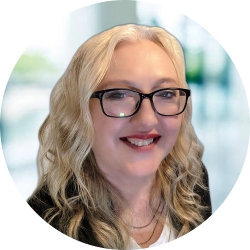 Latest posts by Maria Korolov
(see all)