The total size of the OpenSim metaverse grew this month, as 79 grids reported increases in land area, led by the non-profit OSgrid, which gained more than 500 standard region equivalents. Discovery Grid gained 249 regions and Kitely and ZetaWorlds both gained more than 100 regions each.
As a result, total land area increased by nearly 3,000 regions, from 71,869 last month to 74,778 this month.
Active user numbers fell, however, from 33,614 last month to 31,153 in March, a drop of around 2,200 actives. Part of it was due to the fact that Tag Grid did not report active users this month.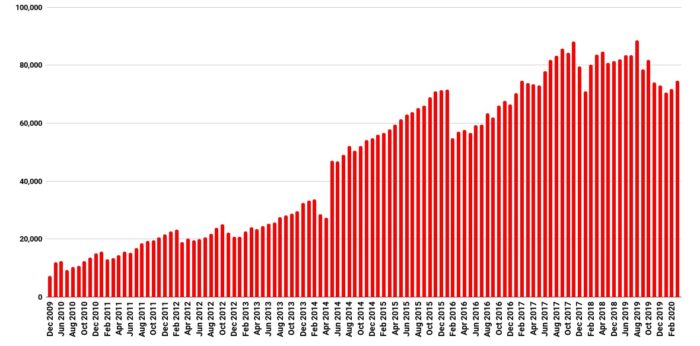 These stats do not include most of the grids running on OutWorldz' DreamGrid distribution of OpenSim, or private company or school grids who used other installers.
As of last month, according to OutWorldz' Fred Beckhusen, 1,595 DreamGrids were online. Of those, 1,253 of them use an OutWorldz subdomain, and 342 have their own website address, or just use an IP address instead of a URL.
OpenSim is a free, open source virtual world platform that's compatible with the Oculus Rift. It allows people with no technical skills to quickly and cheaply create virtual worlds, and then teleport to other virtual worlds. Those with technical skills can run OpenSim worlds on their own servers for free, while commercial hosting starts at less than $5 a region.
A list of hosting providers is here. Download the recommended Firestorm viewer here. And find out where to get content for your OpenSim world or region here.
You can also add your grid in the stats if it is not being crawled by OutWorldz. OutWorldz also provides OpenSim users with free mesh items, OARs and free seamless textures that you can download and use on your grids.
Top 25 grids by active users
When it comes to general-purpose social grids, especially closed grids, the rule of thumb is: the busier, the better. People looking to make new friends look for grids that already have the most users. Merchants looking to sell content will go to the grids with the most potential customers. Event organizers looking for the biggest audience… you get the idea.
Top 25 most popular grids this month:
The actives list is based on active, unique 30-day user login numbers that grids report on their stats pages. Those grids that don't report their numbers might be just as popular, but we wouldn't know. The active user stats are also used to generate the popular hypergrid destinations list, which is useful if you have a hyperport and want to put up gates to the most popular grids, or include the most popular grids in an in-world directory.
This list is also a good place to start if you want to open up new stores or hold events, or are just looking for places to visit.
I measure active users by counting both local residents and hypergrid visitors. After all, hypergrid visitors attend events and spend money just like anybody else. If I'm looking for a happening grid, I want one with a lot of people on it — and I don't really care where their home avatar is based. In fact, several grids are encouraging users to have their avatars on other grids, such as Kitely or OSgrid, in order to reduce the load on their own servers. Many grid owners are also increasingly willing to rent land to visitors, and even give free store space and homes to visitors as well. Their money, after all, is just as good.
Yes, this means that people are double-counted, based on all the grids they visit. But they'd also be double-counted if they created new avatars on each grid. So it comes out even in the end, as far as I'm concerned.
Here some information on how and why you should set up a stats page for your grid. Of course, not all grids need a stats page, especially grids that aren't open to the public, like school grids, private company grids, small family grids, and so on. From prior surveys, this "dark metaverse" of OpenSim grids might actually be bigger than the one we know about, because those grids don't need to promote themselves, and we never hear about them.
Forgotten Realities back on the hypergrid
The Forgotten Realities grid's mainland regions are back on the hypergrid after an upgrade to the latest version of OpenSim.
"We have also added a new hypergrid welcome center to FR Residental," grid owners Jacari Woulard told Hypergrid Business. "Sims are coming along nicely."
AviWorlds leaves the hypergrid again
In yet another change to its business model — is anyone surprised? — AviWorlds owner Alexsandro Pomposelli has again decided to make life hard for his users by radically changing business models.
Hypergrid is turned off, and residents who want to buy land need to pay for a premium account. And regular land prices went up as well — $50 a month for a standard region.
Considering that the average in OpenSim is $15, that's very much on the high side.
"Residents like the fact that the world is private and exclusive for our residents only," Pomposelli told Hypergrid Business.
I have my doubts. AviWorlds' active users dropped from 298 last month to 234 when I checked the stats last week. And I just checked the stats again and he's down to just 141 active users.
"Our servers are now all SSD powerful machines with over 60 percent of their capacity not used so our regions are strong and can receive many avatars," he said. "Our prices, of course, reflect that quality and performance."
Other grids, like Kitely and Digiworldz, are somehow able to offer great performance and stability at a fraction of his price and don't change their business models every month.
"My view hasn't changed and I always advocated quality and performance plus being a private grid," said Pomposelli. "The other tryouts were mostly to try to cater to all the other opinions. A professional grid needs money so it can survive just like any other type of business. I think we will be able to capitalize on the private and quality market."
To add insult to injury, AviWorlds is now also charging for content uploads.
Back when it was hypergrid enabled, AviWorlds had freebie stores to get visitors to come and check out the grid. Many grids use freebies to attract visitors and then try to entice them to visit other destinations, or the grid owners put commercial shops with premium content nearby for those visitors who have Gloebit currency.
While most grids welcome the traffic, Pomposelli is dismissive of this approach.
"People no longer come to the grid to visit," he said. "They come scavenging for content to place in their own grids. AviWorlds will not be another grid's content store."
AviWorlds used to be known for its parties, but neither its Facebook Group nor its Facebook Page have any events listed — just ads. There are also no events promoted on the grid's website.
Instead, Pomposelli said, he's running Facebook ads to attract visitors.
Fire and Ice grid offers free regions for charities
The Fire and Ice Grid announced today that it is offering ten free regions for charitable organizations.
This Saturday morning, for example, the Fire and Ice grid hosted a virtual coffee morning on behalf of the York LGBT Forum. Under normal circumstances, those meetings are held face-to-face, but COVID-19 restrictions make that impossible.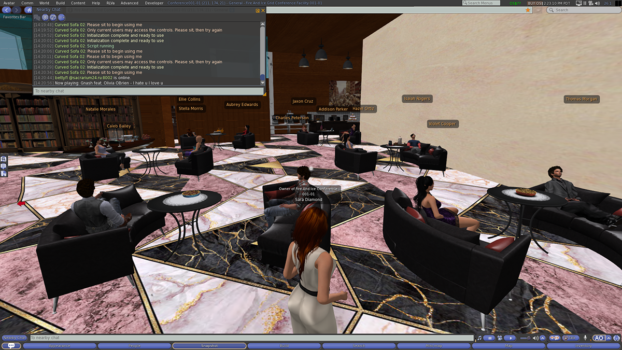 "Social isolation is a genuine risk for a great many people who live alone or have other mental health issues," the grid announced. "While using avatars in a virtual world might not be for everyone, it is an excellent way of socializing for many people."
Organizations can request a free region by filling out this contact form and the ten free regions will be distributed on a first-come, first-served basis.
The grid will also provide help on using the regions and connecting users.
"This offer will remain open for as long as the current social limitations around the world are in place," the grid said. "We hope that this little contribution to society will bring a little light to at least a few people. We all need to do our part to help each other. Our offer is the most effective way we can come up with to help as many different communities as we can."
Littlefield Grid celebrates 7 year anniversary, Easter
Littlefield Grid is turning seven years old this year.
The grid will be marking its seventh anniversary on Saturday, April 4 at 4 p.m. Pacific Time on the Littlefield Anniversary region.
The hypergrid address is lfgrid.com:8002:Littlefield Anniversary.

"We will have the region up for a month," grid owner Walter Balazic told Hypergrid Business. "It has displays from all the residents of Littlefield Grid."
Then, on Sunday, April 12, the grid will hold its annual Easter Egg Hunt on the Littlefield Main region.
The hypergrid address is lfgrid.com:8002:Littlefield Main.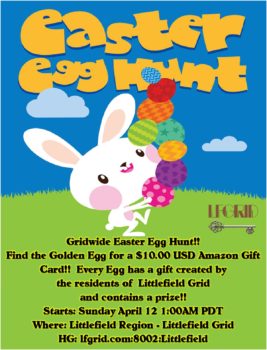 The first one to find the golden egg will win a US $10 Amazon gift card, said Balazic.
In other news, the grid has added a second DJ to its regular Speakeasy Saturday Night Dance Party. DJ Essensual will host from 4 to 8 p.m. Pacific and DJ Walter Balazic will take over from 8 p.m. to midnight.
The hypergrid address is lfgrid.com:8002:Speakeasy.
Tranquility Grid offers region discounts
Meanwhile, in a more sane corner of the OpenSim metaverse, Tranquility Grid is giving 10 percent discounts off on all new region rentals this month. A standard region is now just $9 a month. The highest-priced land is $40 for a four-by-four variable size regions — that's the equivalent of 16 standard regions.
Tranquility also now offers a selection of premium pre-made regions, in the form of OAR files, for $7.50 each, as well as low-cost water regions.
And, like most successful commercial grids, Tranquility has a long list of things to do and a packed events calendar.
The grid's also added discount functionality on its website. So, for example, if you enter Hgbmar20 at the checkout before the end of the month, you'll get an additional 20 percent discount on land, OAR installations, or other purchases.
New grids
The following grids were added to our database this month: Continuum, DarkWatch Estate, Diomed, Dominator, MM's Grid, Moonlighting Grid, Nymphgrid 2 Shopping, Osnadurtha, Otterland, Ruhrpott-Treff, Understar Grid, Vatnfjel, Virtual Reload, Wiccan Grid, XonXon World.
Do you know of any other grids that are open to the public but that we don't have in our database?
Email me at [email protected].
Top 40 grids by land area
The list below is a small subset of existing OpenSim grids. We are now tracking a total of 1,474 different publicly-accessible grids, 308 of which were active this month, and 237 of which published their statistics.
All region counts on this list are, whenever available, in terms of standard region equivalents. Active user counts include hypergrid visitors whenever possible.
Many school, company or personal grids do not publish their numbers.
The raw data for this month's report is here. A list of all active grids is here. And here is a list of all the hypergrid-enabled grids and their hypergrid addresses, sorted by popularity. This is very useful if you are creating a hyperport.
You can see all the historical OpenSim statistics here, including polls and surveys, dating all the way back to 2009.
Below are the 40 largest grids by total land area, in terms of standard region equivalents.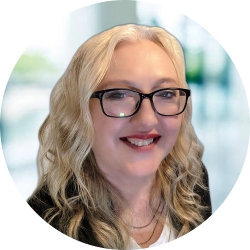 Latest posts by Maria Korolov
(see all)