OpenSim grew by more than 1,700 regions over the past month while active users increased by more than 1,400.
There is usually a seasonal uptick in the fall as students and teachers return back to school. This year, that may have been accelerated by the COVID-19 pandemic, as well.
OpenSim now has the equivalent of more than 77,000 standard regions, of which 74,000 are accessible via the hypergrid, and more than 34,000 active users.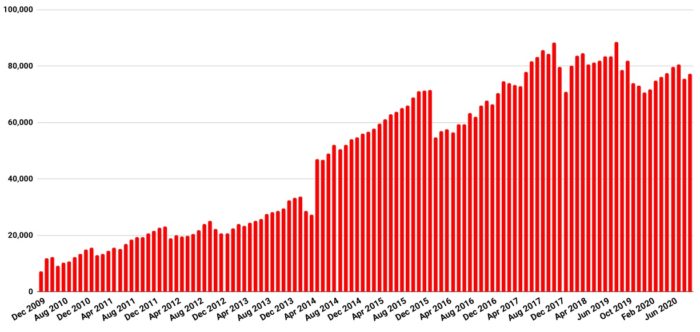 OSGrid recorded the highest growth in the number of regions this month, adding a total of 1,007 new standard region equivalents, followed by Furry World which added 319, DigiWorldz with 169, V grid with 111, and ZetaWorlds with 92 new regions.
OSgrid also continues to be the largest grid in terms of the total number of regions with 22,629 regions, followed by Kitely with 18,009 regions, and Discovery Grid being the third largest with 8,942 regions. Please refer to the list of top 40 largest grids on OpenSim at the end of this article for a longer list of grids sorted by size.
These stats do not include most of the grids running on OutWorldz' DreamGrid distribution of OpenSim, or private company or school grids who used other installers.
After a recent database cleanup, OutWorldz now records a total of 327 grids that were online in the last three weeks, out of which 222 are marked as using OutWorldz' DreamGrid software.
OutWorldz new search engine, however, is having a slow start. The Hyperica crawler for OpenSim currently shows just 2,319 items set for "Show in Search" in-world, according to OutWorldz CEO and owner of Hyperica Fred Beckhusen.
"This number varies wildly over time as it only shows items that are available now," Beckhusen told Hypergrid Business.

As of last month, there were 6,308 grids of any type that have been crawled by the Hyperica robot since Jan 1, 2020. These are tracked in a different database. Hyperica stores online DreamGrids, regions, parcels, regions, objects, and hypergrid events provided the region or item is set for "Show in Search" in-world.
OutWorldz also offers 144 free OARs — complete pre-built regions — and 123 free IARs — user inventory files — as well as mesh objects and textures which OpenSim users can download and install on their own regions on any grid that permits those kinds of uploads. There are also 302 current or future online events published directly to OpenSim viewers and to the Hyperica events listing.
The total list of grids tracked by OutWorldz is available here. You can also add your grid in the stats if it is not being crawled by OutWorldz.
OpenSim is a free, open-source virtual world platform that's compatible with the Oculus Rift. It allows people with no technical skills to quickly and cheaply create virtual worlds, and then teleport to other virtual worlds. Those with technical skills can run OpenSim worlds on their own servers for free, while commercial hosting starts at less than $5 a region.
A list of hosting providers is here. Download the recommended Firestorm viewer here. And find out where to get content for your OpenSim world or region here.
Top 25 grids by active users
When it comes to general-purpose social grids, especially closed grids, the rule of thumb is: the busier, the better. People looking to make new friends look for grids that already have the most users. Merchants looking to sell content will go to the grids with the most potential customers. Event organizers looking for the biggest audience — you get the idea.
Dynamic Worldz 2 grid gained the highest number of active users in the last 30 days with 351 new active users, due to the fact that is is a new listing in our database, followed by Eureka World with 342, Panther's World with 232, Little Breath with 162, and Virtual Ville with 144 new active users.
Top 25 most popular grids this month:
The actives list is based on active, unique 30-day user login numbers that grids report on their stats pages. Those grids that don't report their numbers might be just as popular, but we wouldn't know. The active user stats are also used to generate the popular hypergrid destinations list, which is useful if you have a hyperport and want to put up gates to the most popular grids, or include the most popular grids in an in-world directory.
This list is also a good place to start if you want to open up new stores or hold events, or are just looking for places to visit.
Here some information on how and why you should set up a stats page for your grid. Of course, not all grids need a stats page, especially grids that aren't open to the public, like school grids, private company grids, small family grids, and so on. From prior surveys, this "dark metaverse" of OpenSim grids might actually be bigger than the one we know about, because those grids don't need to promote themselves, and we never hear about them.
Kitely Market
There are currently 17,068 product listings on Kitely Market containing 34,871 different item variations, of which 29,824 are exportable.
The Kitely Market, which is the largest collection of legal content available in OpenSim, has delivered orders to 457 OpenSim grids to date, both hypergrid-enabled and closed, private grids. (Instructions for how to configure the Kitely Market for closed grids are here.).
Tag Grid Marketplace
Tag Grid's Marketplace, a competing content platform which only serves the Tag grid,  offers animations, avatars, avatar accessories, scripts, and building content, and now has 27,993 listings. More than half of these are apparel and about a quarter are avatar accessories.
The marketplace also offers freebies and currently lists 145 freebies items on the Freebies Paradise. The Kitely Market does not allow freebies.
Tag's marketplace continues to catch up with the Kitely Market, having gained more than twice as many listings over the past six months.
The chart above compares the total variations on the Kitely Market with the total products on Tag because Tag lists two colors of the same dress, say, as two different products, while Kitely lists them as two variations of the same product.
New updates for Dayturn Viewer for Opensim
A new version of Dayturn Viewer for Opensim has been released. The new update comes with improvement to voice, audio, mesh uploads, and is more stable on Windows 10 although it drops support for Windows 7. It also comes with better support for MacOS 10.15 Catalina, Dayturn developer and Xmir grid owner Geir Noklebye told Hypergrid Business. 
"It seems to be running pretty good on the upcoming MacOS 11 Big Sur on the Intel beta," he said.
The updates have already been tested on the XMIR grid, he said.
"Although the viewer is not specific to the XMIR grid, the bulk of the viewer testing happens on this grid, with additional testing on OSgrid and others," said Noklebye. "XMIR is not on the most bleeding edge of the OpenSim development branch but usually trails it by a couple of months to ensure reasonable stability in the test environment, while also being able to test new or changed features of OpenSim, mainly added from Second Life."
Although OSgrid is the main test grid for OpenSim, some of the features might be a little different than on other grids, so it doesn't not necessarily mean that the viewer will work exactly the same on every installation of OpenSim, he said. Testers can also no longer use the Second Life test grid for testing the viewer because the viewer omits certain Second Life infrastructure features, according to Noklebye.
In addition to these factors that make XMIR a more suitable testing grid for the viewer, XMIR is also a test environment for OpenSim regions running on Raspberry Pi, a very small, low-cost computer popular with students and tinkerers. The libraries required for OpenSim to run on the Pi have been compiled on these regions and therefore the testing happens there to see if and how the viewer performs on those regions running on Raspberry Pi.
"Because XMIR primarily is used for viewer testing, the content is continuously updated across the landscape in long-running building sessions to test viewer stability," he said. "Free content is sprinkled in many regions. Other content can be purchased on Kitely Market in my store."
Compared to the most popular OpenSim viewer, Firestorm, Dayturn is leaner because it does not try to cover all functionality. It, instead, covers the base functionality and this makes it easy to learn. Dayturn also does not support Second Life use as does Firestorm.
Get free parcels on XMIR grid
The XMIR grid is offering a few homestead parcels on the Firat region for free, and anyone can get a parcel by contacting the grid management, with or without an account on the grid.
"For permissions to work properly it is best to have an XMIR grid account, but a hyper grid user could perhaps work via group land and permissions," XMIR grid owner Geir Noklebye told Hypergrid Business.
The hypergrid address is grid.xmir.org:8002:Firat region.
Octoberfest kicks off on Littlefield

The annual Octoberfest event kicked off at 4 p.m. Pacific Time on Saturday, October 12 at the Munich region of Littlefield grid. The event will take place until the end of this month. It celebrates the marriage of the crown prince of Bavaria, who later became King Louis I, to Princess Therese von Sachsen-Hildburghausen.
The hypergrid URI is lfgrid.com:8002:Munich.
9/11 memorial can still be visited on Littlefield grid

This year, the annual memorial service to commemorate the September 9/11 attacks on the U.S. by Al Qaeda and which takes place on the Memorial region of the Littlefield on September 11, did not see a lot of people attending.
However, the region plus all of the builds, are still accessible throughout the year for anyone who wants to visit and see what was happening during the commemoration.
The hypergrid URI is lfgrid.com:8002:9-11 Memorial.
Dance to music and attend performances on Littlefield

Littlefield grid has a virtual version of the Coney Island, a region that helps you relive simpler times — like 2019 — if you missed your summer at the real Coney Island without masks and social distancing.
The hypergrid URI is lfgrid.com:8002:Coney Island.
For music lovers, DJ Essensual hosts The Best Love Songs and Rock Ballads party starting at 1 p.m. Pacific Time every Thursday of the week at the Sweethearts region.
The hypergrid URI is lfgrid.com:8002:Sweethearts.
Additionally, on every Friday of the month at the Sound city region, there will be live performances by different artists like Terry "the Wildman."
Also, one of the OpenSim's oldest running dance parties is taking place starting at 4 p.m. Pacific Time every Saturday at the Speakeasy region. DJ Essensual and DJ Walter Balazic entertain all night long.
And 5 p.m. Pacific Time every Sunday is the time to check in at the Latex Lounge located at the Battersea region, featuring DJ Essensual.
The hypergrid URI is lfgrid.com:8002:Battersea.
Rent land for two months to get a free month at Tranquility grid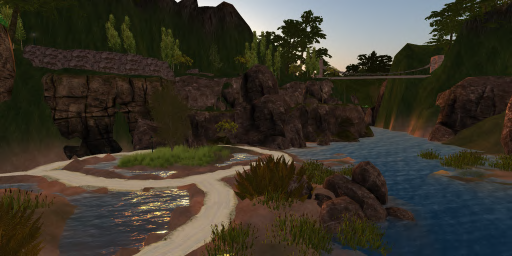 Every month, Tranquility grid has a new offer on land rates. This month, you can pay for two months and get the third month free on any region.
"This is grandfathered, so would pay the invoice every three months," Tranquility grid owner Chris Tranquility told Hypergrid Business. "Our cheapest region, the Home Starter with 10,000 prims is usually $7.50 per month. With the offer, you pay $15 to cover three months tier, therefore $5 per month."
Fire and Ice grid art competition sees high turnout
The Fire and Ice grid's Abstract Art competition is still on-going until the end of September.
The grid, as a whole, has seen a substantial increase in the number of users visiting the grid, partly due to the art competition, but also as a result of more people stopping in the new welcome area to chat.
"At present, we have over 300 active users on the grid in the last 30 days," Fire and Ice grid owner Sara Payne told Hypergrid Business. "This is an increase of about a third compared with many previous months."
The grid will host a party at the end of the event at 2 p.m. Pacific Time on Wednesday, September 30 to reveal the winner of the art contest. The party will run for approximately two hours.
Those willing to participate in the contest can visit the grid's welcome region or the grid's main landing point. They can then click on the big Fire and Ice sign poster and selecting to teleport to the art gallery from the menu options that pop up.
"Once there, anyone wishing to enter into the contest needs only to drag and drop a texture which they have uploaded, onto one of the photo frames while holding down the Control key or the equivalent alternative on a Mac," said Payne. "The frame will then display the new image, generate a notecard with the contestant details and image details. A copy of this notecard is then sent to the creator of the image as their receipt."
"We have also made substantial gains in Google rankings when searching for "OpenSim grid," she said. "Currently, the grid shows on the second page of Google results page, yet twice in the last month we have made the first page. This falls in line with a 30 percent increase in the number of unique visits to our blog."
Get free lots and freebies on Tangle grid
There are lots of freebies on the Great Community Group region in Tangle grid for you to shop and take back with you to your region, including lots, mesh items such as cloths, avatars, buildings, furniture, and even free gas-driven cars in one of the locations.
The freebies are available for both Tangle grid members and those visitors from the hypergrid community, and are great for those starting their regions or other OpenSim activities, Tangle grid owner Leslie Kling told Hypergrid Business.
The hypergrid URI is tanglegrid.net:8002:gcg refuge.
Naras Nook serves up educational projects in OpenSim
The Nara's Nook grid has embarked on interesting projects for OpenSim. These are learning projects in which children and students are being taught to develop things for OpenSim, and therefore their completion will depend on the students, although currently they are being hampered by the fact that children and students have to learn and work on the projects only while at home, grid owner Nara Malone told Hypergrid Business.
The first of these projects is a multiplayer, story-driven, mystery role play game or RPG that will demonstrate the value of OpenSim as a storyboard.
"We have struggled with how to make the experience of the story in OpenSim more personal," she said. "It would be distracting to have other avatars entering and leaving scenes as you go through the story. What we have come up with is making a community gathering space in OpenSim, like the Greyville library and inside have portals that launch the story."
In this multiplayer game, one player is able to experience the story in WebGL, but many instances of the game can run at the same time. Those going through the story can share a group chat or screens in the group if they choose to. Malone said they hoped it could complete by Halloween but now they are thinking it could be through by February to March next year.
"It took a year to create the foundation of all that and the first story setting," she said. "Now all that remains is teaching the authors to make characters that can exist in both OpenSim and Unity and walking them through the process of creating their story and characters in WebGL."
Learners are also working on a project known as Replica Rob, a hologram that is planned to be available for use later on OpenSim. It is being developed using artificial intelligence and Non-Player-Characters or NPCs such as those NPCs used on OpenSim.
"It is based on a project replica started by a woman who used all written communications with her friend, after his death, to create an AI," she said.
AIML-powered chatbots work using an online AI engine, which can cause privacy concerns.
"I don't like the idea of talking to something that likely harvests data about me so had looked into how to make something similar that I know no one can harvest and sell data from," she said. The answer is chatbots using a locally-trained recurrent neural network.
However, deploying fully-functonal AI-powered bots will require upgrading Nara's Nook to a current version of OpenSim, which will delay the bot deployment. In addition, it will take time to train the neural networks for the bots, so the total project could take a while, she said.
"It will be a year before there is an RNN bot you can chat with in OpenSim and at least two before you can rez an avatar in your living room and chat with it," she said. "The AIML chatbots run on my private server so anyone wanting to use the bots would have to do so at our grid or install the same on their own server."
Finally, do you want to travel islands riding a swimming pony?
Learners on Nara's Nook are building an OpenSim version of the game for you, and will probably out a DreamGrid version soon. It's a game in which you travel several islands riding a pony and looking for five different ponies hidden on the islands and which you win after finding. Currently, anyone can see a WebGL working draft and try to mount and dismount a pony, but the game is expected to be complete by Christmas, said Malone.
"I build a scene and then have students I tutor of age 7 to 11 years replicate that in OpenSim using a version of DreamGrid that is not hypergrid enabled," she said. "All the content we need is available, so I expect we will have it complete barring a more severe lockdown due to the pandemic. If they wide up working only from home, they will not have access to the project."
New grids
The following grids were added to our database this month: Bernicia Prime, Boys Grid, Brasil Tropical Familia Anjos, Dynamic Worldz 2, Exodar, Green Leaf Estate, GridMania, HG Quimby, Indie Music Space, JelloCubes, Land Dos Amigos, MartyGrid, My CountryTyme, Mystic Falls, NannyLand, Panther's World, Ralf Michael Grid, Savannah Grid, Star Power Metaverse, ThisGrid, Trabzon, and UltimateMetaVerse Grid.
Do you know of any other grids that are open to the public but that we don't have in our database?
Email me at [email protected].
Top 40 grids by land area
The list below is a small subset of existing OpenSim grids. We are now tracking a total of 1,595 different publicly-accessible grids, 355 of which were active this month, and 269 of which published their statistics.
All region counts on this list are, whenever available, in terms of standard region equivalents. Active user counts include hypergrid visitors whenever possible.
Many school, company, or personal grids do not publish their numbers.
The raw data for this month's report is here. A list of all active grids is here. And here is a list of all the hypergrid-enabled grids and their hypergrid addresses, sorted by popularity. This is very useful if you are creating a hyperport.
You can see all the historical OpenSim statistics here, including polls and surveys, dating all the way back to 2009.
Below are the 40 largest grids by total land area, in terms of standard region equivalents.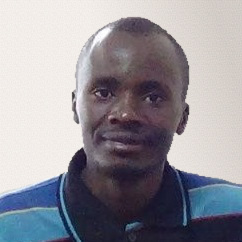 Latest posts by David Kariuki
(see all)