More than 5,000 new users signed up on OpenSim grids in the last 30 days, the largest gain in four months.
In addition, the public OpenSim grids added the equivalent of 367 standard regions and 548 new active users.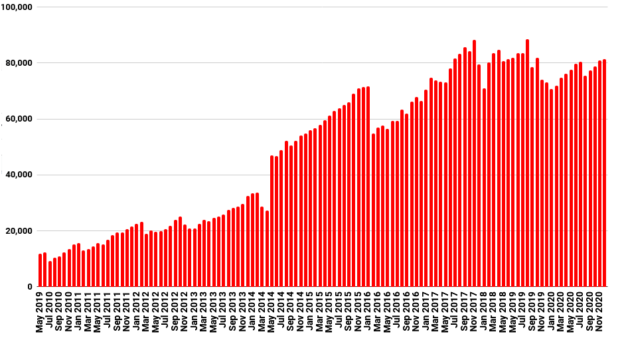 Kitely gained the highest number of regions this month with 189 new standard region equivalents, followed by Creatrix World with 116 new regions, Discovery Grid with 72, Drei Monde Grid with 46, and Furry World closing the fifth position with 32 new regions.
These stats do not include most of the grids running on OutWorldz' DreamGrid, which is a distribution of OpenSim used by many people to create virtual worlds on personal computers, or private company grids, or school grids who used other installers.
There have been 5,051 DreamGrids recorded as online at one time or another in the last six months and the count currently stands at 165 unique online DreamGrids as of now, each of a different number of regions.
The Hyperica robot has crawled over 6,300 grids of any type since Jan 1, 2020. These are tracked in a different database. Hyperica stores online DreamGrids, regions, parcels, regions, objects, and hypergrid events provided the region or item is set for "Show in Search" in-world.
OutWorldz also offers free OARs — complete pre-built regions — and free IARs — user inventory files — as well as mesh objects and textures which OpenSim users can download and install on their own regions on any grid that permits those kinds of uploads.
The Hyperica events listing also lists current and future online events directly published to OpenSim viewers.
The total list of grids tracked by OutWorldz is available here. You can also add your grid in the stats if it is not being crawled by OutWorldz.
OpenSim is a free, open-source virtual world platform that's compatible with the Oculus Rift. It allows people with no technical skills to quickly and cheaply create virtual worlds, and then teleport to other virtual worlds. Those with technical skills can run OpenSim worlds on their own servers for free, while commercial hosting starts at less than $5 a region.
A list of hosting providers is here. Download the recommended Firestorm viewer here. And find out where to get content for your OpenSim world or region here.
Top 25 grids by active users
When it comes to general-purpose social grids, especially closed grids, the rule of thumb is, the busier, the better. People looking to make new friends look for grids that already have the most users. Merchants looking to sell content will go to the grids with the most potential customers. Event organizers looking for the biggest audience… you get the idea.
Top 25 most popular grids this month:
OSgrid gained the highest number of active users in the past 30 days with 1,188 new users. The annual OpenSimulator Community Conference grew by 398 active users this month, as a result of the conference held on Dec. 5 and 6.
AviWorlds was third with 370, Virtual Melody fourth with 303, and ZetaWorlds fifth with 271 new active users.
The actives list is based on active, unique 30-day user login numbers that grids report on their stats pages. Those grids that don't report their numbers might be just as popular, but we wouldn't know. The active user stats are also used to generate the popular hypergrid destinations list, which is useful if you have a hyperport and want to put up gates to the most popular grids, or include the most popular grids in an in-world directory.
This list is also a good place to start if you want to open up new stores or hold events, or are just looking for places to visit.
Here some information on how and why you should set up a stats page for your grid. Of course, not all grids need a stats page, especially grids that aren't open to the public, like school grids, private company grids, small family grids, and so on. From prior surveys, this "dark metaverse" of OpenSim grids might actually be bigger than the one we know about, because those grids don't need to promote themselves, and we never hear about them.
Kitely Market
There are currently 17,611 product listings in
Kitely
Market containing 35,432 product variations, 30,368 of which are exportable.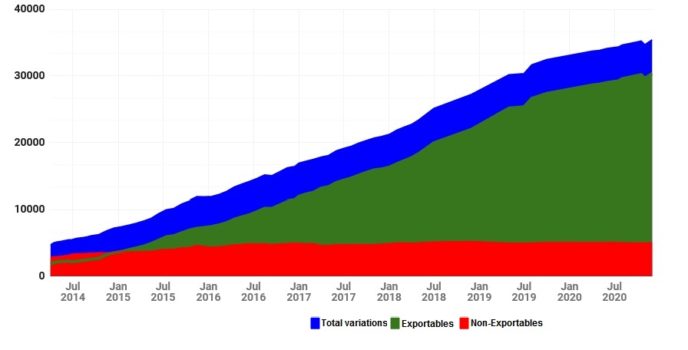 The Kitely Market, which is the largest collection of legal content available in OpenSim, has delivered orders to 480 OpenSim grids to date, both hypergrid-enabled and closed, private grids. (Instructions for how to configure the Kitely Market for closed grids are here.).
Tag Grid Marketplace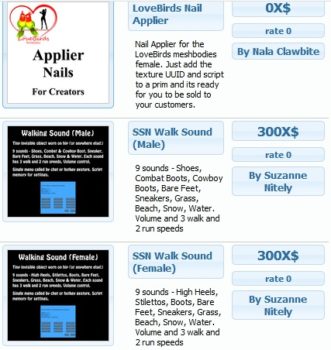 The Tag grid marketplace now lists a total of 28,101 items in 26 categories, most of which are apparel, avatar accessories, and avatar appearances. The market also just crossed 100 users mark this month.
The listings have been growing over time especially in the apparel and avatar categories.
Anyone can visit the website to list their products or items on the marketplace to promote them either for sale or as a freebie for other people to use for free, but the content can only be purchased and used within the Tag grid.
ZetaWorld's regions 35 percent off this month
ZetaWorld's Ocean region just reached more than 120 kilometers of virtual land and hosts a myriad of activities such as sailing and boating, and the admin wants to allow more people to own land at the region for 35 percent off.
To enjoy this offer, use the promo code OCEAN2021 on the land purchase page.
New grids
The following grids were added to our database this month: Drei Monde Grid, Fibia Origin, Vampire's Kiss, Virtual Melody, and Wyldwood Bayou.
Do you know of any other grids that are open to the public but that we don't have in our database?
Email me at [email protected].
Top 40 grids by land area
The list below is a small subset of existing OpenSim grids. We are now tracking a total of 1,613 different publicly-accessible grids, 330 of which were active this month, and 260 of which published their statistics.
All region counts on this list are, whenever available, in terms of standard region equivalents. Active user counts include hypergrid visitors whenever possible.
Many school, company, or personal grids do not publish their numbers.
The raw data for this month's report is here. A list of all active grids is here. And here is a list of all the hypergrid-enabled grids and their hypergrid addresses, sorted by popularity. This is very useful if you are creating a hyperport.
You can see all the historical OpenSim statistics here, including polls and surveys, dating all the way back to 2009.
Below are the 40 largest grids by total land area, in terms of standard region equivalents.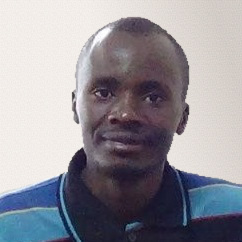 Latest posts by David Kariuki
(see all)