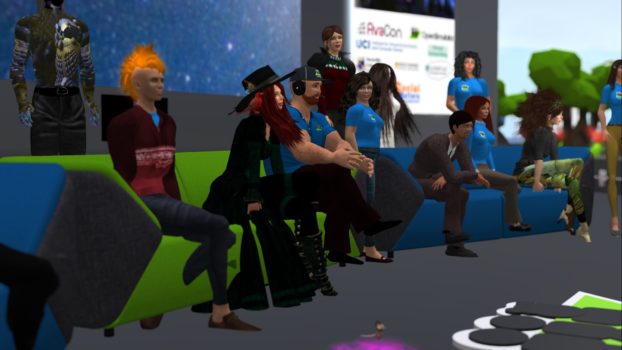 AvaCon is delighted to announce the ninth annual OpenSimulator Community Conference 2021 to take place virtually on the OpenSimulator Conference Center grid on December 11 and 12, 2021.
The OpenSimulator Community Conference is an annual conference that focuses on the developer and user community surrounding the OpenSimulator software.
Join us and showcase your artistry, innovation, technology, history, archaeology, educational discoveries, and love of life through social venues. Come demonstrate how you use these 3D collaborative spaces in amazing ways!
Call for Proposals for the 2021 conference is open. Please post your proposal by November 1, 2021. At OSCC, we will gaze into the future, inspired by the fire that burns brightly within our 3D community.
OpenSimulator is an open-source multi-platform, multi-user 3D application server. It can be used to create a virtual environment as a 3D world that can be accessed through a variety of clients and multiple protocols. Users can also visit other OpenSimulator virtual worlds across the web by using the Hypergrid protocol. With an expansive architecture of independent, yet virtually connected grids accessible via the Internet, OpenSimulator is the server software for hosting social, educational, creative, business, and technical communities within the embodied, distributed Metaverse.
Organized by the metaverse-focused nonprofit AvaCon, this year's conference features presentations on the latest software release, visions for the future, and technologies or content today that are shaping the future of the platform.
"Our 2021 conference launches a theme of renewal as we celebrate our dreams for the future," said conference co-chair Cynthia Calongne. "Join our OpenSimulator community at the conference and share your vision for 2022. At OSCC, we will host speaker sessions, informative panels, and take delight in the artistry, educational designs, business, and technical feats accomplished within your virtual worlds. In the evenings, we dance, and after the conference, our community hosts special events and tours, ending with the holiday party."
This year the OpenSimulator Community Conference 2021 kicks off with a Friday pre-conference launch event, then two days of fast-paced presentations, panels, performances, and immersive tours that spotlight the best of the OpenSimulator platform and community. In the evenings, we celebrate another year of discovery and wonder as live musicians and DJs host virtual dances and parties. New for 2021 will be a series of curated workshops on technology skills and topics relevant to those using and developing for VR and virtual worlds.
"We are thankful for our wonderful core developers, the viewer developers, our sponsors, the grid owners, streaming videographers, volunteers, artists and designers, scripters, educators, researchers, and residents who make our world come to life!" Calongne added.
OpenSimulator gives each of us the opportunity to realize our dreams and share them in the Metaverse. Join us at the conference and share your vision of the future. Here are a few highlights from last year's OSCC.
In 2020, we were inspired by recent innovations and fan favorites for OpenSimulator, Firestorm, Singularity, and the third-party viewer development advances for SceneGate, EchoVoice and IMABox from the Infinite Metaverse Alliance and the Thales Group.
For artistry and philosophy, Art Blue and Juliet Surrealdreaming regaled us with Amerika and their dreams for OpenSimulator. They curated art and designed an art experience for sharing the power of 3D spaces. Isabel Valverde's team shared the power of dance and artistry through their mixed reality participatory performance in Senses Places.
Maria Korolov of Hypergrid Business presented the state of OpenSimulator and hosted the creativity panel. Mal Burns bridged the virtual world communities with the future panel and the importance of social worlds. Kalila Lakeworth took us on the road forward and what it means to live in virtuality.
During 31 speaker sessions and panels, we learned from Gridjumper and Randall that OpenSimulator made it possible for teens during the Covid-19 lockdown to enjoy a virtual high school prom. Kavon Zenovka and Abacus Capalini reminded us of Dystopia Rising & the Portal to the Metaverse. Kay McLennan, Scott Dolphin, and Eileen O'Connor shared how OpenSimulator strengthens their educational programs and simulations.
Sitearm, Zinnia, and Andy bridged the professional and virtual worlds with their creative and imaginative designs, and Sitearm demonstrated the cool integration of content across worlds using Hybrid Tech. Ramesh Ramloll offered tips on how to take virtual worlds into the future.
Rachel Umoren shared recent discoveries in healthcare while Lyr, Spinoza, Delightful, and JJ shared the healing power of community during a pandemic and Spinoza recommended the use of multiple grid architecture for enhanced performance when hosting OpenSimulator worlds.
We were thrilled to see how history and the River Mersey come alive through Graham Mills' shared virtual world experience and to see the learning simulations and technical feats accomplished by educators and researchers. Steve LaVigne and Myron Curtis demonstrated A New Dimension and options for grid hosting.
The art exhibits contributed by talented designers combined with the 3D art experience hosted by Cheops and ADRET WEB ART. In 2020, they shared the magic of immersive artistry and storytelling. Heike Philp featured her imaginative session on the Arthurian Legend, reminding us that noble hearts beat within each of us.
The Community Virtual Library showed us how we are all connected and the value of networking across the Metaverse, while A Marie Vans and Bethany reminded us of what we value in OpenSimulator as they reflected on the advanced in browser-based worlds.
Kayaker Magic gave us tips on how to submit bugs for the OpenSimulator project, and Mike Lorre introduced his vision for Decentraland. The Rez Mela team shared how they create their designs to create compelling spaces.
"Last year's conference was a terrific success with two days of presentations, panels, exciting expo, and Hypergrid experiences, hundreds of attendees within the 3D virtual world conference space, and thousands more watching on via live video stream." said conference organizer Joyce Bettencourt. "We will be building on that success by offering more opportunities for the community to come together, learn, and be involved, and furthering our outreach to attract new users. With the continued interest surrounding virtual reality technologies, we want the VR community to know that OpenSimulator is a great platform for building the open metaverse."
Conference organizers also invite everyone in the community to register, sign up to volunteer, or become a sponsor of this year's event.
For more information please see the conference website at http://conference.opensimulator.org.
ABOUT OPENSIMULATOR
OpenSimulator is an open-source platform that supports the creation of collaborative, immersive, distributed, and social 3D virtual environments over the Internet. OpenSimulator software is now the basis for many virtual "grids" of varying sizes and purposes.  http://opensimulator.org
ABOUT AVACON
AvaCon, Inc. is a 501(c)(3) nonprofit organization dedicated to promoting the growth, enhancement, and development of the metaverse, virtual worlds, augmented reality, and 3D immersive and virtual spaces. We hold conventions and meetings to promote educational and scientific inquiry into these spaces, and to support organized fan activities, including performances, lectures, art, music, machinima, and much more. Our primary goal is to connect and support the diverse communities and practitioners involved in co-creating and using virtual worlds, and to educate the public and our constituents about the emerging ecosystem of technologies broadly known as the metaverse. http://avacon.org

Latest posts by Press Release
(see all)