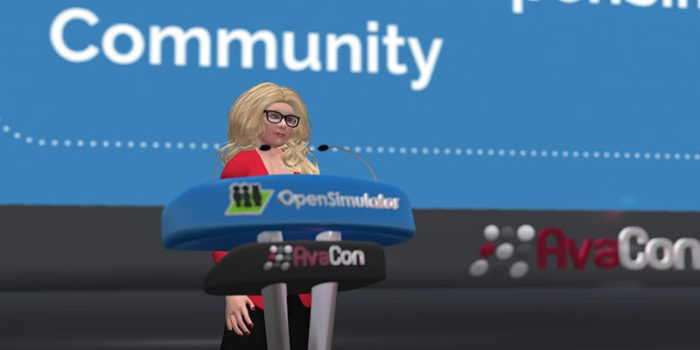 The ninth annual OpenSimulator Community Conference presentations and panels start today at 7 a.m. Pacific time on the OSCC grid.
If you haven't, you can still register to attend. Registration is free.
Conference Schedule
OSCC21 features over 65 speakers sharing innovative content, dynamic short presentations, and panels that all take place Saturday, Dec 11, and Sunday, Dec 12 on the OSCC Keynote regions. View the full conference schedule here.
The schedule also includes community and social events, and plenty of Expo regions to explore over the weekend.
Don't miss the special HyperGrid Expo in OSCC Expo 2 region with many how-tos, resources, and scavenger hunt landmarks to interesting destinations where you can learn to hypergrid visit throughout the OpenSimulator metaverse. There is also the chance to attend live music during the Saturday evening Music Showcase and many after parties and simulation tours.
New this year is a series of hands-on workshops to be held in Zoom throughout the week following the conference for a chance to dive deeper into related metaverse topics.
Conference Streams
OSCC21 presentation events taking place Saturday, Dec 11, and Sunday, Dec 12 will take place in the OSCC virtual conference grid and will be live simulcast streamed to YouTube.
Get Social
Follow @opensimcc on Twitter and use the hashtags #OSCC21, and post your pictures and snapshots of the day at the OSCC Flickr group. or join the OSCC Discord server, where you can chat with other attendees during and after the event.
Connecting to the Conference Grid
If you registered and requested a new local account be created for the OSCC Conference Grid, you should have received an email with the login details. View this step-by-step video and visit the Login Info page for instructions on how to download an OpenSimulator viewer and more information about how to connect to the grid. If you have a Local Account from a previous OSCC event and have forgotten your password, use the Forgot Your Password link to reset it.
For those accessing the OSCC Grid via hypergrid, the loginURI and hypergrid address is cc.opensimulator.org:8002. Make sure your avatar has fully loaded on your home grid before making the hypergrid jump. If you do not, you may appear as a persistent cloud when you jump to the conference grid.
Optimize Your Viewer
For the best experience, make sure to enable Streaming Media & Music, and turn on autoplay for Parcel and Prim media. Also, turn off media filtering. We also recommend turning your Draw Distance settings down to a reasonable level. The lower your Draw Distance, the better your viewer performance will be. See the FAQs for more information.
OSCC Zone Groups Access
When you login, you will land on your designated Landing Zone region 1, 2, 3, 4, or the HyperGrid Landing Zone. There will be a teleport portal in the Landing Zone that when you walk through will take you to the corresponding Keynote region that you should use for keynote presentations. You should only access the Keynote region that matches your Landing Zone unless you are a presenter or volunteer. Exclusive Access Crowdfunders, as well as Presenters and Staff, will also have access to Staff Zone 1 where special Q&A will take place. See the Online Map for an overhead view of the entire conference grid.
Attending Sessions
When you arrive at an OSCC Keynote region please sit in a chair ASAP during the sessions! The conference grid will perform best if everyone takes a seat in the presentation areas. All of the conference presentations will take place via parcel streaming media, so we recommend that you set your viewer to AUTOPLAY parcel and prim media. In-world voice will be disabled in those areas, so please use text chat for socializing, networking, and asking questions of the speakers. View the full conference schedule here.
OSCC Expo Zones
The conference would not have been possible without the financial support of its Sponsors and Crowdfunders, so please be sure to visit their exhibits and booths in the OSCC Expo Zones to thank them. Explore five regions of booths and activities provided by sponsors and Crowdfunders — and invite your friends who didn't get a conference ticket. The OSCC Expo Zones are open to public HyperGrid visitors.
HyperGrid Learning Resources
Visit OSCC Expo Zone 2 for the HyperGrid Resources section of the conference. There you will find step-by-step help on how to HyperGrid if you aren't familiar with jumping from one OpenSImulator grid to another grid world, as well as helpful website links, and a curated collection of HyperGrid landmarks for those more experienced to explore the interconnected OpenSimulator metaverse.
OSCC Poster Session Expo
You can find accompanying poster materials, resources, gifts, and links from this year's OpenSimulator Community Conference presenters in a special OSCC Poster Session Expo area located in OSCC Expo Zone 3.
Technical Difficulties
Although the organizers hope everything goes smoothly, it is always possible for there to be technical difficulties during the conference program.
"If this happens, we appreciate your patience and understanding while we work to resolve the issue," the organization said in a press release. "If you are disconnected from the grid, please wait a moment or two, check the conference Twitter stream at @opensimcc or the OSCC Discord server for updated information, and then try to log back in. We will do our best to resolve issues quickly and stick to the conference schedule."

Latest posts by Press Release
(see all)