The total land area of the public OpenSim metaverse shrank by over 2,000 regions over the past month. Nearly all of that loss can be attributed to ZetaWorlds — which lost 2,336 regions due to maintenance on the grids. The total number of both active monthly users and registered users increased.
The land area of all the public OpenSim grids that reported their stats this month was 99 748 standard region equivalents, a drop of 2,344 from this time last month. The total number of registered users is 466,736, an increase of 2,871. The total number of active monthly users is now 38,059, an increase of 758.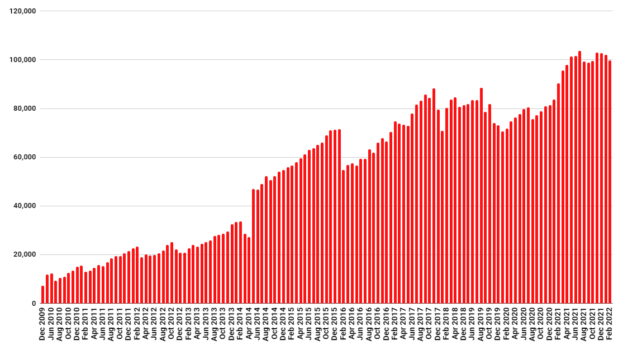 The top land gainers this month are Wolf Territories Grid which added 438 new regions, Serenity with 351, OSgrid with 245, Alternate Metaverse with 183, Tag Grid with 68, and GridPlay Grid with 62 new regions. In addition to ZetaWorlds's land drop, Creatrix World lost the equivalent of 303 standard regions, Logicamp lost 291, Outworldz lost 165, and MisFitz Grid lost 81 regions.
OSgrid remained the largest grid in total land size with 36,057 regions, Kitely was in second place with 18,863, and ZetaWorlds third with 7,943. Scroll at the end of the report to find the list of top 40 grids by total land area or check out our full monthly stats export.
These stats do not include most of the grids running on OutWorldz DreamGrid, which is a distribution of OpenSim used by many people to create virtual worlds on personal computers, or private company grids, or school grids who used other installers.
OpenSim is a free, open-source virtual world platform similar to Second Life that allows people with no technical skills to quickly and cheaply create virtual worlds, and to teleport to other virtual worlds. Those with technical skills can run OpenSim worlds on their own servers for free, while commercial hosting starts at less than $5 a region. A list of hosting providers is here. Download the recommended Firestorm viewer here. And find out where to get content for your OpenSim world or region here.
Top 25 grids by active users
When it comes to general-purpose social grids, especially closed grids, the rule of thumb is, the busier, the better. People looking to make new friends look for grids that already have the most users. Merchants looking to sell content will go to the grids with the most potential customers. Event organizers looking for the biggest audience — you get the idea.
Top 25 most popular grids this month:
The above are top 25 grids in terms of total active users over time of 30 days. We compare this figure with the previous month's tally for each grid to generate a list of most active grids or a list of grids that gained most active users in the last 30 days.
The above, however, are not necessarily the most active grids in terms of number of active users gained during the past month.
This month, Moonrose gained 424 new active users, OSgrid gained 285, The City gained 189, Alternate Metaverse gained 157, and AviTron gained 178. Full details are available on this month's grid stats link.
The actives list is based on active, unique 30-day user login numbers that grids report on their stats pages. Those grids that don't report their numbers might be just as popular, but we wouldn't know.
The active user stats are also used to generate the popular hypergrid destinations list, which is useful if you have a hyperport and want to put up gates to the most popular grids, or include the most popular grids in an in-world directory. This list is also a good place to start if you want to open up new stores or hold events, or are just looking for places to visit.
Here some information on how and why you should set up a stats page for your grid. Of course, not all grids need a stats page, especially grids that are open to the public, like school grids, private company grids, small family grids, and so on. From prior surveys, this dark metaverse of OpenSim grids might actually be bigger than the one we know about, because those grids don't need to promote themselves, and we never hear about them.
Online marketplaces for OpenSim content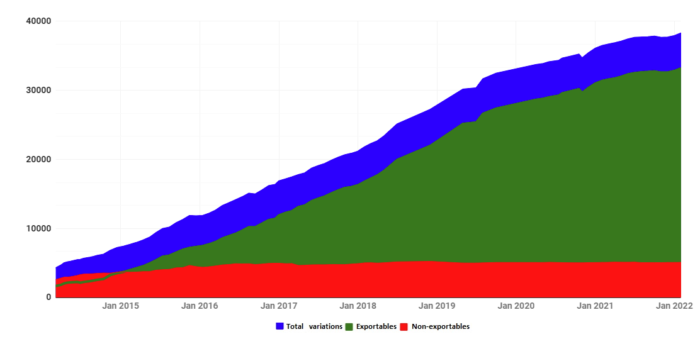 There are currently 19,273 product listings in Kitely Market containing 38,289 product variations, of which 33,189 are sold with the export permission.
Kitely Market has delivered orders to 535 OpenSim grids to date, which includes both public grids listed here as well as private grids that are not accessible to the public, don't report their stats, and don't make it into our reports.
The Kitely Market is the largest collection of legal content available in OpenSim. It is accessible to both hypergrid-enabled and closed, private grids. The instructions for how to configure the Kitely Market for closed grids are here.
As seen from the above chart, nearly all the growth on Kitely Market has been in content that can be exported to other grids — that is the green area in the chart. The red area, of non-exportable content, has stayed level for the past five years.
Offering a convenient and low-cost way for OpenSim users to buy legitimate, legal content not only offers creators sales opportunities that they wouldn't have otherwise but reduces the need for pirated content, similar to the way that Netflix and other streaming services have reduced the amount of illegal video streaming.
In addition, restricting content to closed grids does little to stop piracy. Most stolen content is ripped from Second Life, the original closed grid. The only time that being on a closed grid offers additional security for content creators is when the content involves high-end scripts or proprietary animations.
Speaking of closed grids — where users are not able to teleport to other grids — the biggest such grid, Tag, also has its own online marketplace.
The Tag grid marketplace, the only other OpenSim marketplace comparable to the Kitely Market, also lists apparel, avatar accessories, avatar appearances and other items across 26 categories. This month, the market has listed a total of 28,244 items. From the marketplace website, anyone is able to list their products or items on the marketplace to promote them either for sale or as a freebie, but the content can only be purchased and used within the Tag grid and can't be taken or delivered to other grids.
Virtual Life World giving away free regions
Virtual Life World  is giving away free regions measuring 512 square with free mesh, voice, texture upload, shopping and 100 residents each. You need to contact the grid and web maintenance administrator Valtino in-world to find get the new region. You can then get free content or shop for skin avatars, clothes, mesh, and building at the grid to help fill them up.
The hypergrid address is virtuallifeworld.tk:8002.
DigiWorldz hosting weekly building classes
DigiWorldz is hosting a series of events to train people on prim building, art, collaboration, and communication. Specifically, the Metaverse University at the DigiCenter is the place to be every week if you want to learn from expert instructors on how to build in OpenSim virtual worlds. It hosts the following events.
The Prim Building With Nebby is a bi-weekly event for newbies in prim creating. It will next time take place from 4 to 5 p.m. Pacific Time on Friday, February 25. Nebby will trains you how to copy, manipulate, move, and texture prims. Lets Get Our Art-On! With Noxluna takes place every Sunday starting 1 to 2 p.m. Pacific Time. It is a class introducing art and building. The Taris EZ Prim Building Class, which also trains people on building prims, takes place from 3 to 4 p.m. Pacific Time every Monday.
Join Samantha Simmons every Wednesday starting from 2 to 3 p.m. Pacific Time for the Collaboration And Communication class and gain in-world collaboration and communication skills. You can also catch up with Country Bob every Monday at 7 p.m. Pacific Time for the How to Broadcast in OpenSim class.
The hypergrid address is digiworldz.com:8002:DigiCenter. 
DigiWorldz seventh birthday is next month
DigiWorldz will be hosting the BIG DigiWorldz Birthday bash on March 12 to celebrate the grid's seventh birthday. Not much is known about the event yet but you can watch out for the grid's announcements for more information.
Craft-World's Territorial Network meeting happens next week
Craft World will be hosting a second meeting of the Territorial Network from 12 p.m. Pacific Time on February 21 at the Artemaestra region and via Google Meet. The network is facilitating collaboration between landowners who deal with art, music, poetry, books, theatre, and services.
The hypergrid address is craft-world.org:8002:Artemaestra.
The grid will also host an Indian Night starting at 1 p.m. Pacific Time on March 10 at the Taj Mahal region, with DJ Arianna. This event will feature Indian themed costumes and scenery.
There also will be a Cartoon Party starting at 1 p.m. Pacific Time on March 1, at the Fashion region, featuring DJ Corsaro.
Get a free parcel and start building for the OpenSim Fest exhibition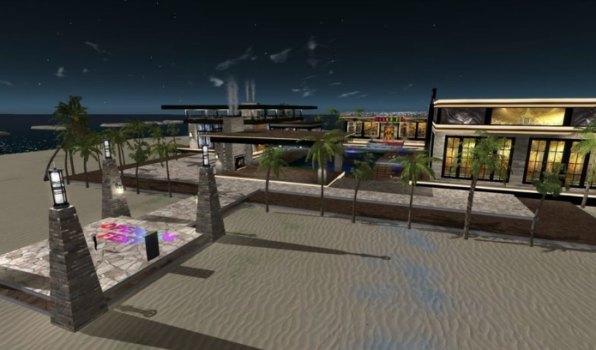 OpenSim Fest — a festival that celebrates creative talents on virtual worlds — will run from July 8 to 25 this year. Building on the host OpenSim Fest grid is expected to be complete on June 30. There also will be a preview party on July 1 and build testing from July 2 to 7. The event is hosted by the Infinite Metaverse Alliance.
The organizers, who include entertainers, merchants, tech architects, code maintainers, and graphic artists, are offering free parcels for exhibitors and merchants to start building their exhibits. To get a free parcel, contact the organizers via Facebook, Twitter, or their Discord group. Musicians, DJs, poets, and entertainers wishing to perform at the event can also contact the organizers. The group is also calling for sponsors and volunteers to join them in hosting the event.
Alternate Metaverse opens Memorial region, launches new advertising Telehub
Alternate Metaverse now allows you to advertise and promote your builds, regions, and items on their grid-wide Telehub. You can do this simply by adding a picture of the item, landmark, and an optional notecard describing it. You can also list other regions, schedules, events, and even contact information on the notecard. The content and descriptions can also be changed at will by the owner.
The hypergrid address is alternatemetaverse.com:8002:AMV Real Estate. 
You can also memorialize a lost loved one at the grid's Memorial, which has beautiful nature spaces, a small country chapel and trees surrounding the grounds. You can place their photos, names, candle flowers, statues, or anything else, but you have to have a grid tag to place those. You can even pick free items like candles, bouquets, and statues by the landing point for placing.
The hypergrid address is alternatemetaverse.com:8002:Memorial.
New grids
The following grids were added to our database this month: Blendioptera Grid, Carima Welt, Cooperation Creative, Cozy Comforts Grid, and GridPlay Grid.
Do you know of any other grids that are open to the public but that we don't have in our database? Email me at [email protected].
Do you have any updates about these grids? Let us know!
Top 40 grids by land area
The list below is a small subset of existing OpenSim grids. We are now tracking a total of 1,739 different publicly-accessible grids, 384 of which were active this month, and 308 of which published their statistics.
All region counts on this list are, whenever available, in terms of standard region equivalents. Active user counts include hypergrid visitors whenever possible.
Many school, company, or personal grids do not publish their numbers.
The raw data for this month's report is here. A list of all active grids is here. And here is a list of all the hypergrid-enabled grids and their hypergrid addresses, sorted by popularity. This is very useful if you are creating a hyperport.
You can see all the historical OpenSim statistics here, including polls and surveys, dating all the way back to 2009.
Below are the 40 largest grids by total land area, in terms of standard region equivalents.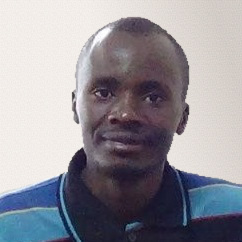 Latest posts by David Kariuki
(see all)