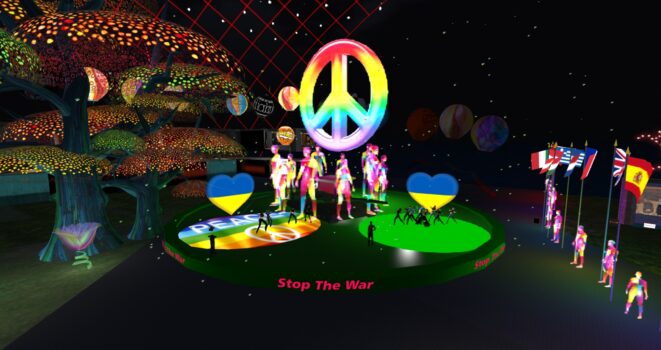 Most OpenSim grids have not given an official statement regarding Russia's invasion of Ukraine, but quite a few are standing with Ukraine, with the exception of Russian Caprica and Sacrarium grids. Some grids are showing support for Ukraine by holding fundraisers, posting banners, supporting Ukrainian content creators, and calling for an end to the war. Other grids are openly expressing dissatisfaction against any war — whether in Ukraine, Iraq, Afghanistan, or another country — no matter  the circumstances.
Here are the ways different grids are getting involved.
ZetaWorlds sanctions and stops business with Russians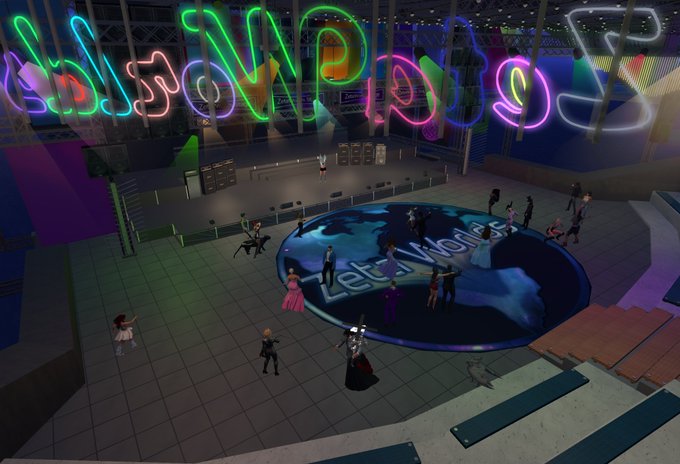 ZetaWorlds grid announced last month that it won't be doing business with any Russian nationals, saying this is in adherence to the NATO states' directives on sanctioning Russia. The grid is condemning the war in Ukraine by calling it an unprovoked invasion by Russia and said it's removing all users located in Russia.
The grid has so far blocked 30,000 IPs coming from Ukraine and Belarus as part of sanctions. However, it blocks only incoming and not outgoing connections and so hypergridding to Russian grids could work for people operating  outside the country, said Zetamex CEO Vincent Sylvester.
"The only ones that matched any IP blocks from Russia or Belarus were foreign users so far and that is blocked on a higher level," he told Hypergrid Business. "We would typically only ban them and not entirely remove their accounts as that would have technical implications."
"Usage of a VPN with OpenSim is a recipe for problems anyways, so I do not see why anyone would do that and we have been blocking registration of users found to use one for a while now given the technical issues," he said.
No to war calls and donations on Ocean Grid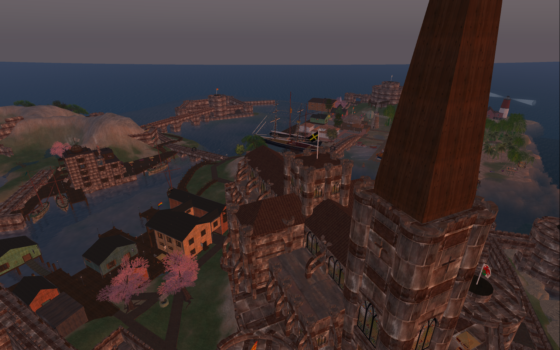 The Ocean Grid is running a No To War post on its blog and in the grid's welcome area with an outright condemnation of all wars including that in Ukraine. The grid says it welcomes all Russians and Ukrainians but not supporters of war.
Not only does the grid condemn war and what it calls authoritarian administrations in Russia and Belarus, but also the far-right paramilitary group called the Pskov Regiment in Ukraine, and racism in Ukraine during this time of war.
"I have put up a No To War sign in Ukrainian and Russian in the welcome area linking to the site https://vostok-sos.org/en/, where people can donate to those in need in the Ukraine," says the post. "Please remember that not all of those in need are Ukrainians — there are people of other nationalities, including Russians and also refugees from Syria and residents who are from Asian and African countries. The latter are facing racial discrimination in some cases and being denied the same rights to asylum in neighboring countries as Europeans are receiving."
Ukraine-themed shopping on OSgrid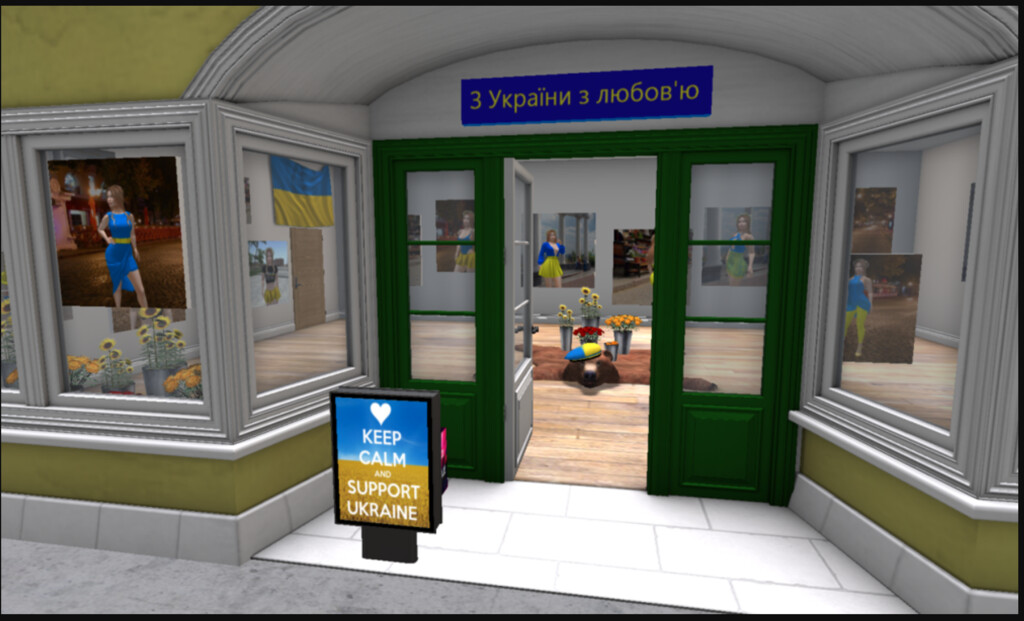 The shop by PaulineNOVA19 is offering Ukraine-themed items in support for Ukraine at the OSgrid's Big Easy region.
The hypergrid address is hg.osgrid.org:80:The Big Easy.
Ukraine flags in Littlefield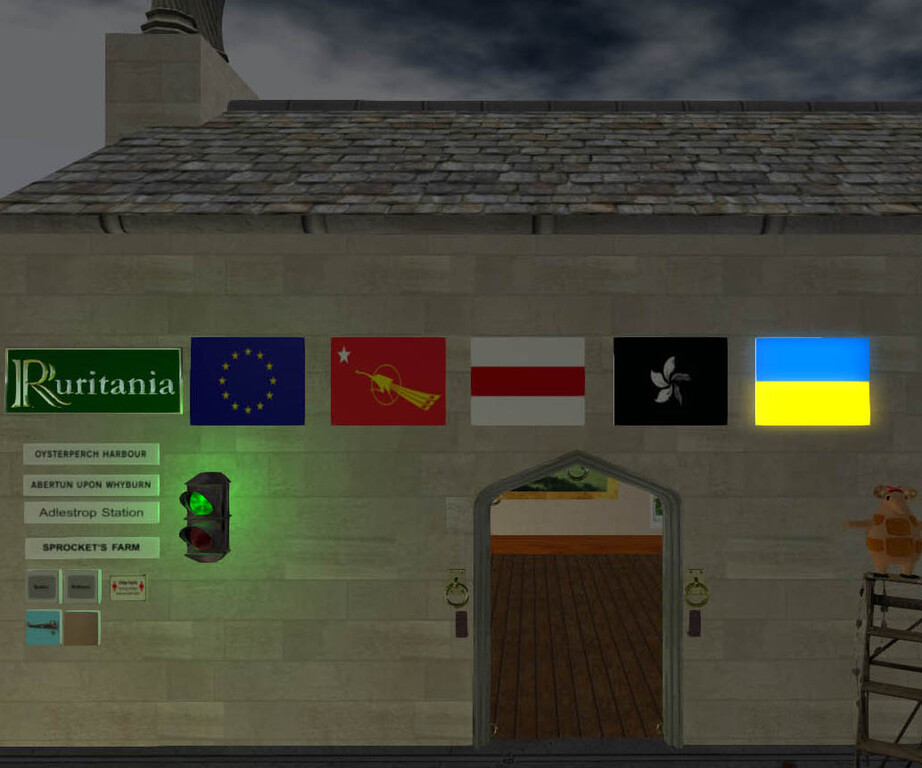 The Ruritania region of Littlefield is displaying a Ukrainian flag in support for Ukrainians and to bring awareness to the suffering they are undergoing during this time of war. The hypergrid address is lfgrid.com:8002:Ruritania.
Lots of Ukrainian sunflowers in Alternate Metaverse and OSgrid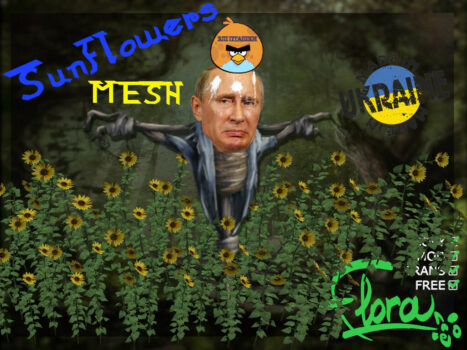 You can get up to 90 yellow sunflowers, the national flower of Ukraine, free of charge for one single prim region in support for Ukrainians. The full perm items are available at the Garden Area of the Flora region in the Alternate Metaverse grid. Jimmy Olsen, the region's owner, is not against Russia specifically but is against war in general.
The hypergrid address is alternatemetaverse.com:8002:FLORA.
The Art Factory in OSgrid is also themed with yellow sunflowers to show support for Ukrainians.
Donation calls, calls to submit peace content at the Art Factory in OSgrid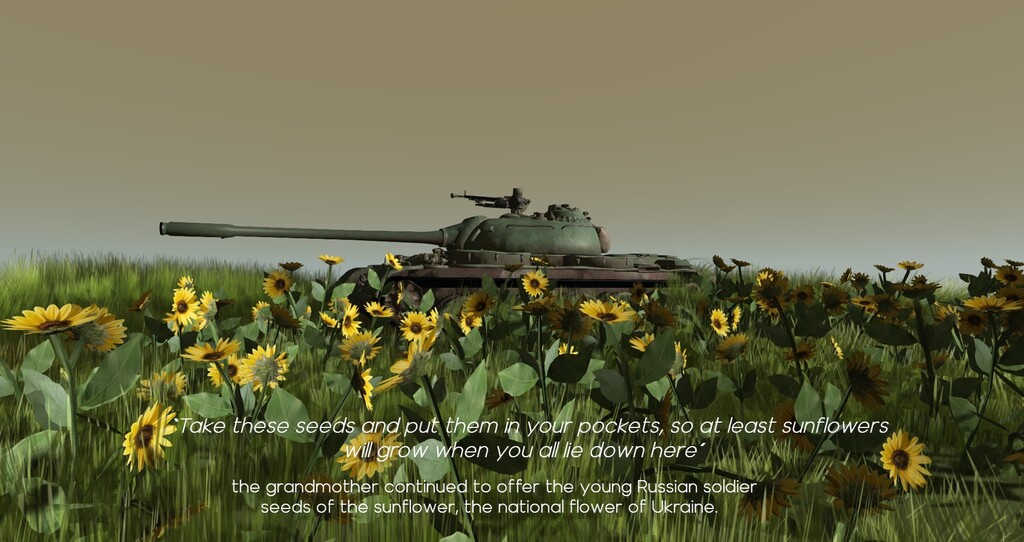 The Art Factory of the OSgrid held a fundraiser on February 27 in support for Ukraine and set up a special room called The Picasso Peace Room where people can sit down to meditate peacefully and reflect. People can also send flowers, notes, messages, candles, and wishes of peace to Ukraine.
The Art Gallery of Peace is another place you can find captivating content that captures the war in Ukraine. You can also submit your peace art about the war in Ukraine, or other wars, for people to see.
The Moma Gallery at The Art Factory region is also exhibiting art in support for Ukraine and against the war.
"And so it goes that for every Goliath there is a stone," say the banners on OSgrid.
The OSgrid is also calling for continued donations through these pages:
https://donate.redcross.org.uk/appeal/ukraine-crisis-appea…
https://www.unicef.org.uk/donate/donate-now-to-protect-chi…
https://help.rescue-uk.org/ukraine-crisis-se
https://unitedhelpukraine.org
https://www.facebook.com/sunflowerofpeace
The hypergrid address is hg.osgrid.org:80:The Art Factory.
Littlefield's Pray For Ukraine splash page

Littlefield is calling for anyone to pray for Ukraine and keep the country in their thoughts through a splash page titled Pray For Ukraine.  The Littlefield region of the grid is also themed with yellow sunflowers in support for the country. You can pick these as freebies in the region and put them on your own virtual region or grid.
The hypergrid address is lfgrid.com:8002:Littlefield.
Craft World's peace events
The Craft World grid held an in-world Stop The War campaign on March 4, a special women's day on March 9 with a thought for Ukrainian women fighting or fleeing the war ,and a Hypergrid Safari adventure on March 10 with Thirza Ember where some attendees wore attire with Ukrainian flags in support for Ukraine.
Peace festivals on Dorena's World
The Dorena's World grid is in full support for Ukranians and is hosting a series of peace festivals this week. The first event was held on Tuesday, March 15. The next event will be held at 12 noon Pacific Time featuring peace music sung by Ukrainian musicians with DJ DJane Loru Destiny. Attendees will then move to the Club GridTalk at the Dereos Grid.
The grid's Bluewave Club will host peace tunes sung by Ukrainian musicians with DJ Akira Sonoda at 1:30 p.m. Pacific Time on Wednesday, March 16.
The events will be streamed on Shoutcast server.
The hypergrid addresses are Dorenas-World.de:8002. radio-rote-dora.org:8000.
Caprica grid supporting Russia's actions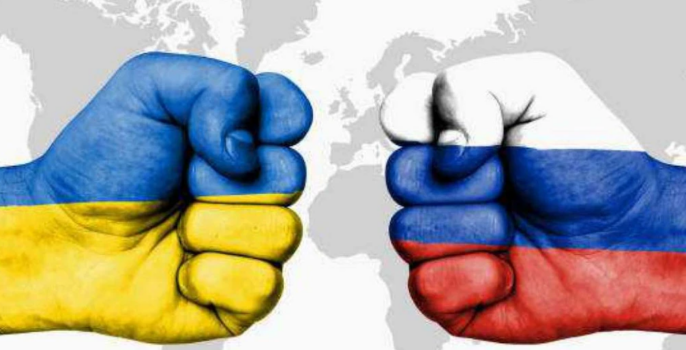 Russian grid Caprica is in full support of Russia's actions to denazify and demilitarize Ukraine, according to a post on the grid's website. The post says it's a strong statement and a demonstration of a valid point of view.
As a result of sanctions against Russia and the grid, Caprica will now be forced to stop working with Europeans and Americans and will still work as usual, said grid spokesman Sam Adama.
"All the sanctions that were taken against our commerce first of all hit our partners from Europe, from whom we bought server capacities for several years, hits our European and American clients, who can now lose their regions and grids due to the fault of American and European politicians," he told Hypergrid Business. "We will be forced to stop working with Europeans and Americans, and will continue to work as usual."
PayPal has deactivated the grid's account and is not processing its payment according to a post on March 5 . The grid called the move barbaric and said it's a flagrant violation of the contract and calls into question the sanity of the owners of PayPal. Caprica is however continuing to serve users without failures or interruptions and has put into place a crisis solution with the server's service providers, according to the post.
The PayPal's breach of contract is unrelated to issues in Ukraine, said Adama.
"This affected Western clients, but not our business," he said.
Sacrarium grid unblocked
German-based Dorena's World grid has unblocked Sacrarium grid after initially deactivating it saying the grid was being silent about the war in Ukraine yet continued to operate under the .su domain. Dorena Verna, owner of Dorena's World and Sacrarium grid owner Whiteangel Deed came into an agreement to have the bans lifted, said Sacrarium grid owner Whiteangel Deed.
"Access to the Sacrarium works on the basis of a white list," she told Hypergrid Busines. "Therefore the Sacrarium is only available to a limited number of trusted grids."
After blockage by Dorena's World, Sacrarium grid had responded on March 1 that everyone waiving No To War posts or condemning Russia did not know the facts. The grid wrote that it supports peace in Ukraine but will not condemn Russia and Putin because history puts Ukrainian administrations in a very bad position regarding this war.
AviTron also announced on March 12 that it had lost access to the Sacrarium grid due to the events in Ukraine and Russia but it has enabled hypergrid travel. All of Sacrarium servers are based in Kazakhstan.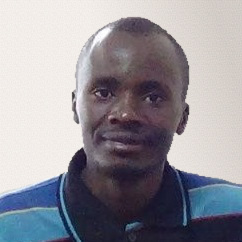 Latest posts by David Kariuki
(see all)