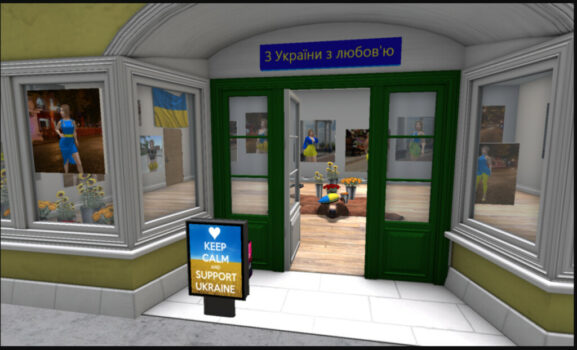 So I just got a warning in my email inbox from a "[email protected]." The domain name is associated with a company that runs a couple of Russia-based OpenSim grids.
Apparently, the flag of Ukraine is now a "Nazi" flag. Now, I mean sure, there are Nazis in every country — the United States and Russia are both filled with crazy right-wingers — but these guys seem to be referring to Ukraine's leadership.
Of course, Ukraine president Volodymyr Zelenskyy is himself Jewish, his grandparents fought the Nazis, and his greatgrandparents were killed by the Nazis when their village was set on fire. There's isn't even a whiff of connection between him and any neo-Nazis. And the country's last prime minister, Volodymyr Groysman, was Jewish, as well.
It feels like the Russians are making a desperate attempt to connect the war they're fighting now in Ukraine with World War II, the last war in which they fought against a clear evil.
I believe they're following the "big lie" principle of propaganda — if you tell a giant lie often enough and loudly enough, then some people will start to believe you, no matter how obviously ridiculous it may be.
It's a little disturbing that they're using an official company email account for this. There doesn't seem to be any concern about repercussions for pushing the propaganda.
I doubt their accounts were hacked. I don't think that Russia's state-sponsored cyber warfare teams would care much about OpenSim.
Here's what they said:
You should be more careful in making decisions about your journal.

This is not a threat, but a warning. If you continue to distribute Nazi
symbols (the flag of Ukraine, etc.), publish calls to "help" Ukraine
financially, publish links to donations, your magazine will be included
in the list, along with "opensimworld" for destruction.
So let me provide some information about how to help Ukraine financially and publish some links to donation sites:
And since Hypergrid Business is a media organization, I'd like to throw in a pitch to support independent media in Ukraine.
Kyiv Independent's GoFundMe campaign has surpassed its 1.2 million Euro goal. This new publication is an English-language outlet run by a team of experienced journalists who were formerly with the Kyiv Post before that newspaper was bought and shut down by a businessman who didn't like its independent voice.
Support other Ukrainian media, including  Ukrainska Pravda and Zaborona, by donating to a separate GoFundMe that the Kyiv Independent is running for other media outlets. This campaign has already surpassed its 800,000 Euro goal, but I'm sure they can use more money.
And if you want to know more about what OpenSim grids are doing to help Ukraine, check out our previous article, Grids stand with Ukraine following Russian invasion.
But let's get back to the email I just got. Here's the rest of it:
Again, this is not a threat, but a warning. Please don't forget who you are dealing with. Look at Ukrainian and Polish government websites, intelligence, finance and law enforcement websites.

If you continue your activity, your journal will be added to the list for destruction.

This is not a threat, but a warning.

Think twice. We don't repeat twice.
Oh, noes, I'm so scared. Also, I don't think they know the difference between "threat" and "warning." It kind of sounds to me that they're making a threat.
In any case, I would be super duper stoked to be added to a "list for destruction."
I've been feeling a little guilty that I haven't already jumped on a plane to cover the war in Ukraine. Twenty years ago, I would have.
In fact, after the fall of the Soviet Union, I actually went to Russia and the former Soviet republics and covered the wars there for Reuters, United Press International, the Moscow Tribune, and other publications. I reported from Chechnya, from Georgia, and from Tajikistan. I was taken prisoner twice, I had a death squad show up at my door. I was shot at. I was shelled. I walked through mined villages and slept in trenches while bullets flew overhead. I caught rides on tanks and helicopters. I was on the ground in Abkhazia with a UN delegation when Russian planes flew overhead in a bombing run. I helped surgeons operate on a little girl who had fragments from a shrapnel bomb through her body, and who died on the operating table. I visited prisoners of war and interviewed refugees and crossed borders and front lines.
I saw first-hand what happens when former Soviet republics try to leave Moscow's orbit.
The Ukrainians saw all this, too. And they knew that the West didn't step in and help, that Russia was allowed to bomb civilians in Chechnya, in Georgia, and in other republics with few repercussions. Even when Russia invaded Crimea in 2014, all Russia suffered was some relatively minor financial sanctions.
Ukraine is not part of NATO, not part of the European Union. But it's fighting anyway.
I personally think it's an inconceivably brave stand to take.
So I'm donating to the charities, and I hope that our readers will, as well.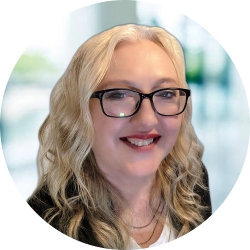 Latest posts by Maria Korolov
(see all)