OpenSim reported land area growth for the third month in a row with the addition of more than 1,400 new regions, for a new record high of 114,567 standard region equivalents. Active monthly users went up by 525, for a new record high of 44,061.
Logicamp and Creatrix World — two major grids that were offline last month — are back up online after downtime and severe crashes.
Tomi's World grew the most in terms of region count added in the past 30 days with 413 new regions, followed by ZetaWorlds with 199, Alternate Metaverse with 153, Serenity with 112, and Virtual Worlds Zone with 99 new regions.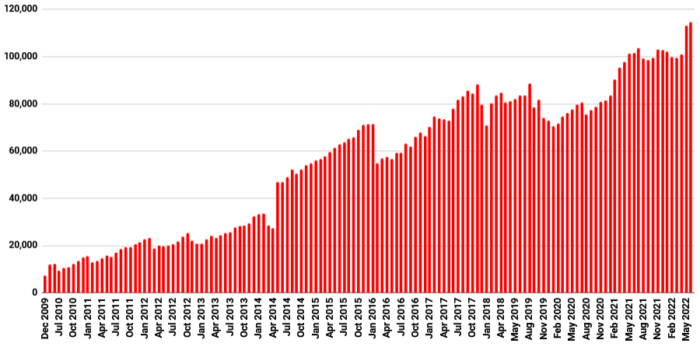 OSgrid is still the largest grid by land area with a total of 36,942 standard regions followed by Kitely with 18,761, Wolf Territories Grid with 11,600, ZetaWorlds with 7,995, and Alternate Metaverse with 7,401 regions. Scroll down to the bottom of this article to see the list of the 40 largest grids by land area.
These stats do not include most of the grids running on OutWorldz DreamGrid, which is a distribution of OpenSim used by many people to create virtual worlds on personal computers, private company grids, or school grids. With the free-to-use software, customers can easily create virtual worlds through a graphical interface and one-click install feature. They can also use it to easily and quickly manage their grids using graphical interfaces. This includes adding new regions, banning users, deleting regions, auto restarting, shutting down entire grids or unoccupied regions to save computing power, and tracking usage stats.
OutWorldz now has over 1,100 users, Fred Beckhusen, CEO at Micro Technology Services Inc. that runs both DreamGrid and OutWorldz, told Hypergrid Business. 
DreamGrid continues to grow each month with a total of 6,241 unique grids, which is about 92% of all hypergridable grids. A total of 3,504 grids, an average of 292 new grids per month, were crawled in 2021 alone by Hyperica software, which has now been integrated into OutWorldz.
In 2022 so far, there are an average of 285 per month or a total of 1,423 new grids crawled. This is according to a table from the Outworldz Dynamic DNS system, which is an easy-to-use, free service for grids for the Outworldz.net and Inworldz.net domains that make a "grid of grids."
"Hyperica.com, which was purchased from Maria Korolov some years ago, has now been integrated into Outworldz.com," said Beckhusen. "There are currently 8,145 distinct items listed — ignoring duplicates — at outworldz.com/search along with links to 115 grids, 581 regions, 127 parcels, and 105 events — it appears in the viewer in 'Search.'"
"Only assets, regions, parcels, and grids marked 'Show in Search,' along with an enabled 'Publicity' checkbox in DreamGrid will appear," he said. " This also populates the Destination Guide, which was also a part of Hyperica.com."
The total list of grids tracked by OutWorldz is available here. Anyone can also create a grid with the software and add it manually in the stats via the same link if it is not being crawled by OutWorldz. Outworldz DreamGrids have access to over 170 free OpenSim Archives. The Hyperica events listing also lists current and future online events directly published to OpenSim viewers.
OpenSim is a free open-source virtual world platform that's similar to Second Life and allows people with no technical skills to quickly and cheaply create virtual worlds and teleport to other virtual worlds. Those with technical skills can run OpenSim worlds on their own servers for free, while commercial hosting starts at less than $5 a region. A list of hosting providers is here. Download the recommended Firestorm viewer here and find out where to get content for your OpenSim world or region here.
Top 25 grids by active users
When it comes to general-purpose social grids, especially closed grids, the rule of thumb is the busier the better. People looking to make new friends look for grids that already have the most users. Merchants looking to sell content will go to the grids with the most potential customers. Event organizers looking for the biggest audience — you get the idea.
Top 25 most popular grids this month:
The actives list is based on active, unique 30-day user login numbers that grids report on their stats pages. Those grids that don't report their numbers might be just as popular, but we wouldn't know.
These are the most popular grids as of now but aren't necessarily the fastest growing in terms of new active users. The Wolf Territories Grid gained the most new active users at 463 new, followed by Serenity with 291 new active users, New Hope Grid with 228, Metropolis with 180, and AviTron with 171 new active users.
The active user stats are also used to generate the popular hypergrid destinations list, which is useful if you have a hyperport and want to put up gates to the most popular grids, or include the most popular grids in an in-world directory. This list is also a good place to start if you want to open up new stores, hold events, or are just looking for places to visit.
Here's some information on how and why you should set up a stats page for your grid. Not all grids need a stats page — especially grids that aren't open to the public like school grids, private company grids, small family grids, and so on. From prior surveys, this dark metaverse of OpenSim grids might actually be bigger than the one we know about, because those grids don't need to promote themselves, and we never hear about them.
Online marketplaces for OpenSim content
There are currently 19,512 product listings in Kitely Market containing 38,587 product variations, 33,431 of which are sold with the export permission.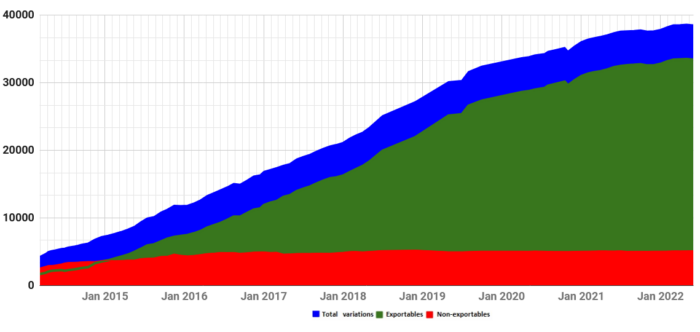 Kitely Market has delivered orders to 552 OpenSim grids to date, which includes both public grids listed here as well as private grids that are not accessible to the public, don't report their stats, and don't make it into our reports.
The Kitely Market is the largest collection of legal content available in OpenSim. It is accessible to both hypergrid-enabled and closed, private grids. The instructions for how to configure the Kitely Market for closed grids are here.
As seen from the above chart, nearly all the growth on Kitely Market has been in content that can be exported to other grids — that is the green area in the chart. The red area, of non-exportable content, has stayed level for the past five years.
Offering a convenient and low-cost way for OpenSim users to buy legitimate, legal content not only offers creators sales opportunities that they wouldn't have otherwise but reduces the need for pirated content, similar to the way that Netflix and other streaming services have reduced the amount of illegal video streaming.
In addition, restricting content to closed grids does little to stop piracy. Most stolen content is ripped from Second Life, the original closed grid. The only time that being on a closed grid offers additional security for content creators is when the content involves high-end scripts or proprietary animations.
Speaking of closed grids — where users are not able to teleport to other grids — the biggest such grid, Tag, also has its own online marketplace.
The Tag grid marketplace, the only other OpenSim marketplace comparable to the Kitely Market, also lists over 2,000 items including apparel, avatar accessories, avatar appearances, and other items. From the marketplace's website, anyone is able to list their products or items on the marketplace to promote them either for sale or as a freebie, but the content can only be purchased and used within the Tag grid and can't be taken or delivered to other grids.
DreamGrid 5.0 to allow running of over 160 regions on home computers
The DreamGrid team is also in the final stages of testing DreamGrid version 5. Tests for 160 regions have been successful and the newer version will allow people to run a large number of regions, said Micro Technology Services' Beckhusen.
"I've successfully run 160 regions on a 2-core — no hyperthreads — Windows 10 PC with 4 GB of DRAM," he said. "This is far below the recommended amount of RAM, which normally would require 48 GB."
The ability to freeze and thaw a region for almost instant teleports is new and no CPU is used when no one is in the region, he said.
"On a personal note, I bought control of Micro Technology Services Inc., and am now the CEO," he added.
Phantom Rose Grid to sponsor OpenSim Fest 2022
Phantom Rose Grid will be one of the sponsors of the OpenSim Fest 2022, with an exhibit on their Welcome region.
"The exhibit space is 128 by 64, so I have recreated The Square from my Phantom Rose Steam region," Phantom Rose Grid owner Lannorra Sion told Hypergrid Business. "In addition, I have a small interactive Gothic Role Play from my PR Bayou Region, with a special Amulet made just for the OpenSim Fest in presentation box as a prize, and a look at my almost open new Region, Phantom Rose Medieval."
The exhibit space has information about the Grid as a whole and there are elevator balloon rides at the Square, she added.
The OpenSim Fest, one of the largest OpenSim event with thousands of attendees and volunteers, celebrates creative talents in virtual worlds. This year, it will run from July 8 to 25. The hosts were offering 30 parcels — 25 of which were already occupied as of last month on the OpenSim Fest grid for building exhibitions. Building is ongoing and expected to be complete on June 30.
Also, there will be a preview party on July 1 and build testing from July 2 to 7. The event is hosted by the Infinite Metaverse Alliance. Other sponsors of the event include Laxton Consulting, LLC, which is part of the Infinite Metaverse Alliance. The host is also calling for more sponsors and volunteers.
The organizers, who include entertainers, merchants, tech architects, code maintainers, and graphic artists, are offering free parcels for exhibitors and merchants to start building their exhibits. To get a free parcel, contact the organizers via Facebook, Twitter, or their Discord group. Musicians, DJs, poets, and entertainers wishing to perform at the event can also contact the organizers. The group is also calling for sponsors and volunteers to join them in hosting the event.
Phantom Rose Grid's new underwater region mimics the ancient Minoan city of Atlantis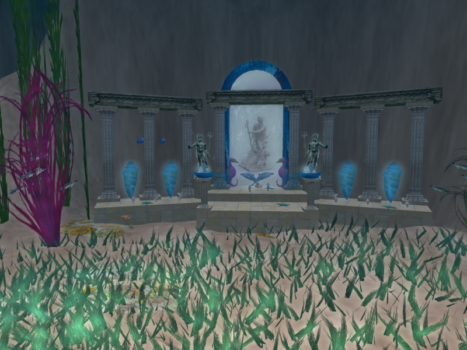 Phantom Rose Grid has a new region open, known as Akrotiri, which is the start of the Phantom Rose Mer Nation, said Phantom Rose Grid's Sion.

Each of the eight Mer folk areas in the nation is explored underwater when a visitor lands in the new region. They can then explore mimics of the ruins of Atlantis, the ancient Minoan city which was swallowed into the sea after a volcanic eruption.
"The name Akrotiri is taken from the ancient city of the Minoans, which was on the island now known as Santorini, in Greece," wrote Sion in a post. "As you may know, the legend of Atlantis talks about a prosperous ancient city, named Atlantis, that sunk into the sea in a catastrophe. Many scholars believe this was based on the destruction of the Minoan empire by the eruption of a volcano on Thíra or Santorini, which buried Akrotiri and caused a huge tidal wave that destroyed Knossos on Crete and other Minoan port cities and led to the downfall of this once-mighty kingdom."
Adventure Sailboat Race on Discovery grid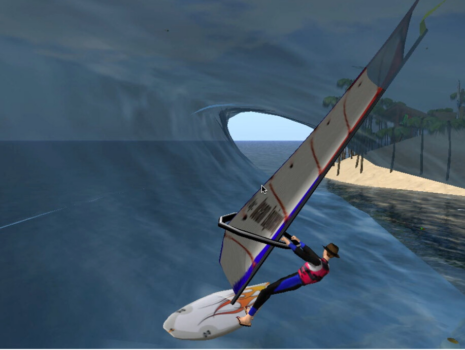 At 9:30 a.m. Pacific Time on Saturday, June 18, The Spirit Rock Ranch region on Discovery grid hosted the Adventure Sailboat Race for sailing enthusiasts. Winners who clocked the best times against other competitors received cash prizes in Gloebits currency.
The region hosts adventures of different kinds including surfing, archery, big game hunting, horseback riding, and kayaking, every Saturday morning.
The hypergrid address is discoverygrid.net:8002:Spirit Rock Ranch.
Want to hear the full story of the most studied actions in the history of the U.S. military?
Mato Spa will be presenting "Crazy Horse and Custer: The Parallel Lives of Two American Warriors," by bestselling historian Stephen E. Ambrose, at 6 p.m. Pacific Time on Saturday, July 2 at the Paha Sapa region on Kitely.
You need to have your voice activated to hear the full story about Crazy Horse, leader of the Oglala Sioux, and General George Armstrong Custer of the Seventh Cavalry. On June 25, 1876, Custer led 611 U.S. army soldiers toward the banks of the Little Bighorn in the Montana Territory to face 3,000 Native American warriors, led by Crazy Horse, who stood there waiting for battle.
The hypergrid address is grid grid.kitely.com:8002:Paha Sapa.
Pangea Art and Culture Festival 2022 ongoing and calling for artists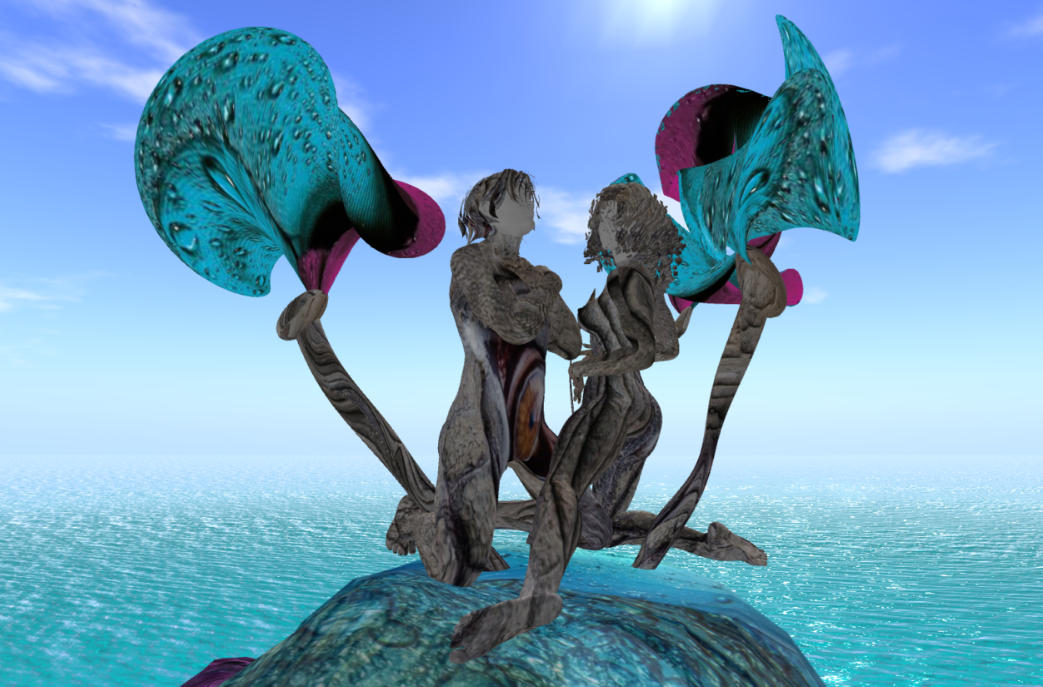 The hosts of Pangea grid's Art and Culture Festival 2022 are calling for applications from any international or local German artists who would like to exhibit their art and culture at the festival. The applications should be submitted to info@pangea-grid.com or in-world.
The event kicked off in May with Terra Merhyem's Excalibur exhibitions. Her multimedia installation based on the Arthurian legends included music, a group dance performance, text, and 3D art. The next big event will be by Rage Darkstone, with many more events to come over the next months.
New grids
The following grids were added to our database this month: Ardiva, Mystic Bermuda, Proud Rainbow, Rainbow World.
Do you know of any other grids that are open to the public but that we don't have in our database? Email me at david@hypergridbusiness.com.
Top 40 grids by land area
The list below is a small subset of existing OpenSim grids. We are now tracking a total of 1,760 different publicly-accessible grids, 354 of which were active this month, and 294 of which published their statistics.
All region counts on this list are, whenever available, in terms of standard region equivalents. Active user counts include hypergrid visitors whenever possible.
Many school, company, or personal grids do not publish their numbers.
The raw data for this month's report is here. A list of all active grids is here. And here is a list of all the hypergrid-enabled grids and their hypergrid addresses, sorted by popularity. This is very useful if you are creating a hyperport.
You can see all the historical OpenSim statistics here, including polls and surveys, dating all the way back to 2009.
Below are the 40 largest grids by total land area, in terms of standard region equivalents.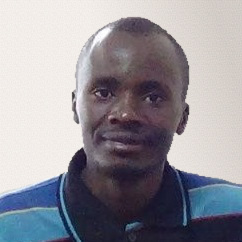 Latest posts by David Kariuki
(see all)