OpenSim virtual land area continued to increase this month, adding 942 new regions since we reported the stats, as well as registering 4,098 new users. However, the number of active users fell by 3,806 this month as the December holidays came to a close. Generally, there are fewer seasonal events in January than in December, which partly explains the drop in active users. Service interruptions in a few grids also affected this month's usage total. For example, MetaverseLife grid's active users dropped by 1,676 due to service interruption issues.
The public OpenSim grids now have a total of 103,859 standard-sized regions in virtual land area. The OpenSim metaverse is now a virtual home to 480,003 registered users.
All grids without a publicly accessible website, social media page, OpenSimWorld listing, or other public presence are now marked as private in the Hypergrid Business database. Please submit the link to the grid's public page through a direct email or this form in case you find that your grid is marked as private and you want it to be back on our lists.
We are now tracking a total of 2,516 OpenSim grids, 406 of which were active, public grids, and 280 of which published their stats this month.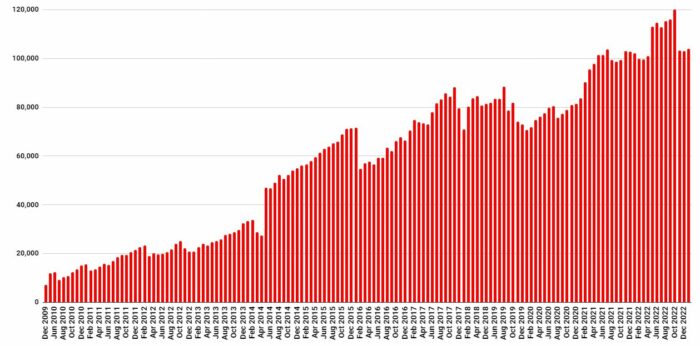 OpenSim virtual land area chart. (Hypergrid Business Data.).OSgrid, which is OpenSim's test grid, leads in size with 23,697 total standard region equivalents. Kitely is second with 18,307, followed by Wolf Territories Grid with 13,184 regions, ZetaWorlds with 8,037, and Alternate Metaverse with 7,584 regions. Scroll to the bottom of this article for a full list of the top 40 largest grids.
Our stats also do not include most of the grids running on OutWorldz DreamGrid — a distribution of OpenSim used by many people to create virtual worlds on personal computers, private company grids, or school grids.
DreamGrid reports a total of 8,519 grids with a total land area of 65,638 standard regions. Micro Technology Services owns both DreamGrid and OutWorldz.
With the free-to-use DreamGrid software, users can easily create virtual worlds through a graphical interface and one-click install feature. They can also use it to easily and quickly manage their grids using graphical interfaces. This includes adding new regions, banning users, deleting regions, auto restarting,  tracking usage stats, and shutting down entire grids or unoccupied regions to save computing power.
OutWorldz offers free OARs — complete region files — which you can add to your new grid easily. The software saved its users a combined total of over $35 million in setup and land rental fees in 2022 when compared to the Second Life price equivalents, according to the latest presentation by CEO of Micro Technology Services Fred Beckhusen at the developer AvaCon conference last month.
DreamGrid now supports 3D VR view for OpenSim in Beta 5.28. Examples can be viewed on this page. With it, users can save Firestorm Photos in a folder and they appear on the viewer. Another new feature — the Terms and Conditions Pop Up — which was in beta testing, has also been finalized. It includes a TOS editor and integration with the Diva Panel TOS. As promised, it does not depend on Diva or Apache to be enabled, Beckhusen told Hypergrid Business. 
OpenSim-as-a-service which enables users to run a grid on boot, and grid-wide classified ads is also one of the latest features from the team. It is live on http://ostworld-os.com:8002 and http://www.outworldz.com:9000 grids.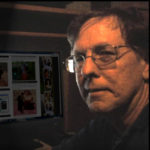 "The user interface controls between foreground and background modes are being updated," said Beckhusen. "Beta version is coming by the end of January. It includes Terminal for regions and robust while running as a service, and you can install a .exe file on any machine and connect to  the Region and Robust remotely and securely."
Yet another new feature known as Classified Ads is still not complete and is a low priority for DreamGrid right now.
OpenSim is a free open-source, virtual world platform, that's similar to Second Life and allows people with no technical skills to quickly and cheaply create virtual worlds and teleport to other virtual worlds. Those with technical skills can run OpenSim worlds on their own servers for free using either DreamGrid, or the official OpenSim installer for those who are more technically inclined, or any other distribution, while commercial hosting starts at less than $5 a region.
A list of OpenSim hosting providers is here. Download the recommended Firestorm viewer here and find out where to get content for your OpenSim world or region here.
Top 25 grids by active users
When it comes to general-purpose social grids, especially closed grids, the rule of thumb is the busier the better. People looking to make new friends look for grids that already have the most users. Merchants looking to sell content will go to the grids with the most potential customers. Event organizers looking for the biggest audience — you get the idea.
Top 25 most popular grids this month:
The active list is based on active, unique 30-day user login numbers that grids report on their stats pages. Those grids that don't report their numbers might be just as popular, but we wouldn't know.
The active user stats are used to generate the popular hypergrid destinations list, which is useful if you have a hypergrid teleport and want to put up gates to the most popular grids, or include the most popular grids in an in-world directory. This list is also a good place to start if you want to open up new stores, hold events, or are just looking for places to visit.
Here's some information on how and why you should set up a stats page for your grid. Not all grids need a stats page — especially grids that aren't open to the public like school grids, private company grids, small family grids, and so on. From prior surveys, this dark metaverse of OpenSim grids might actually be bigger than the one we know about, because those grids don't need to promote themselves, and we never hear about them.
Online marketplaces for OpenSim content
There are currently 19,813 product listings in Kitely Market containing 38,695 product variations, 33,623 of which are exportable.
Kitely Market has delivered orders to 570 OpenSim grids to date. The Kitely Market is the largest collection of legal content available in OpenSim. It is accessible to both hypergrid-enabled and closed, private grids. The instructions for how to configure the Kitely Market for closed grids are here.
As seen from the above chart, nearly all the growth in Kitely Market has been in content that can be exported to other grids — that is the green area in the chart. The red area, of non-exportable content, has stayed level for the past seven years.
Offering a convenient and low-cost way for OpenSim users to buy legitimate, legal content not only offers creators sales opportunities that they wouldn't have otherwise but reduces the need for pirated content, similar to the way that Netflix and other streaming services have reduced the amount of illegal video streaming.
In addition, restricting content to closed grids does little to stop piracy. Most stolen content is ripped from Second Life, the original closed grid. The only time that being on a closed grid offers additional security for content creators is when the content involves high-end scripts or proprietary animations.
Speaking of closed grids — where users are not able to teleport to other grids — the biggest such grid, Tag, also has its own online marketplace.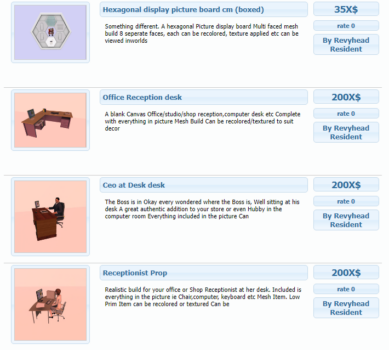 The Tag grid marketplace, the only other OpenSim marketplace comparable to the Kitely Market, lists and sells a total of 28,286 virtual items including apparel, avatar accessories, avatar appearances, and other items. From the marketplace's website, anyone is able to list their products or items on the marketplace to promote them either for sale or as a freebie, but the content can only be purchased and used within the Tag grid and can't be taken or delivered to other grids.
Logicamp grid upgrades tech, seeks funding
Logicamp grid has successfully repaired and upgraded its OpenSim server and website following service interruptions and crashes that happened in May 2022 and July 2022.
"As part of the upgrade process, we also had to modify our code to accommodate the transition from MySQL to MySQLi," the company wrote in a press release sent to Hypergrid Business. "We are confident that these updates will significantly improve the performance and stability of our platform."
The grid also encountered a router crash that required a complete reconfiguration of the network infrastructure, but this too has been fixed.
Profiles and grids are also working well after the team upgraded the OpenSim version. The team has also configured a mail server with a digital signature to improve the security and authenticity of their outgoing emails.
The team is now seeking funding to further update servers and hire more people to improve user experience.
"While there is still much work to be done, we are committed to continuously improving and expanding our platform," the company wrote in a press release. "We are currently seeking funding or rental of land in order to update our servers and hire more team members to organize events that will enhance the user experience in our metaverse."
Logicamp was founded in 2010 as a French-language grid with a focus on Belgian tourism, but has since become more of an educational grid, with regular classes in OpenSim, design, building, and LSL scripting.
Free land offer on OffWorld grid
OffWorld grid is giving out free residential OpenSim land plots measuring 5,184 square meters and 949 prims to anyone who joins the grid. This is their usual offer to attract new residents and the admin will help to set up the land.
Visit the grid for more information or contact Bella Fegte or Genie Fegte in-world.
The hypergrid address is offworld.eu:8002.
Erasmus explores virtual worlds for teaching math

Mathesis — a new private grid that surfaced in November of 2022 — is exploring the use of virtual worlds in attracting students into math and science subjects and improving their skills in these subjects. The grid is run by the Department of Computer Engineering & Informatics in the School of Engineering at the University of Patras, which is based in Greece.
According to the Mathesis project explainer page, one of the hardest parts of teaching math to students is keeping them interested in the topics and the project will target covering math classes with various learning activities offered in the 3D virtual worlds. It adds that these environments are more attractive, engaging, and entertaining for school pupils and hence will improve learning efficiency.
One of the specific objectives of the project is to promote and implement 3D worlds as an innovative teaching method in schools in partner countries. The project will design learning materials and a series of learning activities which will then be administered by teachers to students in 3D and web.  The project will avail 3D objects scripts, and guides to students during its 2-year duration.
Nara's Nook grid has a new YouTube channel
Nara's Nook grid is introducing a new Next Dimension Tales YouTube channel that will focus on 3D story telling.
The team will use the channel to tell 3D stories and release animated content. The team will release further details on the project.
Kalasiddhi closes to transition to Meta's Oculus platform
The Kalasiddhi grid, which focuses on Buddhism in virtual reality, has been taken down because it is transitioning to Oculus — the VR platform owned by Meta.
The team is now building on Unity and will decide later how to present it on the platform, grid coordinator Drang Po told Hypergrid Business.
New grids
The following grids were added to our database this month: Alterlifes, Arielle's Grid, Cajun Grid, Calypso, Chubelz Grid, Dead Frog, E-LIVE Virtual World, Fresh MetaVers, Land of Sinners, Legacy, Omnopolis, Piggy Bank Grid World, Virtual Melody, and WaterSplash.
Suspended grids
The following 20 grids were marked as suspended this month: Ampleverse, Ancient Rome, Clone Fantasy, Concadia, Creatrix World, Destinationz, EasterHome, GridPlay Grid, Hasengang, Insanity Grid, KittyBlue, MisFitz Grid, OB, PrimGrass, Savannah Grid, Second Meta , Test Grid, Tropical Isle, and Your Worlds.
Top 40 grids by land area
The list below is a small subset of existing OpenSim grids. We are now tracking a total of 2,516 different publicly-accessible grids, 407 of which were active this month, and 280 of which published their statistics.
All region counts on this list are, whenever available, in terms of standard region equivalents. Active user counts include hypergrid visitors whenever possible.
Many school, company, or personal grids do not publish their numbers.
The raw data for this month's report is here. A list of all active grids is here. And here is a list of all the hypergrid-enabled grids and their hypergrid addresses, sorted by popularity. This is very useful if you are creating a hyperport.
You can see all the historical OpenSim statistics here, including polls and surveys, dating all the way back to 2009.
Do you know of any other grids that are open to the public but that we don't have in our database? Email me at [email protected].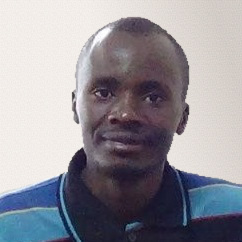 Latest posts by David Kariuki
(see all)