The size of OpenSim virtual land just got bigger this month by an additional 996 standard-size regions even as the number of active users dropped by 991, mostly likely due to normal seasonal variations.
OpenSim also added close to 3,000 new registered users this month, reversing the hefty loss of 8,000 registered users recorded last month due to AviTron no longer publishing its statistics.
The public OpenSim grids now have a total of 111,452 standard-sized regions in total virtual land area. We are now tracking 2,534 OpenSim grids, 420 of which were active this month, and 285 of which published statistics.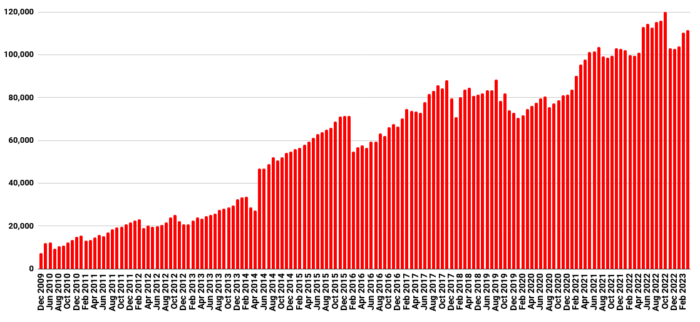 OSgrid, Wolf Territories Grid, and Kitely, were the three largest grids this month by land area, while ZetaWorlds is the fastest-growing grid this month by land area having acquired an additional 757 new regions since we lastly reported these stats. OSgrid gained the equivalent of 595 standard regions, GBG World gained 297, and Tag Grid and Wolf Territories Grid grew by 64 regions each. Browse to the bottom of the page to find the list of top 40 grids by land area.
Our stats also do not include most of the grids running on OutWorldz DreamGrid — a distribution of OpenSim used by many people to create virtual worlds on personal computers, private company grids, or school grids.
DreamGrid has a total of 8,519 grids all of which have a total land area of 65,638 standard regions according to a January 2023 report from Micro Technology Services — a company that owns both DreamGrid and OutWorldz. The total list of grids for which OutWorldz reports stats is available here. 

With the free-to-use DreamGrid software, users can easily create virtual worlds through a graphical interface and one-click install feature. They can also use it to easily and quickly manage their grids using graphical interfaces. This includes adding new regions, banning users, deleting regions, auto restarting,  tracking usage stats, and shutting down entire grids or unoccupied regions to save computing power.
OutWorldz offers free OARs — complete region files — which you can load to your grid easily and with little effort. The company reported on January this year that the software has saved its users a combined total of over $35 million in setup and land rental fees in 2022 when compared to the Second Life price equivalents.
OpenSim is a free open-source, virtual world platform, that's similar to Second Life and allows people with no technical skills to quickly and cheaply create virtual worlds and teleport to other virtual worlds. Those with technical skills can run OpenSim worlds on their own servers for free using either DreamGrid, or the official OpenSim installer for those who are more technically inclined, or any other distribution, while commercial hosting starts at less than $5 a region.
A list of OpenSim hosting providers is here. Download the recommended Firestorm viewer here and find out where to get content for your OpenSim world or region here.
Top 25 grids by active users
When it comes to general-purpose social grids, especially closed grids, the rule of thumb is the busier the better. People looking to make new friends look for grids that already have the most users. Merchants looking to sell content will go to the grids with the most potential customers. Event organizers looking for the biggest audience — you get the idea.
Top 25 most popular grids this month:
The active list is based on active, unique 30-day user login numbers that grids report on their stats pages. Those grids that don't report their numbers might be just as popular, but we wouldn't know.
Piggy Bank Grid is the fastest growing grid this month with 434 new active users, followed by One Life grid with 255, La Grilla de Don Javi with 234, Calypso with 153, and Tangle Grid with 113 new actives.
The active user stats are used to generate the popular hypergrid destinations list, which is useful if you have a hypergrid teleport and want to put up gates to the most popular grids, or include the most popular grids in an in-world directory. This list is also a good place to start if you want to open up new stores, hold events, or are just looking for places to visit.
Here's some information on how and why you should set up a stats page for your grid. Not all grids need a stats page — especially grids that aren't open to the public like school grids, private company grids, small family grids, and so on. From prior surveys, this dark metaverse of OpenSim grids might actually be bigger than the one we know about, because those grids don't need to promote themselves, and we never hear about them.
Online marketplaces for OpenSim content
There are currently 19,924 product listings in Kitely Market containing 38,930 product variations, 33,859 of which are exportable.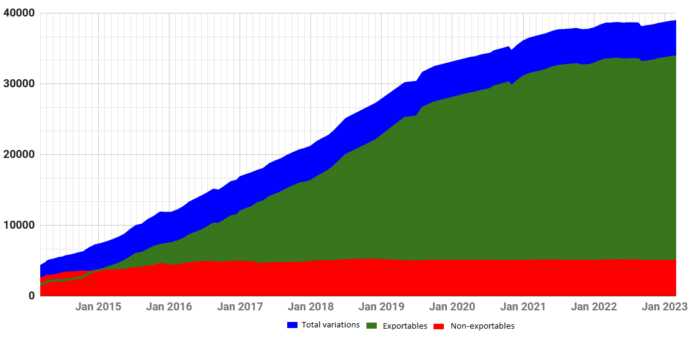 Kitely Market has delivered orders to 577 OpenSim grids to date. The Kitely Market is the largest collection of legal content available in OpenSim. It is accessible to both hypergrid-enabled and closed, private grids. The instructions for how to configure the Kitely Market for closed grids are here.
As seen from the above chart, nearly all the growth in Kitely Market has been in content that can be exported to other grids — that is the green area in the chart. The red area, of non-exportable content, has stayed level for the past seven years.
Offering a convenient and low-cost way for OpenSim users to buy legitimate, legal content not only offers creators sales opportunities that they wouldn't have otherwise but reduces the need for pirated content, similar to the way that Netflix and other streaming services have reduced the amount of illegal video streaming.
In addition, restricting content to closed grids does little to stop piracy. Most stolen content is ripped from Second Life, the original closed grid. The only time that being on a closed grid offers additional security for content creators is when the content involves high-end scripts or proprietary animations.
Speaking of closed grids — where users are not able to teleport to other grids — the biggest such grid, Tag, also has its online marketplace. The marketplace lists 28,293 items both for sale and those free.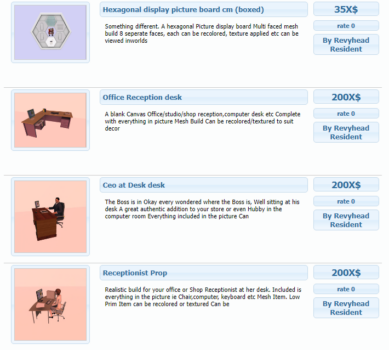 Neverworlds' Marketplace, which launched last month, is another option for OpenSim grirds, and does support hypergrid shoppers. The site currently lists 33 items for sale to residents and 44 items for hypergridders.
News
Neverworlds grid is offering free virtual parcels to all of its residents. The parcels range between 0,000-70,000 meters each and up to 8,000 prim each. Most are in developed areas with waterways and road systems, which means there is no terraforming needed.
To get the parcels, simply visit the Free land tab from the website menu and click the category of land from the list. Once you teleport in, click the mailbox  on any available parcel in the region by looking for the black and gold Available Sign.
Society of the Sacred Grove hosts Gnome Quest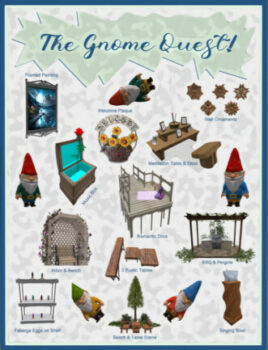 Society of the Sacred Grove, a grid that's new to Hypergrid Business, is ready for the spring. The grid — which focuses on health and well-being of the whole person, body, mind, and soul — will be hosting the Gnome Quest starting from 10 a.m. Pacific Time on March 21.
Residents and hypergridders will, during the event, get free gifts made by local creators . The prizes are virtual items that you can use at your grid or region such as table scene, magic box, ornaments, painting, welcome plague, deck, bench, and shelf. The quest will also take place quarterly in mid-June, mid-October, and mid-December.
More information and maps will be provided at the welcome area.
The hypergrid address is ssggrid.org:18235:SSG Welcome.
Easter market open at Chubelz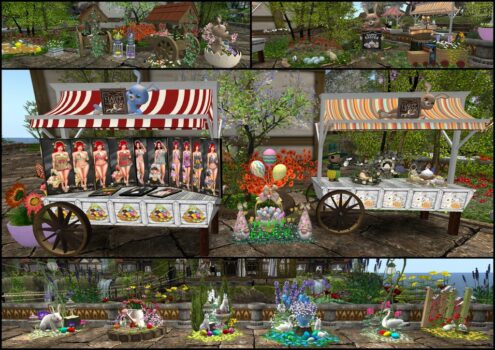 Chubelz Gid now has an Easter Market ready for the upcoming Easter holidays. The market contains various items both for sale and freebies for Easter celebrations, which you can pick for use back at your grid and region. They include clothing, attire, decorations, eggs, rabbits, and carts.
The grid has various shops where you can find items of varying applications including formal wear, tattoos, shoes, costumes, hair, stockings, wedding attire, jewelry, and avatars.
The hypergrid address is chubelz-grid.de:8002.
New grids
The following grids were added in our list of new grids this month: BradleyVille, Casadamici, Darkheart's Realm, EscapeLands, Hosting4OpenSim Test Grid, Konecta Radio, Little Whitecat, LoboWorld, Lovely Paradise, One Life Grid, SiLi, Society of the Sacred Grove, Solaria, Vivec, and WKDVR.
Closed grids
After a grid has been inactive for two months, we mark it as suspended.
The following 20 grids were marked as suspended this month: Ardalia, Ardiva, Aviarium, Cube Graphics, Keraith Grid, Land of Sinners, NuGrid, OsDreaming, Outlandish Grid, OzKanga Grid, PaderGrid, Pleasure Grid, PrimGrass, Rael's World, Schutz American School, Sweet Life, TexLand Grid, Thrae, Troy, and Wiccan Grid.
Sometimes, a grid changes its loginURI or website address and we don't notice. If that's the case, email us and let us know.
Top 40 grids by land area
The list below is a small subset of existing OpenSim grids. We are now tracking a total of 2,535 different publicly-accessible grids, 420 of which were active this month, and 288 of which published their statistics.
All region counts on this list are, whenever available, in terms of standard region equivalents. Active user counts include hypergrid visitors whenever possible.
Many school, company, or personal grids do not publish their numbers.
The raw data for this month's report is here. A list of all active grids is here. And here is a list of all the hypergrid-enabled grids and their hypergrid addresses, sorted by popularity. This is very useful if you are creating a hyperport.
You can see all the historical OpenSim statistics here, including polls and surveys, dating all the way back to 2009.
Do you know of any other grids that are open to the public but that we don't have in our database? Email me at [email protected].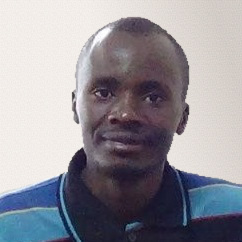 Latest posts by David Kariuki
(see all)