Few companies today actually need a virtual world — but yours could be one of them. Here's how to tell.
Are you in the education business?
Take for example, Tom Hood, president of the Maryland Association of CPAs. His group has conducted about a dozen events in Second Life over the past 18 months, each attended by an average of 35 people.
Holding an event in Second Life means that neither the speakers nor the attendees have to take time off work — or buy airplane tickets. In addition, the medium allows for more interactivity than possible in traditional web conferences or teleseminars.
"It's given us a flexibility in this kind of training that we never imagined before," Hood said.
Today, the association offers continuing education credit for courses taught in Second Life.
And they aren't alone. According to Hood, there are over 200 colleges and universities using the Second Life platform, including such big names as Harvard, Yale and MIT. (List here.)
"All the major universities have campuses in Second Life," he said. Linden Research Inc. claims "hundreds" of educational institutions on its platform.
Linden's development of a stand-alone virtual world platform is also appealing to educational institutions. For example, Case Western Reserve University recently became one of the first organizations to pilot the new Second Life enterprise server technology.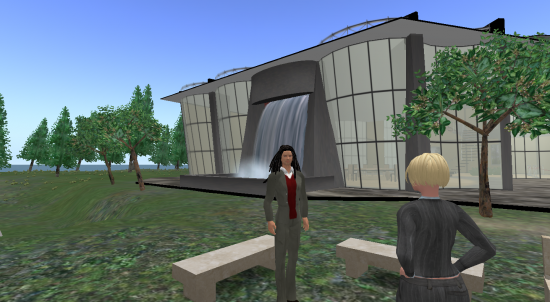 But you don't have to be in the education industry to be interested in education. For example, IBM uses a virtual world to "on board" new employees from some countries, to cut travel expenses and create a global sense of community.
Training and education in a virtual world allows for more interaction than in a telephone call or a web conference, and is much less costly than face-to-face training if the people involved are in different locations.
Are you in the events and conference business?
Not every events lends itself to a virtual world.
For example, Australian banking giant Wespac piloted a program in Second Life, but eventually pulled out because the return on investment just wasn't there.
"The benefits weren't much better than Webex," said Adam Frisby, one of the core developers of the OpenSim platform and co-director of Shanghai-based DeepThink Pty Ltd.
Other events lend themselves well to a mixed media platform such as that offered by Chicago-based InXpo, Inc.
InXpo has conducted over 600 events over the past three years, serving around half a million attendees total, said CEO Malcolm Lotzof.
The advantage of a Web-based platform like that offered by InXpo is that there's no download required, that tens of thousands of people can attend a single event at the same time, and that the platform allows full and detailed tracking of what each guest did while at the event, Lotzof said.
For smaller events, however, a virtual world can offer a high degree of presence and interactivity, a feeling of "actually being there."
In addition, after the main event is over and the speaker steps down from the podium, audience members can come up and ask follow-up questions, or talk among themselves. They can even decide to go somewhere else together after the meeting, the same way they might go out for coffee after a convention session.
"People walk out of the room at the same time and there's engagement going on," said Chris Collins, Linden's general manager for enterprise. "We refer to that as the 'watercooler effect.' That can be extremely powerful."
Are you in the 3D business?
If a picture is worth a thousand words, how much is a three-dimensional environment worth? A lot more.
Say you build houses for a living. You can sketch out a design for a client. You can even show photos of what the house will look like, or build a miniature model.
But imagine walking your client through their finished house … with the wall paper, furniture, even the appliances, all in place and to scale.
That's exactly what Jon Brouchoud, owner of Oregon-based Crescendo Design, does with his clients.
With the realXtend platform (an offshoot of the open source OpenSim project), Brouchoud is able to import designs from his professional architecture software — then pull in furniture and appliances from virtual scale models provided by the manufacturers themselves.
""Many appliance manufacturers have their libraries uploaded to the Google 3D Warehouse, or in 3D directories that are free to download and use," he said.
In addition to the OpenSim deployment, Brouchoud also runs islands on the Second Life platform.
Most of his clients have never heard of either platform, he admitted.
"They think I'm crazy at first," he said. "Until they're walking around inside their house. At which point, they're very excited about it."
What if you're not in any of these businesses?
Some companies are using virtual worlds to add a little oomph to small-group meetings. A Second Life meeting, for example, costs little — or nothing at all, if you find the right venue. It's also possible to rent a space just for an event, or a small plot of land for a more permanent office.
It can be handy to be able to meet potential employees, conduct training sessions for new hires, or even to hold board meetings if your company directors are scattered around the globe.
Take for example, Masters 'O' Equity Asset Management.
"I'm from Singapore," said company president Jason Ng. "My two shareholders are from Thailand and Russia. Normally, we just send out the annual report by email — we don't discuss anything."
This year, though, the company is having its first annual meeting — in Second Life.
"This is as close to real life as it gets," Ng said. "Everyone is able to sit around, able to talk and discuss issues face-to-face."
Ng was speaking to me from his office in Second Life, where he also plans to create a community for one of his publications, OptionsTradingpedia.
"We used to run a forum, but that didn't work out well because of all the spam," he said. "I'm always looking for ways to make the community more interactive, more personal. I think that Second Life really provides this."
When do you definitely not need a virtual world?
If your company is functioning well as it is, if employees and key clients are concentrated in one location, if you don't want to lower your travel budget, then there's no particular benefit to setting up a presence in Second Life or one of the other virtual worlds, or experimenting with hosting your own OpenSim-based world.
In addition, public spaces in Second Life can potentially be disrupted by pranksters or casual passers-by, and the price of private lands that prohibit outsiders from entering can quickly start to add up.

The enterprise version of Linden's virtual world platform won't be ready until later on this year, and the pricing still hasn't been disclosed. In addition, it is not currently possible to travel from Second Life to one of these enteprise world, or to other worlds that use a similar technology — so users have to log in and create their avatars (their virtual personalities) from scratch.
The OpenSim platform already allows enterprise applications, at no cost — the software is open-source. And although travel is not possible between OpenSim and Second Life, teleportation is possible between many OpenSim-based worlds — and there are dozens of different worlds that have already been built by educational institutions, gaming groups, and social communities — not counting individual company grids.
However, setting up an OpenSim world requires technical expertise — similar to maintaining your own website. As a result, if you don't have in-house staff to handle it, the money saved on not paying rent to Second Life would go to cover hosting and technical support.
Finally, although the OpenSim platform is very similar to that of Second Life — and can even be accessed by the same browser — some features are still not as fully developed.
Voice, for example, is sometimes intermittent, and there's no decrease of volume with distance. In addition, in Second Life, if you wear stereo headphones, you can tell the direction a voice is coming from. This can be handy in group meetings. In OpenSim, it can be hard to tell who is speaking.
OpenSim is developing at a break-neck pace, however.
We'll be doing a feature-by-feature comparison at then end of the year, when Second Life releases the public version of its enterprise platform.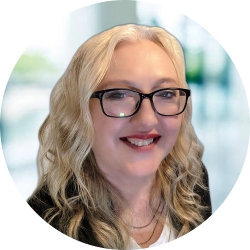 Latest posts by Maria Korolov
(see all)