So you have decided that your company needs a virtual world platform. (Maybe you read our earlier article, "Do you need a virtual world?") Here is how to select the rigtht platform.
Do you expect to have more than 50 visitors at any one time?
Most immersive virtual words have a hard time handling even 30 or 40 visitors to same location — plus there's all the bumping and pushing and elbow-jousting when too many avatars land in the same place at the same time.  Can you divide your audience into smaller groups and send each group to a separate virtual location or a different time slot?
For example, if you're giving a speech in a large auditorium, you might split the audience into different sections, with different servers handling each area. With careful load balancing, and minimal landscape design elements, you might get as many as a few hundred attendees at a single event.
If you expect even more people to come, you might consider holding an event that isn't a true immersive virtual experience, but still offers some of the multimedia benefits of virtual worlds. One such platform is that offered by InXpo, where visitors can enjoy real-time chat  and multimedia presentations. Other companies offering similar services include Unisfair and On24.
The benefit of one of these virtual events platforms is that visitors don't have to download special software, and navigate with the standard point-and-click Web interface — no training required. But what these platforms gain in ease of use and scalability, they lose in not providing a feeling of presence and serendipitous discovery, said Nick Wilson, founder and CEO of the UK-based virtual worlds consulting firm Clever Zebra.
"It's about as three-dimensional as a photograph," Wilson explained. "You can see some depth but you couldn't walk into the background. And there are no avatars walking around, you can't bump into somebody."
Bumping into people is a key benefit of immersive virtual worlds, he added. When visitors bump into each other in virtual worlds, they automatically apolotize — even though the actual bumping is being done by animated characters on screen. "You say, 'Oh, I'm sorry,' because it literally feels like you're bumping into somebody," Wilson said.  And then you can go on to have the same kind of conversation you would normally have when you bump into someone, he added: "Oh, I haven't seen you for ages!"
Do you want to run virtual meetings or training sessions?
For occasional virtual meetings, nothing beats a commercial platform like Second Life, Forterra's Olive and Protonmedia's Protosphere.
Second Life has the largest base of users and designers and a number of consulting companies and events vendors who can set you up with your own virtual space, or rent out an existing facility, including Clever Zebra itself.
After a meeting, your visitors can continue their discussions with one another at Second Life bars and cafes, or go off to explore museums and other Second Life destinations.
Second Life offers voice support, so your speakers and visitors can easy talk to each other. Downsides include the lack of support for real names — all visitors have to appear under aliases — and the amount of preparation each visitor needs before attending a conference. Second Life is trying to make it easier, but new visitors still have to download a heavy browser, dress their avatars, and learn to navitage a three-dimensional world.
Forterra's Olive is popular with military and government users, said Wilson, and has the most "advanced feature sets for security and all the enterprise issues that come up with virtual worlds." The software runs behind a  firewall, so your company doesn't have to share its virtual world will millions of other people.
Protosphere is popular with pharmaceutical companies, but can be used for other training and meetings as well, Wilson said.
A typical example of a virtual world meeting was that conducted by IBM in late 2008, which had over 200 attendees and cost around $80,000 to produce — but saved the company $320,000 it would have cost to run a real-world conference (case study PDF here).
There are dozens of other commercial virtual world vendors, but none are yet seeing  serious enteprise use, Wilson said.
For example, 3DXplorer and Metaplace both work in a browser — no software download required.
And 3DXplorer does have business customers, said Wilson. "But we've used it, we tested it, and we don't consider it business ready and we don't recommend it to clients," he said.
When I visited, I found the interface to be buggy, navigation difficult, and there was no voice support. Businesses using it for virtual meetings and needing voice would have to run a separate program, such as Skype, for the actual conversations, or use a telephone conference bridge.
Metaplace is even farther away from an enterprise platform, with the interface being geared towards casual users and game players.
"This is not of interest to our clients," Wilson said.
Do you want a permanent virtual world presence?
Many companies — Clever Zebra included — have offices in Second Life, and see benefits to having an in-world presence.
Casual visitors can drop by, for example, and check out the company's offerings.
And employees can gather around a virtual water cooler.
"People can just wander up to my desk and say, 'Hey, what do you reckon?'," Wilson said. "You can't get that in any other medium."
In fact, hundreds of universities and companies keep permanent offices in Second Life.
Hollywood producer Mike Joyce — who worked on such projects as the Battlestar Galactica television show — has an office building in the Steelhead region for his Pineapple Pictures production company, which specialises in virtual world animation, or "machinima."
"The second floor has a screen and projects we're working on, and we take meetings there with people," Joyce said. "The first floor is a bar."
But increasingly companies like IBM and Intel — and even smaller players like Pineapple Pictures — are looking towards OpenSim, an open-source alternative to Second Life.
My company, Trombly Ltd., has its own region on the OSGrid virtual world, which runs the OpenSim software — and we're planning to create our own separate world in the near future.
Running an OpenSim virtual world — or grid — is similar to running your own website — you need a server, or a hosting company with servers, and a gridmaster to manage the project.
There are also companies that handle both hosting and grid management, including PioneerX,which Joyce uses to manage his OpenSim-based studio backlot.
OpenSim-based worlds are compatible with those built on the Second Life platform, so objects and scripts can be transferred over, and designers and builders from Second Life can be imported to work on OpenSim projects.
Like a website, an OpenSim-based world can be linked to other compatible worlds, and avatars can travel between worlds. For example, this weekend I took my avatar on a trip to Intel's conference center, to University of California at Irvine's virtual campus, to a German cafe famous for its live folk music and to a replica of a sailing ship.  What can I say? I like ships.
Travel between grids is almost as easy as clicking on a hyperlink on a webpage — just walk through a hypergrid teleportation portal and your avatar is teleported from one grid to another.
However, this technology is brand new — both hypergrid teleportation and voice functions were only rolled out this spring, and still have hiccups.
In many ways, the OpenSim hypergrid reminds me of the early World Wide Web — many broken links, pages not displaying properly in some browsers, and not much content just yet. Also, not yet many users — the largest grid on OpenSim, the OSGrid, has  only 17,000 registered users, less than 100 of whom are typically online at any given time.
As a result, OpenSim is not quite robust enough for  enterprise yet, said Clever Zebra's Wilson.
"But there's certainly interest," he added. "Lots of companies are interested and lots of universities are interested. I suspect it's not so far from being ready."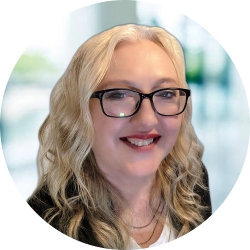 Latest posts by Maria Korolov
(see all)