Just as colleges and universities were among the first to embrace the World Wide Web, educational institutions are now in the forefront of those embracing innovative uses of OpenSim and other virtual worlds platforms.
For example, the CSI project from the Kansas-based Greenbush Education Service Center is an interactive crime-solving laboratory for forensics students.
Greenbush started out in Second Life as many educational institutions do. It operates the Greenbush Island, a virtual 3D immersive teacher safe environment, in Second Life.
But Greenbush also runs its own OpenSim grid. To ensure the safety of its underage visitors, only access from the KidBrowser client is allowed, and there is no public hypergrid teleport access. All visitors must be registered account holders.
The CSI project is a demonstration of the kind of hands-on education possible using these immersive environments.
This morning, Rich White, Greenbush's immersive technologies designer, spoke at the first annual Immersive Education Day Kansas/Missouri, sponsored by the Southeast Kansas Education Service Center at Greenbush and the Immersive Education Initiative. Rich White is also the author of a paper released last month about collaborative 3D virtual environments.
He mentioned the Greenbush Mars simulation, one of the firm's more recent educational projects.
In other Greenbush projects, White recently adapted the Scratch for Second Life programming toolkit for OpenSim.
And, in collaboration with NASA, there is an environmental project based on OpenSim technology designed to educate students about the effects of climate change.
Although Greenbush uses these collaborate learning tools in school settings, the same principles can easily be applied for corporate learning settings, to train employees, clients, or business partners.
But all this is just the tip of the iceberg when it comes to uses of virtual worlds. In his presentation, White predicted that, in five years, virtual world technology will be ten times cheaper or faster than it is today, and a hundred times cheaper or faster in ten years.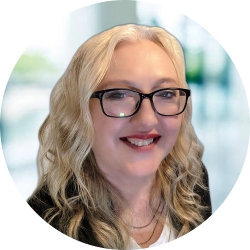 Latest posts by Maria Korolov
(see all)