Press Release
Linden Lab Adds Behind-the-Firewall Product and Apps Marketplace to Second Life Enterprise Offering
IBM, Northrop Grumman and The US Navy Among Open Beta Participants; Robust Platform Cements Company's Position as Leading Provider of Enterprise Virtual World Solutions
SAN FRANCISCO — November 4, 2009 — Linden Lab®, creator of the virtual world Second Life®, today launched an open Beta program for its behind-the-firewall product, Second Life Enterprise™. In addition to revealing features, pricing, expected availability and several open Beta customers, the company is also announcing plans to launch a marketplace for enterprise applications and virtual goods. The Second Life Work Marketplace™, to be launched in Q1 2010, will enable customers to further customize their virtual world environments while also creating additional revenue streams for the company and its Solution Providers. Adding Second Life Enterprise and the Work Marketplace to its existing work offerings will enable Linden Lab to service an even broader range of organizations with virtual world solutions that enhance real life operations.
Already, 14 organizations are participating in the Beta program for Second Life Enterprise. This list includes: IBM, Northrop Grumman, Naval Undersea Warfare Center, DefenseWeb Technologies, Case Western Reserve University, The New Media Consortium, among others. Second Life Enterprise enables these organizations to maximize the investments they've made in Second Life by moving some or all of their virtual operations and content behind their firewalls. Combining the benefits of working in Second Life, such as enhanced collaboration and advanced prototyping, with enhanced security features and centralized administration will open new doors for simulation, training, collaboration, innovation and product design.
More than 1,400 organizations around the world, including large enterprises, educational institutions, government agencies and the US Military, currently use Second Life to hold meetings, conduct training and prototype new technologies more efficiently and cost effectively. For example, IBM held a conference in Second Life that it estimated was executed at one-fifth the cost of a physical event, saving the company more than $320,000. Additionally, military organizations and defense contractors such as Northrop Grumman have significantly reduced R&D costs by moving design and simulation efforts to Second Life. Organizations now have the option of using Second Life as a service hosted by Linden Lab, using Second Life Enterprise as a standalone solution hosted behind their firewalls, or a combination of both. Second Life Enterprise is built on the same foundational technology and communication channels—including spatial voice (VOIP), text chat, and 3D interaction — and offers an identical user interface as the main Second Life environment, enabling current Second Life users to easily migrate to a behind-the-firewall environment.
"The Second Life Enterprise version offers a great combination of collaboration, content creation and communications tools and resources," said Francoise Legoues, vice president of innovation initiatives, IBM. "We were one of the early adopters of the Second Life platform, and having that technology behind the firewall gives us the opportunity to expand our use of the platform enterprise-wide."
Some of the features of Second Life Enterprise Beta include:
Runs completely within an enterprise's network thus providing the same level of security as their intranet. With comprehensive authentication and access controls, this enables confidential and proprietary information, prototypes and training materials to be shared securely.
Advanced 3D visual, spatial audio, and text collaboration tools to allow workers to easily upload media files, share documents and create custom content.
Seven prepackaged virtual regions, including a four-corners all-hands auditorium, two conference centers, and a number of sandbox regions, where users can test virtual items and practice building. Also included is a set of standard business avatars. With a full set of workspaces and avatars, enterprises can begin using the product immediately after deployment. Additionally, content owned by the company can be moved from the main Second Life environment into the Second Life Enterprise Beta environment, maximizing investments already made in Second Life.
Centralized administration that enables enterprises to manage the entire environment including users, regions and content from one central location, complete with LDAP integration. Administrators can also allow Second Life Enterprise Beta users to use their real-life names for their avatars.
Advanced infrastructure that can support up to eight regions simultaneously and 800 concurrent users in the same immersive environment.
"Virtual Worlds have the potential to provide a safer, more cost effective approach to some of the Navy's current mission areas. The Naval Undersea Warfare Center (NUWC) has collaborated with Linden Lab to create a version of Second Life Enterprise that is secured and meets military grade information assurance compliance standards – out of the box," said Douglas Maxwell, Program Technology Lead for NUWC Metaverse Strategic Initiative. "Hosting the Second Life Enterprise on a secured network allows us to conduct training, concept of operations exercises, and collaborative engineering activities using sensitive information in safety."
The Second Life Work Marketplace, to be launched in the first half of 2010, will enable customers to further tailor their Second Life Enterprise environments by browsing, testing and purchasing content from third-party developers. This will reduce the time associated with training and implementation, allowing Second Life Enterprise customers to easily customize their environments based on individual needs and goals. The Work Marketplace will allow Second Life Enterprise users to leverage the vast amount of professional quality content developed in Second Life and will also greatly expand the audience and monetization opportunities for Linden Lab's Solution Provider program, while adding a distinct revenue channel for Linden Lab.
"We've worked very closely with our enterprise customers to develop a solution that would fit seamlessly within their existing networks while also solving real business challenges," said Mark Kingdon, CEO of Linden Lab. "Second Life Enterprise Beta is a perfect complement to our existing work offerings, enabling us to offer a virtual work experience tailored to meet the specific needs of a broad range of organizations. Additionally, with the Work Marketplace, Second Life Enterprise users will be able to take the single biggest advantage of working in Second Life – the breadth and quality of content – and use it in environments hosted behind their firewalls. The fact that major corporations such as IBM and Northrop Grumman have embraced Second Life Enterprise Beta is tremendous validation for the product and our enterprise strategy."
Pricing and Availability
Pricing for Second Life Enterprise starts at $55,000. Linden Lab expects the beta program to run through Q4 and announce general availability during the first half of 2010.
The Second Life Work Marketplace is currently under development and a closed alpha is planned for the end of Q1 2010.
For more details about Second Life Enterprise Beta, or becoming a Second Life Enterprise Beta Channel Partner or Reseller, please visit: http://work.secondlife.com or email business@lindenlab.com.
About Second Life and Linden Lab
Developed and launched by Linden Lab in 2003, Second Life is the world's leading 3D virtual world environment. It enables its Residents to create content, interact with others, launch businesses, collaborate, educate, and more. Since its inception, Second Life Residents have logged more than one billion user hours and generated more than USD1 billion in user-to-user transactions. With a broad user base that includes everyone from consumers and educators to medical researchers and large enterprises, Second Life has become one of the largest hubs of user-generated content and the largest user-generated virtual goods economy in the world.
Linden Lab, founded in 1999 by Chairman of the Board Philip Rosedale and headquartered in San Francisco, develops revolutionary technologies that change the way people communicate, interact, learn and create. Privately held and profitable, Linden Lab is led by CEO Mark Kingdon, and has more than 300 employees spread across the U.S., Europe, and Asia.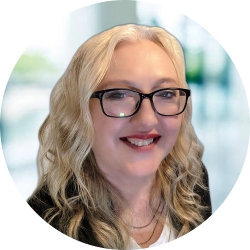 Latest posts by Maria Korolov
(see all)