[Update: You can browse all hypergrid-enabled public OpenSim grids with Hyperica, the directory of hypergrid destinations. Directory indexes more than 100 shopping and freebie store locations. Updated hypergrid travel directions here.]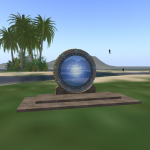 The following is a list of currently active hypergrid destinations.
It's not an inclusive list — there are hundreds of standalone grids that are hypergrid accessible, and many more regions on individual grids.
Instructions for how to travel via hypergrid teleport are here. (Quick summary: cut and paste the HG Address into the "search" box in your viewer's Map dialog.)
One major grid that was previously accessible by hypergrid — ScienceSim  — is no longer on the hypergrid, and is now only accessible through direct logins. And ReactionGrid, which serves mostly business and education users, is running an older, more stable version of the OpenSim server software, which can create some problems when trying to teleport to grids running the latest updates.
Since we last updated our hypergrid list in August, there has been another major change. The Diva Distribution of OpenSim has made it quick and painless for anyone to set up a hypergrid-enabled mini-grid. Christa Lopes, the creator of the Diva Distro, estimates that there are currently around 400 grids running the Diva Distro.
| | | | | |
| --- | --- | --- | --- | --- |
| Grid | Location | Name | HG Address | Description |
| BlueWall | Upper | BlueWall Gateway | ascent.bluewallgroup.com:9910 | Other regions on this small private grid include BlueWall Isle and Bay Side. |
| Condensation Land Grid | Upper | Condensation Land | condensationland.com:9000 | A beatuful, private small grid, currently hosting an art exhibit. |
| Cyberlandia | Upper | Cyberlandia | grid.cyberlandia.net:9000 | Entryway to the Italian-language Cyberlandia grid. Check out the freebie shop next door at Clelia. |
| Eden Realms | Upper | Gelius | 86.2.85.164:9000 | Entryway to the Eden Realms grid. Hypergrid gate next door near the conference center on Mamon region. |
| FrancoGrid | Upper | Alicia | alicia.francogrid.com:9050 | Explore the grid to find freebie stores, a Paris street, and the Eiffel Tower |
| Grid4Us | Upper | Mystique Lake | grid4us.net:8998 | A picturesque region on Grid4Us. Landing point is under water. |
| Grid4Us | Upper | Grid4Us Entrance | grid4us.net:9020 | Gateway to the German-language Grid4Us grid. |
| Jamland | Upper | Jamland | jamland.de:9300 | Small private grid. |
| Logicamp | Upper | Logicamp-SW | logicamp.dyndns.org:9300 | Entryway to the Logicamp grid. Hypergrid next door on Logicamp region. |
| Metaverse Sims | Upper | Motu Aruo | metaversesims.net:9000 | A small grid of tropical islands. landing point is near a hypergrid stargate. |
| Metropolis | Upper | *CenterWorld* | metropolis.hypergrid.org:9000 | A German language grid. Check out the castle next door in the quaint Lausitz region. |
| MyOpenGrid | Upper | Over Land | myopengrid.com:9005 | This region is home to one of the nicest OpenSim freebie stores around. |
| OpenSim.de | Middle | Palm City | opensim.mydyn.de:9090 | Small German-language grid. |
| OSGrid | Upper | Bade Plaza | 208.78.25.105:9204 | One of the official plazas run by OSGrid administrators. A little dark, very futuristic, rarely crowded — a convenient place to meet for hypergrid travelers. |
| OSGrid | Upper | South Sea 5 | 71.6.217.130:9010 | A tropical island-themed region. Landing point is under water. |
| OSGrid | Upper | Adria | 212.117.165.141:9000 | A tropical island region. |
| OSGrid | Upper | Dreamland | 92.105.216.163:9010 | A pretty tropical island region. |
| OSGrid | Middle | Gateway 7000 | ucigrid04.nacs.uci.edu:9007 | UC Irvine's gateway to middle regions. |
| OSGrid | Upper | Heaven | 92.105.216.163:9013 | Another pretty tropical region. The landing point is under water. |
| OSGrid | Upper | HyperGrid Market Upper | 66.240.205.7:9500 | Empty island |
| OSGrid | Upper | Paradise | 92.105.216.163:9011 | Another pretty tropical region. The landing point is under water. |
| OSGrid | Upper | Samsara | 66.240.232.94:9010 | (The landing point is next to a stargate Region also has a very nice freebie store.) |
| OSGrid | Upper | Snoopies | 66.240.232.94:9011 | This region is home to a little island with one of the best free furniture shops around. |
| OSGrid | Upper | UC Irvine | osl3.nac.uci.edu:9000 | UC Irvine's gateway to upper regions. |
| ReactionGrid | Upper | HG Gateway 2 | hypergrid.reactiongrid.com:9009:HG Gateway 2 | ReactionGrid's gateway to upper regions. |
| ReactionGrid | Middle | HG Gateway 1 | hypergrid.reactiongrid.com:9009:HG Gateway 1 | ReactionGrid's gateway to middle regions. |
| ReactionGrid | Lower | AmberMyst | hypergrid.reactiongrid.com:9005:Code Torque | An island region near the center of ReactionGrid. |
| ReactionGrid | Lower | Core1 | grid.reactiongrid.com:9000 | ReactionGrid's main landing point and central meeting location. |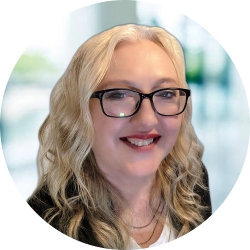 Latest posts by Maria Korolov
(see all)