Coca-Cola's virtual presence in There.com is now history, but few other enterprises will be affected by the loss of this virtual world, experts say.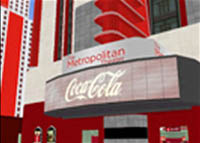 "Unfortunately, There.com ceased operations," Coca-Cola said in a statement. "As CCMetro is part of the larger There.com environment, CCMetro closed as well."
The company said it is now reviewing alternative virtual world environments, and is soliciting suggestions from its customers.
CCMetro was a 3D social world designed to engage visitors with the company's brand in a virtual environment. Other companies that dipped their toes in There.com's virtual waters included MTV, Scion and Spin.
Michael Wilson, CEO of Makena Technologies — There.com's parent company –Â  announced the shutdown of his company's There.com world in a letter two weeks ago, and promised a limited buy-back of the world's virtual currency.
"There are plenty of other virtual worlds who will be more than happy to step in and take on those clients," said Caleb Booker, an analyst at UK-based virtual worlds research firm Clever Zebra. "VSide, for instance, is a social world that targets the same demographic and relies heavily on a corporate sponsorship model. IMVU is bigger than ever, and I' sure would have no problem at all doing cross promotions with various brands. There's also Kenova, which offered an official invitation to There.com's user base the other day and most closely resembles their business model."
Other virtual worlds have also stepped up with invitations to There.com's user base. Second Life, for example, created a virtual community starting point for There.com emigres.
Going even further, Vancouver-based Utherverse Digital, Inc. offered to give away shiny new Rays, the currency of the Utherverse virtual world, in return for the now-defunct Therebucks.
The reason? "So that users were not left penniless after putting in so much time, and in many cases, so much work, into There.com," Utherverse CEO Brian Shuster told Hypergrid Business.
In addition, Utherverse created an entire new virtual world — ThereNewWorld.com — for the new arrivals. "It is very similar to the look and feel, as well as the activities, of There.com," Shuster said.
Utherverse also operates the Red Light Center, Virtual Vancouver, and the business-focused Virtual World Web.
So far, more than 800 former There.com residents have moved over to the Utherverse platform, he said.
Privately-held There.com had not released its user numbers, and calls to the company were not answered.
The goal isn't just to attract users, however, but also to bring in the kind of big-budget high-profile corporate marketing projects that a large user base makes attractive.
"We have not seen major enterprises, such as Pepsi or MTV, roll out with us yet, but I would not be surprised if they were in touch in the near future," Shuster said.
According to Makena Technologies, the company partnered with MTV Networks to provide the technology platform for their virtual worlds from 2006 to 2009.  These included Virtual Laguna Beach, The Virtual Hills, Virtual Pimp My Ride, Virtual Real World, Virtual Newport Harbor, Virtual Video Music Awards, Virtual Kaya, Virtual Rob and Big, and Virtual Life of Ryan.
Enterprises using virtual worlds for more than marketing — for collaboration, training, and meetings — have not been affected by There.com's closing, since the world was designed more for social interaction than for business.
"There.com was targeted specifically at consumers, not enterprises," said Booker. "Enterprises didn't use There.com at all. They did, however, occasionally work with the parent company to run special promotions — which only happened a few times."
A There.com spin-off, Forterra Systems, was able to sell the enterprise-focused Olive virtual environment to companies — at least, until it sold off Olive last month and shut its doors.