Press Release: USDA Awards Contract for Teleplace as a vGov Virtual World Platform
Teleplace to Provide Secure Virtual World Environment for Federal Government Agencies
REDWOOD CITY, Calif. – Teleplace, Inc., a leading provider of trusted collaboration solutions, today announced that the U.S. Department of Agriculture has awarded a contract for the Teleplace secure virtual workspace platform for use in the vGov virtual world project. Teleplace teamed with Three Wire Systems, LLC, as the prime contractor, to win the contract award, which will provide the USDA and its vGov agency partners: U.S. Air Force, Department of Homeland Security, National Defense University and U.S. Department of State with virtual worlds software and services.
vGov is a federal government interagency virtual world project that is providing a secure virtual world environment for use in government-wide solutions.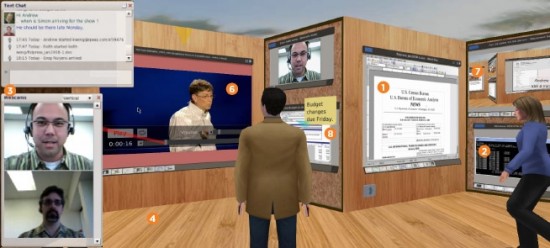 "Teleplace secure virtual workspaces are already in use by U.S. government agencies, such as the Air Force, Army, Navy and Department of Veterans Affairs, for advanced training and collaboration," said Teleplace CEO, Greg Nuyens. "We look forward to our involvement in vGov, which will extend the significant benefits of virtual world implementations to many government users."
Teleplace is for government agencies and large corporations that want to deploy powerful distributed training, collaboration and project management virtual workspaces that are easy to deploy and use. Teleplace is the only enterprise-class collaboration solution that enables cross-platform application sharing both behind the firewall and in the cloud. The unique vPresence(tm) technology in Teleplace securely combines VoIP, chat, and video with a virtual application command center to accelerate data-centric collaboration.
"The USDA contract award is an important virtual worlds project win and we look forward to more opportunities to work together with Teleplace to provide government agencies with software and services that meet their strategic initiatives," said Dan Frank, managing partner of Three Wire. "Having cost-effective, award-winning virtual worlds solutions, and a partner like Teleplace that is easy to work with, allows us to be responsive to the government's needs and has enabled us to win multiple contract awards."
For the vGov project, Teleplace will leverage its extensive enterprise integration capabilities to integrate virtual worlds technologies with the USDA's IT infrastructure. The Teleplace platform already includes a broad range of enterprise-class capabilities such as support for Active Directory and LDAP, end-to-end encryption, pervasive authentication and access controls, and support for a wide range of enterprise applications and document formats.
For more information about Teleplace, visit www.teleplace.com.
About Teleplace
Teleplace Inc., creates trusted collaboration solutions to help enterprises manage data-intensive projects and operations across multiple locations. Teleplace is a secure virtual workspace that combines voice, video and chat communications with multi-application and document sharing, enabling more efficient workflows among distributed teams, suppliers, and customers. Teleplace provides application collaboration solutions to more than 100 Global 500 and mid-size customers, including leading firms in the energy, semiconductor, education, manufacturing, financial, healthcare, and government sectors.
About Three Wire Systems
Three Wire Systems, LLC is an award winning service-disabled veteran owned small business (SDVOSB). Founded in 2006 and headquartered in Vienna, VA, Three Wire is a highly-respected provider of IT solutions for the U.S. federal government. With core competencies in IT and Health Solutions including virtual collaboration, Web 2.0 technologies, cyber security, cloud computing, infrastructure and IT Service Management, the company provides mission-oriented solutions while upholding the highest standards of integrity in our relationships with customers and partners.

Latest posts by Press Release
(see all)