Philip Rosedale who recently returned to the helm of Linden Lab, gave his first major speech of his second term as CEO on Saturday with a couple of bold announcements — Second Life was definitely rolling out meshes, and the Teen Grid will soon close.
Rosedale gave no firm deadline for meshes, saying only that they will be in "public beta" by the end of the year. Mesh support would allow more realistic avatars, better hair and clothing that drapes naturally on the body instead of looking as if it's painted on. This is nice for immersion, but more importantly for business users, mesh support would allow architects to import 3D models of houses from their professional architectural design programs, would allow manufacturers to import parts from their CAD-CAM systems, allow companies to hire professional designers to produce realistic environments, and let end users import 3D objects from outside sources — such as Google's 3D Warehouse.
The impact of this for OpenSim is that almost all OpenSim users today use one of the Second Life-compatible viewers. If Second Life supports meshes, OpenSim developers would be able to roll out main mesh support as well in the standard distribution of OpenSim.
In fact, OpenSim already has a mesh module, called modrex, but it requires a non-Second Life-compatible viewer to see the meshes, so it hasn't seen any widespread adoption and isn't included in the standard distribution.
As far as the Teen Grid is concerned, Rosedale didn't give a firm timeline. He did say, however, that 16- and 17-year olds would be moved to the  Main Grid — and that the rest of the Teen Grid would be shut down. He explained that this was because the Teen Grid wasn't growing as fast as the Main Grid.
The immediate reaction to this announcement was negative, with educators speaking up during the question-and-answer session after his speech, and posting on blogs. Some educational institutions have invested quite a bit of time and effort in securing approvals and funding to create a presence in Second Life, said one speaker.
This may inspire more of them to take a look at the available OpenSim-based options, such as ReactionGrid. Though the latter's prices have changed recently, educators can still get a decent deal. At just $75 a month, and a $220 setup fee they can get up to 25 concurrent users — on four regions.
More educators in OpenSim should also help usher in more demand for high-quality voice, better presentation tools and higher concurrencies — all of interest to business users, as well.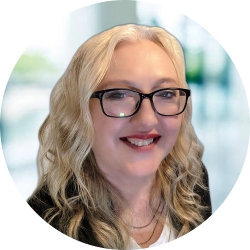 Latest posts by Maria Korolov
(see all)