Would be sim-commerce millionaires gathered at the Hypergrid Entrepreneurs Group meeting Thursday night on the Trombly Grid to discuss recent innovations in OpenSim hosting, currency systems, and selling real homes and real furniture in virtual environments.
Towards the end of the meeting, the conversation somehow turned to virtual sex (okay, I turned it) and why there didn't seem to be any grids in OpenSim dedicated to this pursuit.
For example, I hypothesized, someone could rent, say 16 regions for around $10 a region from one of the providers at the meeting, create a central business area with clubs, shops, and other commercial destinations — and give away all the surrounding land for free to virtual escorts. The area would need a currency, with the G$ an obvious choice. (OMC from Virwox might also work, but only if its owners were okay with using the currency for adult purposes.)
If the area was hypergrid-enabled, anyone could teleport in from any of the 50-plus grids currently on the hypergrid. And with the more secure Hypergrid 1.5 standard now out, the number of grids so connected is expected to snowball.
With the media-on-a-prim support available in the latest OpenSim release, the virtual escorts could set up web cams in their virtual homes, or play movies by simply adding the Web address to any surface.
Certainly after a long day at a virtual desk, I can see the appeal of teleporting over to a virtual red light district, hitting a few clubs, knocking back a few virtual drinks, buying someone a sexy new dress and taking her home to watch her model it. Not that I would… I'm just saying.
Virtual land in OpenSim is cheap enough that an open-minded landlord could potentially make substantial profits from such a setup, by simply renting out stores to merchants, or taking a percentage of the sales. And what would a bustling downtown area be without flashy electronic billboards, street musicians, and other potential revenue sources?
Then, by pure coincidence, I opened my inbox after the meeting was over and found a new research report showing that virtual sex was as satisfying as the real thing.
According to a study conducted recently by Loyola Marymount University in Second Life, 43 percent of those surveyed were more satisfied with sexuality in Second Life, while 42 percent preferred real life.
With numbers like this, I'll be surprised if we don't see a massive explosion of  adult activity in the OpenSim universe, where there are no rules at all, and the land costs are a tenth — or less — of what they are in Second Life.
But those of us in the business world but not in the worlds oldest business, will virtual sex make an impact?
Absolutely — just as it did on the Internet.
If virtual relationships, and virtual sex are as satisfying as the real thing — and much less messy — we'll see an explosion of users flooding into the virtual worlds, demand more bandwidth from their providers, and buying bigger, better and faster computers. That's good for those of us in the telecom industry, and in the computer hardware industry. Netbooks just don't cut it here. You want a nice, big screen with which to enjoy your virtual relationship.
These computers and network connections can then be used for all sorts of other purposes, such as sim-based commerce, education and training, virtual travel, research — anything and everything where immersion can make a difference.
And as users get familiar with the technology, they will be more amenable to using it at work, for collaboration, training, and team building.
Will we become a nation of plugged-in couch surfers, like in the movie "Surrogates"?  Using virtual avatars as picture-perfect stand-ins at work and in life?
That's a question for the sociologists to answer.
For business, the relevant question is how soon will it happen? And new industries will it create?
Meanwhile, here's the full text of the Loyola Marymount University announcement:
Studies: Online Relationships Better Than Real Life
August 12, 2010
LOS ANGELES – Participants in 3D virtual worlds are more satisfied with the romantic relationships they form online than with their real-life relationships, and their levels of sexual satisfaction are similar across both worlds, according to two studies conducted by researchers at Loyola Marymount University.
LMU psychology professors Richard Gilbert and Nora Murphy surveyed users of Second Life, an online community where participants navigate 3D avatars through a fully immersive environment. The studies will be presented at the American Psychological Association's annual conference this weekend in San Diego.
Among their findings:
In five categories of marital satisfaction, Second Life users rated their online relationship better than their real-life relationship.
Half of users felt they could communicate more openly with their Second Life partner than their real-life partner, and more than a third said they have a "stronger connection" with their online partner.
70 percent of users said a Second Life relationship is like a long-distance relationship in real life, but only 19 percent had met their online partner in person.
Participants split on which context provided greater sexual satisfaction, with 43 percent more satisfied with sexuality in Second Life, and 42 percent preferring real life.
"These studies make it clear that online relationships are no longer just a way for people to meet over the Internet and transition into a real-world relationship," Gilbert said. "Participants in the immersive environments of Second Life and other online worlds are building separate and distinct lives for themselves, including intimate relationships."
The research is part of the LMU Psychology Department's PROSE (Psychological Research on Synthetic Environments) project. Other studies have focused on how students learn in 3D virtual worlds, and the effect that using able-bodied avatars has on users with disabilities.
The surveys took place in 2009 and were separately administered to 199 and 217 users in the PROSE project's lab in Second Life. In the relationships survey, all participants were involved in a romantic relationship in Second Life, and 71 had a real-life relationship with someone other than their online partner. In the sexuality study, all respondents had prior sexual experience in Second Life.
The researchers acknowledged several factors that may have impacted the studies. Users reported relatively short Second Life relationships, and the online world may present fewer opportunities for arguments or miscommunication than a real-life romance where partners spend more time together. Additionally, avatar partners in the virtual realm can be constructed to reflect any sexual or beauty ideal, and may therefore be more attractive than participants' real-world partners.
"Avatars and immersive environments are proliferating, and relationships – including sexual ones – will occur with greater frequency," Gilbert said. "Our surveys offer an initial glimpse at empirical data from these realms. As 3D virtual worlds increase their user base and realism, we expect more attention and research to be directed toward this aspect of human interaction."
About Loyola Marymount University
Located between the Pacific Ocean and downtown Los Angeles, Loyola Marymount University is a comprehensive university offering 53 major programs, 32 master's degrees and a doctoral degree in education from four colleges, two schools and Loyola Law School. Founded in 1911, LMU is ranked fourth in "Best Universities with Master's Programs in the West" by U.S. News & World Report. LMU is one of the largest Catholic institutions of higher education on the West Coast with nearly 5,500 undergraduate students and more than 3,000 graduate and law students.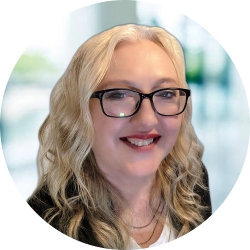 Latest posts by Maria Korolov
(see all)