Press Release: Teleplace Enterprise Fall '10 Adds SharePoint Support, Enterprise-Class Enhancements
Commercial, Government Customers Benefit From Enhanced Collaboration, Security, Scalability, Manageability
REDWOOD CITY, Calif. – Teleplace, Inc., the leading provider of enterprise-class immersive learning and collaboration solutions, today announced the immediate availability of Teleplace Enterprise Fall 2010. Teleplace Enterprise is in use by many large commercial and government customers to provide immersive collaboration, learning and training solutions for their global, distributed workforces.
Teleplace Enterprise Fall '10 includes new collaboration and security capabilities such as the ability to view and co-edit SharePoint documents, automatically provision and de-provision Teleplace users across multiple Active Directory domains, and securely broadcast video over encrypted connections from one virtual workspace to another. In addition, the new version of Teleplace Enterprise provides enhanced scalability and manageability including increased system throughput, better load balancing, support for more simultaneous users, and greatly enhanced service performance self-testing, reporting and centralized management capabilities.
"Large commercial and government customers are increasingly deploying mission-critical immersive applications that bring people together in more engaging, real-time environments," said Anthony Nemelka, president and CEO of Teleplace. "Teleplace Enterprise Fall '10 delivers on our continued commitment to the enterprise, providing large customers with the highly secure and collaborative enterprise-class capabilities they need to drive further adoption of immersive and socially-enabled learning and collaboration solutions across their organizations."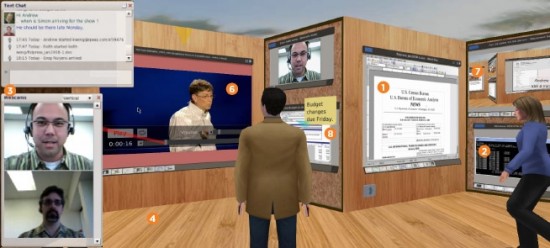 The new collaboration and security enhancements in Teleplace Enterprise Fall '10 include the following:
Review and co-edit SharePoint documents within Teleplace, from both Mac and Windows desktops, while storing and sharing documents in the same SharePoint repositories used across the organization.
Build, organize and store 3D objects in Teleplace more easily using new and enhanced tools for creating, co-editing and cataloging 3D objects.
Broadcast video over secure, encrypted connections from one virtual workspace to another, enabling teams to share videos with broader audiences without granting full access to all workgroup content.
Make Teleplace available to all employees across the enterprise with no additional provisioning – Active Directory handles login, authentication, provisioning and de-provisioning across multiple domains.
Deliver high fidelity VoIP without the need for headsets to Windows Vista and Windows 7 users – echo cancellation support enables the use of built-in microphones and speakers.
The new release also provides additional scalability and manageability capabilities:
Scalability improvements that deliver up to 25 percent greater throughput per system, improved load balancing across system resources, and support for up to 25 percent more simultaneous users without adding additional system resources.
Manageability enhancements including a more comprehensive collection of system self-tests, more centralized management capabilities, better support for distributed installations and improved test reporting.
About Teleplace
Teleplace, Inc., www.teleplace.com, creates enterprise-class immersive learning and collaboration solutions to help large-scale, highly dispersed commercial and government organizations address their most advanced learning, training and collaboration needs. Teleplace delivers the reliability, availability, scalability, security and integration capabilities required by the world's largest enterprises, including leading firms in the financial services, manufacturing, energy, technology, higher education, healthcare and government sectors.

Latest posts by Press Release
(see all)