Press release: Sococo Debuts Team Space at Demo Fall 2010 New Communication Service For Professionals Demonstrated at Premier Silicon Valley Confab
SANTA CLARA, CA — At DEMO Fall 2010, Sococo® debuted Sococo Team Space, a group communication service for distributed teams. Team Space is built on Sococo's revolutionary communication platform. Sococo provides always-on smart spaces that help people communicate more naturally and effectively. Smart spaces automatically connect people with multi-channel communications and also enable them to visualize where they are and what's going on around them.
Team Space is an always-on service that promotes more effective communication. Team Space presents an intuitive visual layout that depicts an office floor plan with individual offices, conference rooms and common areas. Visual cues allow you to see who's in the office, who's busy, who's free and who's meeting with whom. A simple click allows you to enter any room and be instantly connected to all those within with voice, chat, and multi-screen sharing. Since Team Space is always-on there are never any web meetings to schedule, access codes to distribute, or delays while waiting for attendees to locate codes and join your meeting.
"It is just like working in a real office where you simply enter a co-worker's office to speak, share ideas and share screens. I can simply tell a colleague, 'come into my office for a minute I want to go over a document with you' and it works!," said Tom Radian, CTO, SkillaDo. "Never in all my years as an R&D manager have I worked with such an intuitive and friendly system as Sococo Team Space."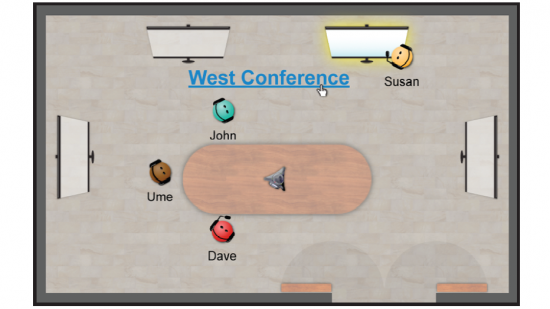 The Sococo Service
Sococo is a new mode of online communication that uses smart spaces to connect people using audio, video, data, and custom-defined communication channels based on their virtual location. A single click allows you to enter a virtual location where you are instantly connected to everyone there with multiple communication channels, plus a visualization that shows all the people involved and provides cues as to what they are doing.
Sococo establishes peer-to-peer or cloud mediated connections between everyone within the same virtual space, monitors those connections for quality and performance, and determines the best path to achieve the optimal user experience.
"Sococo was founded on the idea that something fundamental was needed in online communication services," said David Van Wie, CEO and Sococo founder. "We believe that online communications can and should provide the same kind of visual cues and interactions people experience in everyday life. People should be able to communicate naturally and easily"
Availability
Sococo Team Space for Windows beta is available now. Download Team Space for Windows at www.sococo.com
Sococo Team Space for Mac OS X is currently in alpha. If interested in Team Space for Mac OS X, please contact Sococo at www.sococo.com/contact
About Sococo
Sococo was founded in 2007 to develop technology for the rapidly restructuring telecommunications industry. All Sococo services are built on a patented, cloud-based platform for reliable and optimal interoperability. The company is privately-held and headquartered in Mountain View, CA. For more information, visit www.sococo.com

Latest posts by Press Release
(see all)