Press release: Teleplace Named a 2010 Top Training and Simulation Company by Military Training Technology Magazine
Selected Companies Are 'Top Performers' in Military Training Industry
REDWOOD CITY, Calif. — Teleplace, Inc., the leading provider of enterprise-class immersive learning and collaboration solutions, today announced that Military Training Technology magazine has named it one of the Top Training and Simulation Companies for 2010. Teleplace also received special recognition as one of the most significant companies in the industry and was awarded a yellow ribbon to designate it as a quickly rising and up-and-coming organization.
According to Military Training Technology, the awards recognize "the top performers in the industry. These companies have been singled out for recognition for a significant impact in the military training industry." An impartial panel of judges selected the winning companies "based on various criteria which, in part, included total military sales volume, innovation and program effectiveness." The awards were announced in the magazine's September issue.
"We are pleased to be recognized by Military Training Technology for our innovative, immersive learning and training solutions," said Anthony Nemelka, president and CEO of Teleplace. "In the future, most enterprise-class training applications will be built in 3D immersive environments where users can interact with training materials, data, social media and each other in real time. The Air Force, Army and Navy are already realizing the benefits of Teleplace immersive learning solutions for training globally distributed personnel."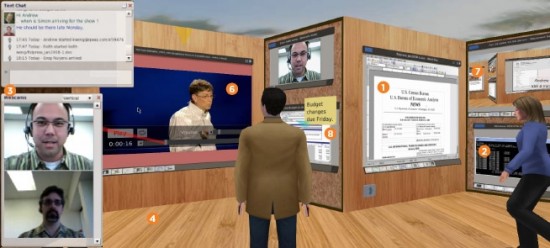 The Air Force, Army and Navy are using Teleplace for distributed training and learning exercises, including information-centric simulations and virtual instructor-led classrooms.
The Navy uses Teleplace to create virtual mock ups of submarine command centers and perform individual and collective training to teach crews how to operate systems and equipment, and execute missions as a team.
The Air Force's Air Education Training Command, as part of its MyBase project, used Teleplace for virtual instructor-led classroom training of enlisted personnel to save time and reduce costs by eliminating the need for trainees or instructors to travel to physical training facilities.
The Army TRADOC provides a complete virtual environment for teaching about specific incidents by using Teleplace to hold pre- and post-simulation virtual classroom briefings in conjunction with incident simulation exercises it had already built in Active Worlds.
For more information about Teleplace, visit www.teleplace.com.
About Teleplace
Teleplace, Inc. creates enterprise-class immersive learning and collaboration solutions to help large-scale, highly dispersed commercial and government organizations address their most advanced learning, training and collaboration needs. Teleplace delivers the reliability, availability, scalability, security and integration capabilities required by the world's largest enterprises, including leading firms in the financial services, manufacturing, energy, technology, higher education, healthcare and government sectors.

Latest posts by Press Release
(see all)