Press Release: Leading Providers to Create Virtual Environments Around the Virtual Edge Summit 2011
Global audiences will have access to Summit content and networking via 6Connex, Digitell, Expos2, INXPO, Social27 and Unisfair virtual experiences
Pleasanton, CA –Today, the Virtual Edge Summit 2011 (http://www.virtualedgesummit.com) announced that the Summit content will be showcased in virtual event environments created by 6Connex, Digitell, Expos2, INXPO, Social27 and Unisfair. The summit, which addresses how to successfully leverage virtual technology for associations, events, learning and business, will be held from January 12-13, 2011 at the MGM Grand Convention Center, Las Vegas and virtually. Register today for an advanced registration discount.
According to TSNN's recently released report, "2010 Virtual Event Report: Insights and Trends from Industry Insiders", three-quarters of respondents recognize virtual as a way to extend the experience of a physical event.
"Last year, we received positive feedback from our audiences when we revealed this format for our hybrid event," explained Michael Doyle, executive director of the Virtual Edge Institute, which produces the event. "This is a unique opportunity for our audiences to experience and evaluate multiple platforms, while enabling 6Connex, Digitell, Expos2, INXPO, Social27 and Unisfair to demonstrate their virtual expertise by creating virtual experiences that enrich engagement, networking and learning."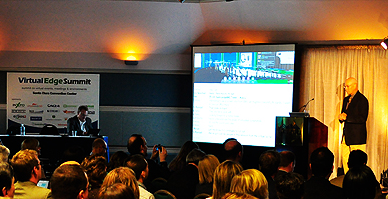 One Summit, Several Virtual Experiences
Whether test driving one or multiple virtual environments, virtual attendees will have access to Summit content and networking on five separate virtual event environments provided by 6Connex, Digitell, Expos2, INXPO, or Unisfair. With just a single login and password, virtual attendees can select one or more of the virtual environments.
"In 2010 I attended the Virtual Edge Summit for the first time. As a virtual participant one of the most interesting aspects of this conference, as opposed to other hybrid events I have attended, was the availability of multiple platforms. As far as I know, VES is the only conference offering this feature, and uniquely distinguishes it from other similar events," stated Michael McCurry, Corporate Strategic Account Manager with Experient.
About Virtual Edge Summit 2011
The two-day summit includes 30-plus educational sessions and workshops from 80-plus industry experts on digital solutions for events, meetings, learning and community. The Summit is designed to help attendees rapidly evaluate, implement and maximize virtual programs within their organizations. Register and learn about advanced registration discounts today.
The Virtual Edge Summit 2011 will be co-located with the Professional Convention Management Association's (PCMA) 2011 Annual Meeting, Convening Leaders, which brings together more than 3,000 meetings professionals to discuss issues impacting the meetings, convention and exhibition industry. Follow the conversations on Twitter: @virtualedge or #VES11
About The Virtual Edge Institute
VirtualEdge.org is an organization dedicated to advancing the development and adoption of virtual event and meeting technology and best practices for collaboration and marketing. They do this by supporting and contributing research, education, thought leadership, promotion, and professional networking. VEI members help set the direction for the virtual events and meeting industry and create significant business opportunities, solutions and advantages for all. Members have access to various services and deliverables based on their membership level. Learn more at http://www.virtualedge.org.

Latest posts by Press Release
(see all)