Press release: Utherverse Announces Interactive Virtual Karaoke to its Massive 50,000 Site Virtual World Web (VWW) Network
Working with Karaoke Innovator SingSnap Allows Singers to Perform for Live Audiences and Overcome Real-World Stage Fright
VANCOUVER, B.C. – Virtual world developer Utherverse Digital Inc. today announced the addition of 3DTunes.com, an interactive karaoke world, to its network of more than 50,000 virtual worlds. The unique karaoke platform lets users bypass stage fright and perform in hundreds of clubs and in front of thousands of real, live audience members – for fun or in hopes of being discovered. This
follows up on an explosion of karaoke clubs, bars, and worlds that has been taking place in the Virtual World Web (VWW), a vast network of independently developed, interconnected virtual worlds courtesy of the new 3D Internet.
Utherverse worked closely with SingSnap to introduce karaoke to its virtual worlds network. SingSnap offers a library of thousands of songs, and has a true membership social community of singers and listeners who enjoy sharing their singing performances. In the VWW, anyone looking for fun, fame, and fortune can take advantage of the interactive karaoke to get discovered as a star.
"Karaoke is the perfect social activity for the Virtual World Web," said Brian Shuster, Utherverse founder and CEO. "3DTunes.com is truly interactive and allows everyone, good or bad, to show off their singing talents." On the flat web, people might post a video of themselves singing online for others to stumble upon, but karaoke in a virtual world gives people the rush of being onstage, allowing for instant recognition. "We already see some truly talented singers gaining large followings on Utherverse," said Shuster. "We fully expect to see some singers and entertainers cross over to achieve success and fame in the mainstream entertainment industry," he added.
Within an Utherverse world, various destinations such as virtual clubs or bars offer karaoke events. Anonymous users can request to be a singer, and their avatar will then ascend to the stage. The avatar performs the song with the user's vocals to hundreds or thousands of active virtual world audience members. Through social interaction features, the audience can easily discuss and promote the singer. Utherverse distributed the karaoke feature to dozens of its high-profit worlds to give them a truly interactive entertainment option, and is making the feature available to all 50,000 worlds.
The karaoke service is offered free to Utherverse members as an additional entertainment and interaction option. Utherverse is continually generating features such as real-time karaoke that promote the 3D web over the "flat web" and to help create a truly unique user experience. Utherverse's massively multiplayer online community platform has grown exponentially to more than 50,000 distinct worlds, each managed by "worldmasters" who use Utherverse's tools and integration options to build and promote their own unique worlds.
For more information on the Virtual World Web, visit www.TheVWW.com. Additional information about Utherverse can be found at www.utherverse.net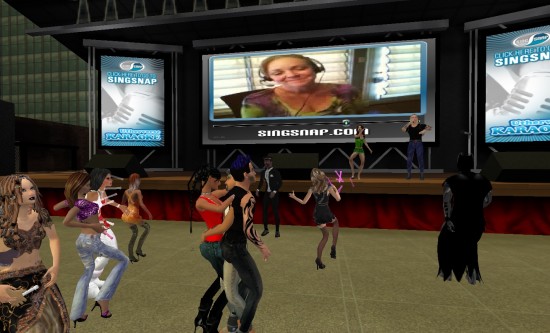 About Utherverse
Utherverse is the leading developer of the 3D Web, the Virtual World Web (VWW), which currently consists of more than 50,000 independently operated virtual worlds. The company was formed in 2002 with the goal of supplementing the flat web with a 3D web that could bring a new kind of efficiency to businesses and users, in entertainment, education, commerce and charity.
Among Utherverse's offerings are the Virtual World Web -TheVWW.com – which provides simple software that enables anyone to create their own Virtual World, and Virtual-Vancouver.com, a music-focused online community.
For more information, please see http://www.utherverse.net

Latest posts by Press Release
(see all)