Kitely offers OpenSim hosting in the cloud — ridiculously easy to use and ridiculously cheap for low-traffic regions.
Now, anyone can have their own sim up and running in less than two minutes, at a cost of $0.10 per region per month — yup, ten cents — with an extra usage charge of $0.20 per hour per user. (If you're the only one using your regions, and you're on it for the typical ten hours a week, that comes out to $8 a month.)
Registration is through Facebook. There's no need to log in — Kitely takes care of that for you, and takes you right to your sim. You can keep your region private, share it with everybody, or only allow access to a particular Facebook group.
I hope that Linden Lab and other OpenSim hosting providers pay attention to Kitely's user interface, which is remarkable for its simplicity.
Usability
With Kitely, there are no setup fees, tier payments, estates — you click a button, and you get your sim.
"It's very easy, and very fast," said Juan Guzzy, Â a botanist, landscaper and visual artist in Mexico. It was easier and faster than he expected it to be, he added. Guzzy has never owned land in OpenSim before, though he has visited OSGrid, the largest grid running on the OpenSim software. He's also had land in Second Life — the house plot that comes with premium membership.
But he had no problems building in his new OpenSim region, since he was using the same viewer that he's familiar from in Second Life.
In the future, he said, he plans to start using the Imprudence viewer, which will allow him to import his creations from Second Life and upload them to his new region.
Guzzy said that he plans to use his Kitely land to hold free classes, in Spanish and English, about using Blender, and about landscaping.
He is currently building a region titled "Xochitecpancalli," which means "the palace of flowers" in the native Nahuatl language. The word also refers to a style of landscape architecture that dates back to the fifteen century in Central Mexico, he said. The region is designed to share plant, landscape and horticultural knowledge, he told Hypergrid Business.
With Kitely, he can have as many regions as he wants, with just $0.10 per additional region per month.
"I could make one for Blender 3D and — why not? — and another with cultural content like music and poetry," he said.
No other hosting provider currently makes virtual land available so quickly and so easily.
The only similar service in terms of simplicity is VenueGen, which is primarily designed as a business meeting venue. But VenueGen only lets customers select from a limited array of pre-built environments. In addition, there is no editing of in-world content, no inventories, and no social network integration. VenueGen runs fully in the browser. Similar browser-based environments include Web.alive, Assemblive, 3DXplorer, and 3DVia Scenes.
Other OpenSim hosting providers should take a look at Kitely's user interface, since a similar concept — with different authentication mechanisms — can be used to sell land on any grid.
Some features that are particularly compelling:
Automatic account creation based on existing identities. Kitely currently supports Facebook, but Twitter, LinkedIn, OpenID and enterprise directory integration is in the works. LinkedIn integration would be particularly useful for grids dedicated to corporate meetings and networking. Support for LDAP and other enterprise directory mechanisms would be great for schools, colleges and companies looking to run private grids.
Automatic login. Once you're on the Kitely site, you click a button to enter a sim and Kitely automatically launches your default viewer, logs you in, and plops you down in the middle of the region. Users don't have to lift a finger, remember their password, or figure out how to edit the Second Life viewer filename path or add a new grid to the Imprudence grid selection tool. It's not particularly hard to do any of these things, but it's annoying, and a certain percentage of users will give up at each step.
Automatic avatar creation. Users who log in for the first time get a default male or female avatar, based on their gender, as well as an inventory with a collection of starting items and textures. The same approach can be used on other grids, with perhaps a greater choice of avatars, or a more fully-stocked default inventory. Some grids do currently offer a choice of starting avatars, but most require users to pick avatar names, passwords, and genders.
Automatic region setup. If you want a region, you just give it a name, upload an OAR or pick from a couple of pre-built options, and it's done. I don't believe any existing grid makes it this easy, or this fast.
Ease of use does mean fewer choices. By automatically using the Facebook name and gender for login, authentication, and avatar creation, Kitely removes the freedom of choice to pick your own avatar name.
One compromise is to hide the least-used alternatives behind an "Advanced" or "More Options" menu tab. For example, a grid could automatically place new regions on an open location close to the mainland, but surrounded by water on all sides. The advanced menu will allow users to manually select a location for their region.
Scalability
By hosting their regions on the Amazon EC2 cloud, Kitely doesn't have to own or rent any servers of its own. Instead, it grabs computing power from Amazon when it needs it.
But having your own, dedicated servers does make substantial economic sense for high-traffic regions. For example, if a particular region has, on average, 20 users on it at any given time then it would cost $2,976 to run it on Kitely for 31 days.
Where cloud-based hosting makes sense is for off-loading low-traffic regions. With a large enough grid, this will more than make up for occasional spikes in usage on those regions. Regions that start to get busy on a regular basis can then be moved back over to regular servers. Regions that aren't accessed at all over the cost of a month will cost just $0.10 to keep up.
It might slow down in-grid teleports a little, as Amazon has to get the region out of storage and rev it up. But Amazon is getting faster — and cheaper — on a steady basis, so this is a good long-term bet.
That's not to say that there won't be some significant technical challenges to overcome. Kitely spent two years working on their backend systems. Grids will have to figure out how to move regions quickly between their own servers and the cloud. In addition, they will have to figure out how to handle adjacent regions. Today, if you stand on a sim, you can look into the eight other sims surrounding it. But if they're all cloud based, then those sims won't be loaded up until you actually step on them – and you won't want to step on them if it looks like there's nothing there. One option is to pre-load all eight adjacent sims, in case users decide to visit them, but this would increase hosting costs nine-fold.
Kitely is considering solving this problem by loading up megaregions — groups of four or nine regions that all run in a single instance of OpenSim. Grids can have their high-traffic, mainland regions hosted on servers and running 24-7, and have all other regions as isolated islands, or isolated mega-regions.
Cloud hosting is also a great option for occasional large events. In fact, SpotOn 3D already offers cloud-based event hosting as an option for its customers, at $5 an hour for up to 100 concurrent users. This would cost $20 on Kitely — assuming that all 100 users logged in promptly and stayed for the whole hour.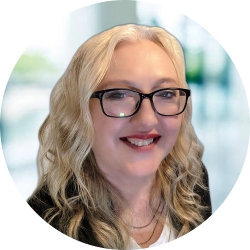 Latest posts by Maria Korolov
(see all)