Press Release: Lockbox and VastPark Announce Strategic Alliance
SAN JOSE, CA – Lockbox and VastPark today announced the formation of a strategic partnership that would use each company's complementary strengths and expertise to create the defining platform in the emerging private, 3D virtual world arena.
Using healthcare as an example: The security provided by Lockbox far exceeds the criteria set forth by the Health Insurance Portability and Privacy Act (HIPAA). Combine this with VastPark's healthcare-based virtual world development and you have a solution that allows physicians, patients, caregivers, government agencies and insurance carriers the ability to collaborate from wherever they are, to provide the best course of treatment for patients — securely and virtually at the same time.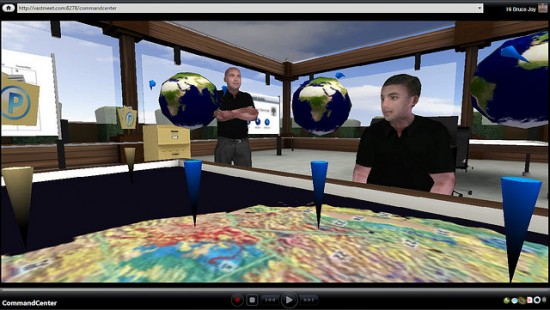 Lockbox is providing its suite of highly proven security and privacy components which allows for the sharing, distribution and collaboration of confidential information among personally identified and trusted parties. The Lockbox technology will be integrated into VastPark's award winning, avatar-based, immersive, 3D virtual world platform, to provide highly private, compartmentalized in-world data, protected by distributed encryption technology based on federal and cryptographic standards.
"Our partnership will provide the best-in-class platform which will enable companies and organizations to securely share confidential information in real-time using an environment that goes way beyond the usual confines of their brick and mortar locations," said Phil Robertson, business development manager at Lockbox, Inc. "This alliance is the beginning of a convergence of technologies for creating another level of security and privacy within the virtual context and will be offered as either an in-house or as a cloud-based solution".
"There is a huge concern regarding putting information in the cloud, and rightly so considering the recently revealed security breaches, but with the integration of Lockbox within the VastPark platform, the possibility of a successful attack from unauthorized access is eliminated," said Lori Kavle, president of VastPark USA. "Unlike other vendors, the Lockbox solution ensures privacy by encrypting data end to end and is only accessible by trusted, invited third parties who are given special access keys. The ability to work in VastPark's virtual world with these features will be an incredible experience and major advancement in cloud based technology. The result will bridge multiple vertical markets including government, healthcare, legal, and financial and operations that require a higher level of security while working virtually."
Both companies are actively seeking qualified value-added resellers, independent software vendors and IT solution providers.
About Lockbox
Lockbox provides an industry leading privacy and identity management platform that encompasses a highly proven suite of security and privacy components which are fast, modular, scalable, secure and easy to integrate with existing services. Lockbox is especially suited to environments dealing with information that is private, sensitive or confidential. For more information, visit:Â http://www.lock-box.com
About VastPark
VastPark was founded in 2007. The VastPark platform is open, extensible and is the next generation of Virtual World technology and is a proud winner of the US Federal V-Gov contract. VastPark US is headquartered in Wayne, Pa., with offices located in Arlington, Va., with globally distributed teams. For more information, visit: http://www.vastpark.com

Latest posts by Press Release
(see all)