Press release:Â Avination hires full-time community manager
LONDON, U.K. — Avination Virtual Limited has hired Jolanda Mastenbroek as Community Manager for the grid, the company announced today. Mastenbroek will be known inworld Avination as Joyce A-Team. Her primary focus is to build up social, cultural and educational communities.
Mastenbroek will be offering value-added options to community leaders in Avination. This includes community gateways and RegAPIs for their dedicated websites, allowing them to grow their community base most effectively. She will also manage company sponsored events.
"Jolanda joins Avination at a prime time," said Micheleh Center, public relations manager for Avination. "As summer goes away, more of our users will be returning. With Jolanda in her new role, we provide users with the support needed to continue our growth and to have the fun they came here for."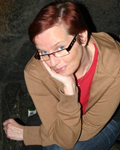 "Virtual world community management is a fairly new profession and I am proud that I've been given the opportunity to help this profession grow," said  Mastenbroek.  "I am looking forward to working with Avination, but most importantly with its community — to socialize, innovate and co-create with each other in this 3-dimensional environment where you visualize your dreams."
Mastenbroek's arrival marks nine total employees and approximately twenty five volunteers for Avination. A short biography for Mastenbroek and other staff members may be found here.

Latest posts by Press Release
(see all)