Because of its community and stability, Second Life is still the destination of choice for companies looking for a virtual world platform, said experts participating in a Second Life Community Conference panel about choosing the right virtual world.
"Communities are amazing in Second Life," said Chris Collins, CEO of Tipodean Technologies. "You don't just go out and replicate that in another platform." Collins was previously general manager of the enterprise division at Linden Lab, but his company now focuses on OpenSim and Unity 3D development.
Enterprise-focused virtual world platforms like ProtoSphere, VastPark, VenueGen, Avaya's Web.alive, Altadyn's 3DXplorer, Assemblive, Teleplace, SAIC's Olive, ReactionGrid's Jibe and SecondPlaces' Unifier don't offer common meeting areas where users from various companies can come together to share experiences, buy or share content, or attend public events. Instead, each company's deployment of such a platform is a private, standalone world, and all content either has to be created from scratch by professional designers or imported and adapted from third-party mesh marketplaces.
Second Life's in-world creation tools also allow people to build together, which isn't an option in any of these other enterprise-focused virtual world platforms.
"The primary question I would ask… is whether you want to rapidly show [prototypes] to people and collaborate with people?" said Ron Blechner, virtual world consultant and panel moderator. "If you do, I think Second Life is actually a pretty good place to start from."
Choosing Second Life is not only about community, it is also about cost and stability — even when compared to free, open-source platforms like OpenSim.
"Many people think that Open Simulator costs less, and that's not necessarily so," said Kimberly Rufer-Bach, owner of The Magicians, a  software development company that focuses on Second Life. "You can rent a region for less perhaps, but that doesn't mean your content's going to cost less, or that you're going to be able to get the content you want."
In-world scripts also work better in Second Life, she added.
"In Second Life, the script engine is less flaky," she said. "If you're going to do something with a lot of interactivity and a lot of moving parts running around, heavily scripted systems, Second Life is still the place to be, closely followed by OpenSimulator. I would normally pick Second Life out of the box."
Jeroen Frans, CEO of the virtual design firm The Vesuvius Group, agreed that Second Life is more stable than OpenSim, and has a large user base.
"The weakness is the scalability," Frans said. Second Life regions are limited in the number of avatars they can hold, and creating multiple copies of the same region for events can quickly get very expensive.
Web-based worlds
But Second Life shouldn't be the first choice for companies looking to create an easy to use virtual world environment — especially one that needs to be accessed via a Web browser.
"To get a little controversial at a Second Life community convention, I would probably recommend going with Unity 3D if you're starting from scratch," said Tipodean's Collins. "What's interesting about the Unity 3D platform is that you can run it multi-player, and that can be a multi-player client-server model, and it can be multi-player peer-to-peer model."
It is a particularly fast and easy way to get a standalone virtual environment up on the Web, he added.
"You do that in half an hour," he said. "And 70 million people have the [Unity] browser plug-in installed. It has its own marketplace with a ton of assets. They've got 500,000 developers. Ten of the top 25 iPad games are built with Unity. It runs on pretty much everything."
Tipodean has a service where they convert existing OpenSim regions to Unity 3D, and there are free tools available for companies looking to create scenes from scratch. For companies looking for a richer in-world experience, Jibe and Unifier are full virtual world platforms built on top of Unity 3D.
There are non-Unity 3D Web-based virtual world platforms as well. These include Web.alive, VenueGen, and 3DXplorer.
"Web.alive is really simple to use," said Blechner. "You don't get a whole lot of interactivity out of it but it busts through firewalls pretty easily, and they have desktop sharing built in and the avatar customization is fairly straightforward and easy, and it works in a plug-in in your browser."
Unity 3D is an easier environment in which to create new content, however.
"Web.alive is geared more toward out of the box," he said. "If you want to do heavier simulations and you want to program in more things, then I would lean more toward Unity 3D."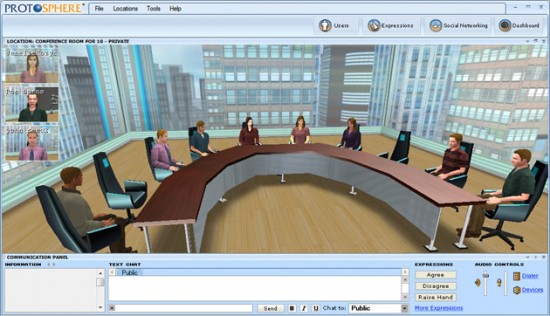 ProtoSphere and SAIC's Olive are downloadable platforms, so possibly less convenient for users.
But the companies behind them have experience developing rich content for enterprises, Blechner said.
Teleplace and VastPark are the other major commercial enterprise platform that require a separate viewer to access them.
Ask the right questions
According to the panelists, the choice of the right platform starts with asking the right questions.
""Does the client need high concurrency for events?" asked Rufer-Bach of The Magicians. "Do you need foot traffic or do you need some kind of security behind a firewall? Do you need a permissions system, groups, physics? Do you need to advertise within the platform or use a web-based integrated service? Is this project about functionality, looks, or both? Do you need or want to repurpose your existing assets like 3D models, or will you want to export them afterwards? What kind of budget do you have? Is this for a consumer audience, or is co-creation part of the draw?"
A knowledgeable consultant can help a customer find answers to these questions, and then choose a platform that fits. Unfortunately, there's no easy-to-use tool for doing this.
"It's too complicated," said Rufer-Bach. "It's always changing."
Companies can also test out different platforms, and research their features.
"I'd love there to be a nice easy flowchart for choosing a platform, but it doesn't always work like that," added Blechner. "It takes a whole lot of work really comparing everything about a virtual world, considering all the different uses. Learning it yourself is probably the best way because you get more of a direct feel."
One additional question was contributed to an audience member: "What's the best virtual world I should use for my project? I want to make a million dollars in virtual reality in twelve months."
Blechner rephrased the question in terms anyone could understand: "So the question is, 'How can I scam people very quickly?'"
Frans, of  The Vesuvius Group, took a more serious approach.
"Honestly, I think Facebook would be first place," he said. "Make a Facebook game and earn a million dollars."
Latest posts by Lawrence Pierce
(see all)