AMSTERDAM — Chatbots.org, the Industry Catalyst of Intelligent Virtual Characters, reveals a business directory of almost 300 companies in conversational AI, (3D) avatar animation, speech synthesis and speech recognition and visual biometrics, and an additional Vendor Selector tool to select providers, designed for corporations in the middle of their buying process.
An Intelligent Virtual Character, also chatbot, is a software program capable of holding interesting, interactive and emotional conversations with human beings. Currently, most implementations are text-based: A chatbot responds to typed input by the human user with intelligent yet character based output. However, recent innovations like Apple's Siri demonstrate clearly that speech is the next step.
Although most chatbots used to be of entertaining nature, these days, businesses tend to focus on serious applications such as web self service relieving their human colleagues from live chat in contact centers, e-learning and serious gaming. Intelligent Virtual Characters in call centers are often referred to as virtual agents (in the US), sometimes as 'virtual assistants' (in Europe) or in general 'chatbot', 'brand agent' or 'avatar'. Chatbots.org has an up-to-date list with synonyms available, currently more than 149.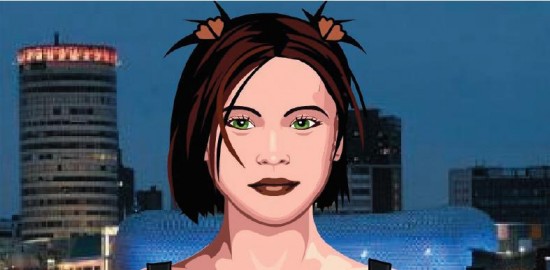 The main application for chatbots in this turbulent economy is used within the contact center industry. Research has shown that corporations have saved significantly on their human customer service employees as chatbots are much cheaper than human resources. In addition, they are always in line with their brand, they will always answer correctly and they are readily available 24/7. Other research has shown that consumers prefer chatbots above talking to offshore call center employees based in for example India.
Although its main application is currently based on textual conversations, the future of chatbots lies in full-body conversations. With the unstoppable rise of devices with build-in microphones and cameras, brands will discover the potential of chatbots and turn them from functional devices into brand agents, capable of having intelligent and emotional conversations. By then, these agents will look like human beings, will have a human tone of voice , including imperfections in their voice, and their virtual faces and bodies will portray humanlike expressions, just like human beings in a similar situation would do. They will respond to our voice, our body expressions and always within the context of a conversational history. Computers will resemble human beings.
In today's market, various component technologies, when combined, are capable of simulating full body communication. Each element in face-to-face conversation could be simulated by technology. Let's see how this works: Communication starts with recognition of our conversational partner (biometrics: visual identification or voice recognition), then we watch, listen and distill meaning from words, context and body language (speech analysis, gesture recognition, computer vision), followed by intelligent processing of our observations (artificial intelligence) and expression of what we feel and think (speech synthesis and 3D animation). So, all components are readily available, with artificial intelligence being the toughest one of all. However, as said, these technologies are not yet integrated due to a variety of reasons; however this should come into fruition in the near future.
Futurist Erwin Van Lun, CEO & Founder of Chatbots.org: 'We are extremely excited to reveal those companies who will have a major impact on our industry in the future. As technology can only evolve with adoption of earlier versions of technology as created by these businesses, we are pleased to present tools which should help the acceptance of these technologies in order to move forward in the future."
Companies information
Companies specialized in conversational artificial intelligence, semantic search & smart faq systems:
http://www.chatbots.org/companies/
Companies specialized in character animation, computer generated 3D avatars, 3D virtual humans:
http://www.chatbots.org/companies/animation/
Companies specialized in automated speech recognition (ASR), speech synthesis (TTS) and voice based IVR
http://www.chatbots.org/companies/speech/
Companies specialized in visual biometrics: iris recognition, face recognition, finger print recognition:
http://www.chatbots.org/companies/biometrics/
Related Companies like face recognition, augmented reality and automated surveillance
http://www.chatbots.org/companies/other
The Vendor Selector Tool
http://www.chatbots.org/vendor_selector

Latest posts by Press Release
(see all)