Press Release: 3rdRockGid.com launches Occupy World Peace Virtual Initiative
The owners of 3rdRockGrid.com have thrown their support and solidarity behind the efforts of the Occupy protest movement sweeping the world.
"From our collective position, this is not only a noble step, but a necessary one in order to bring the discussion of the most important of issues of the workings of our world to the forefront of our lives," said Jim St. Clair, owner, 3rd Rock Grid. "A serious correction in our global vision is needed, and the Occupy movement has the promise to change the conversation and force these issues to be faced."
As part of its support, 3Rd Rock Grid has set aside a mega-region, "World Peace," for the initiative.
"The association with the 99% is appropriate," St. Clair said. "The target of the movement's effort is the wealthiest 1% of the world's citizens – and New York's Wall Street is the quintessential representation of where the discussion should begin. The events of the last few months have been one of the most historically important in our human history. Many people are rallying behind the movement in cities throughout the world, and the power of 3rd Rock Grid's 3D virtual environment can be used to enhance the movement by echoing and furthering the Occupy message."
The first gathering of the Occupy World Peace Initiative participants will be on Saturday, November 12 at 9:00 AM (3RG/Pacific) in 3RG at the World Peace region.
"We invite our virtual 3RG virtual citizens, friends, and family to create a masterpiece together, and in the spirit of the Occupy movement the space will be defined by the participants, using a similar format to the General Assembly procedures adopted by many Occupy sites worldwide," St. Clair said.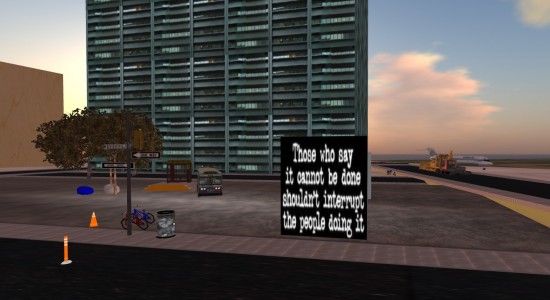 About 3rd Rock Grid
3rd Rock Grid (3rdrockgrid.com) is one of the oldest OpenSim-based virtual worlds, originally launched in February 2008. The philosophy of 3rd Rock Grid is to provide a safe and fun environment for its citizens. The grid is community powered having created a citizen core of 25 regions that are developed by the community, have a citizen organizational charter, and have ongoing meetings.
3rd Rock Grid management fully supports the process of community building and appreciates the ongoing efforts of its citizens to support the grid. 3RG uses a currency named Geodes to provide virtual commerce opportunities.  For questions or additional information please send your questions to [email protected]

Latest posts by Press Release
(see all)