Press release: Virtual Tradeshows Provide Affordable, New Marketing Opportunity for the Building Industry
Exhibitors can save up to $100,000 or more with online events compared to physical tradeshows, according to new white paper
Seattle, Wash. — In an era of tight marketing budgets, virtual tradeshows provide a cost-effective way for companies in the building industry to stay engaged with customers, and identify potential new customers, reports a new whitepaper from GreenExpo365. Building product manufacturers, service providers, trade organizations, and others can obtain customer leads and increase their marketing reach, while saving up to $50,000 to $100,000 or more over exhibiting at a physical show.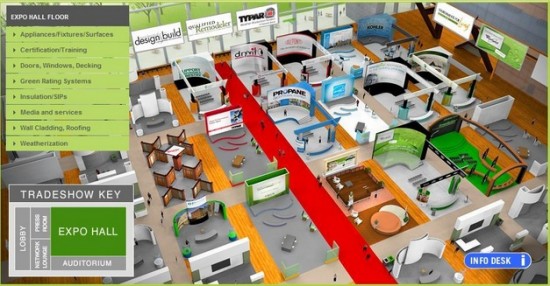 The paper, "Is it Time to Trade-in Your Tradeshow?" cites research on the costs versus benefits of exhibiting online, and includes recommendations on factors to consider when evaluating virtual tradeshows. Download the paper for free at http://exhibitor.greenexpo365.com/white-paper/.
Key issues the paper explores include:
How exhibitors can use virtual tradeshows to connect with customers year around, versus for only a few days, without the high costs of booth production, staffing and travel
The types of enhanced sales lead data available from virtual tradeshows, including automatic capture of contact information, as well as which materials the leads downloaded, the educational sessions they attended, and other facets of their needs and interests
Attributes to look for in virtual tradeshows, including the audience size and characteristics, type and frequency of outreach to attendees, event duration, pricing, and services provided
Among the findings reported in the paper, 64% of marketers cite the ability to reach a larger audience for less money as the top reason for participating in virtual events, according to a Unisfair, Inc. survey. Further, 60% of marketers plan to increase spending on virtual events this year, while 42% plan to decrease spending on physical conferences and tradeshows.
"Virtual tradeshows can be a great way for companies of various sizes and budgets to expand their marketing reach," said Scott Donnelly of GreenExpo365. "Exhibitors can use online platforms to supplement their physical tradeshow presence, or in some cases, replace it. We don't see traditional tradeshows going away, but virtual shows provide an innovative and affordable option to consider."
About GreenExpo365.com
The award-winning GreenExpo365.com site is an online information resource and community for architects, builders, remodelers, building material dealers, code officials, manufacturers and others interested in green building design and construction. It offers regular "Live Events" in an online tradeshow format that includes expert presenters and product exhibitors, bi-weekly webinars on a host of green building topics, on-demand continuing education courses registered with the American Institute of Architects (AIA), and 24/7 interaction on blogs and discussions. As of autumn 2011, the site has 11,000 registered users. http://www.greenexpo365.com.

Latest posts by Press Release
(see all)