Press release: ITE and EON Reality to Set-Up Centre for Virtual 3D Learning in Singapore
IRVINE, CA — EON Reality, Inc., the world's leading interactive 3D software provider, today announced that ITE — Institute of Technical Education, Singapore, has signed a MOU — Memorandum of Understanding — to collaborate in various areas in 3D applied technologies.
Since its formation in 1992 the Institute of Technical Education has trained more than 350,000 of Singapore's workforce, who have contributed significantly to the nation's economy and growth. Following the launch of the first two comprehensive Colleges, ITE College East in 2005 and ITE College West in 2010, ITE will open the third and final comprehensive College, ITE College Central in Ang Mo Kio, in January 2013 which will host more than 10,000 students.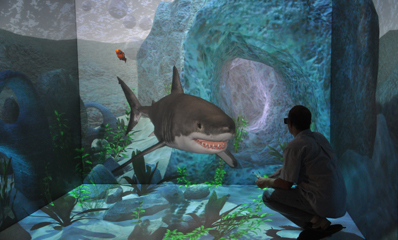 ITE and EON Reality will jointly set up a Centre of Technology at the new ITE College Central in Ang Mo Kio, where Singapore's first fully immersive 4-wall EON Icube will be installed to fuel minds and excite learners. The authentic game-like interactive 3D environment will significantly increase the engagement of today's digital learners by using innovative learning methods, enable them to comprehend concepts faster, ignite their curiosity to investigate, and foster community learning. As part of the collaboration, students will gain hands-on learning experiences and industry-relevant training opportunities through internship programs and overseas attachments.
Mr. Bruce Poh, Director and CEO of ITE, is upbeat about the collaboration as he shared, "EON Reality brings to us 'classrooms of the future' with the use of 3D Virtual Reality to simulate real-life scenarios that will engage students in an immersive environment. As 3D technologies become more popular, we are glad to collaborate with EON Reality to ride on the Virtual Reality wave to enhance the educational experiences of our students."
Mats W Johansson, CEO of EON Reality, Inc., echoed Mr. Poh's sentiments, "EON Reality is proud to partner with ITE, one of the leading colleges for vocational education and training in the region. By providing the latest interactive 3D solutions to ITE, we see a strong opportunity to value-add to the education and further development of a strong local Singapore workforce in industry verticals such as Marine, Offshore, Aerospace and Retail."
For further information, visit: The Institute of Technical Education (ITE), Singapore: www.ite.edu.sg EON Reality: www.eonreality.com

Latest posts by Press Release
(see all)