Press release: ALTADYN® Introduces Patent Pending Technology For 3D Virtual Events, The First Self Service, Instantly Setup Full 3D Immersive Platform For Virtual Events With No Download Required
Irvine, California – Altadyn announced its new platform today: 3D-VirtualEvents.com. Offered in SaaS mode on the cloud, it has been designed for corporations and event professionals who want to stay away from boring slideshow-driven webcasts, in favor of more engaging and entertaining ways to run virtual events like virtual conferences, virtual training, virtual classrooms, virtual tradeshows and other virtual meetings.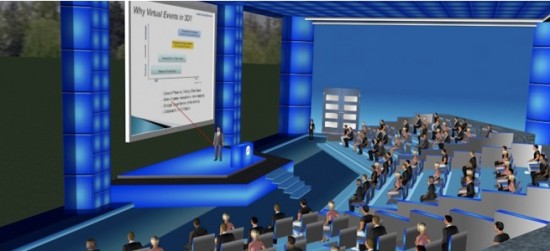 "Compared to our previous platform, 3D-VirtualEvents.com is much easier to set up, being instantly available by use of our new wizard," said Darius Lahoutifard, Altadyn's CEO.  "The updated user interface allows event attendees to take advantage of the rich and engaging aspect of a 3D avatar-based platform without the learning curve which usually goes with it. Altadyn's patent pending technology is based on a disruptive technology that makes high-end 3D immersive spaces for collaboration accessible to users with mainstream computers in enterprise environments. While similar technologies require heavy or proprietary software downloads and installations,3D-VirtualEvents.com runs in current browsers on typical office computers and only requires Java, the largely installed open source component."
Here are some key elements of Altadyn's technology included in a small Java applet, which loads seamlessly as the user clicks on a hyperlink:
A fully immersive 3D engine with physics capabilities
Customized avatars able to walk, sit, talk, raise hands, manipulate objects, point objects or screens with laser pointers, and more
Desktop sharing and remote control
Synchronized 3D object manipulation: rotation, translation, scaling. Optimal for product design review, product training, product launch, games, and more
Integrated voice over IP
Integrated instant messaging – moderated, private or public
Integrated in-world audio and video streaming
Open architecture enabling users to import 3D objects and 3D spaces from other external 3D formats
Open API enabling development in Java, Javascript, and HTML5
Main applications covered by the new 3D-VirtualEvents.com platform include not only virtual conferences, virtual tradeshows, virtual classrooms, and other corporate gatherings such kick-offs, training, on-boarding meetings, and so on, but also eLearning, serious games, collaborative sessions for product design review, product specific trainings, live 3D chats on websites, permanent 3D virtual worlds for communities or 3D spaces on websites for permanent show rooms and exhibition halls.
For a limited time, event professionals are offered a $100 credit for their first event, under the free trial program available here: http://www.3d-virtualevents.com/. They will also be eligible to win an iPod by attending the initial product launch 3D conference demo on January 12. Registration is open to all here: http://www.3d-virtualevents.com/launch-contest/
About Altadyn
Altadyn® is changing the way we meet, learn, teach, collaborate, socialize, market, sell, transact. The company is emerging as the leader in 3D Virtual Events, 3D websites and other live 3D synchronous collaboration such as web conferencing, virtual trade shows, virtual exhibitions, live meetings, virtual classrooms and more. Altadyn's platforms are the only web 3D platforms which are immersive, interactive, and do not require any download or installation and work with any browser on any computer. Altadyn® is already delivering value to major customers including National Defense University, US-Air Force, Saint-Gobain, Old Dominion University, Saint Joseph University, Cubic, Aptima, Dell Inc., Crawford & Co and more. Altadyn operates globally with offices in Irvine, California, and Paris, France. For more information, visitwww.altadyn.com.

Latest posts by Press Release
(see all)