Cyberlightning announces $4.2 million funding round, accelerating global growth of industrial internet of things platform
Managing Director of Inventure Joins CyberLightning's Board
OULU, Finland – CyberLightning Ltd. today announced completion of a $4.2 million financing round, including commitments from Inventure, TEKES, the Finnish Funding Agency for Innovation, and EU sponsored funds. The company also announced the appointment of Inventure Managing Director Sami Lampinen to CyberLightning's board.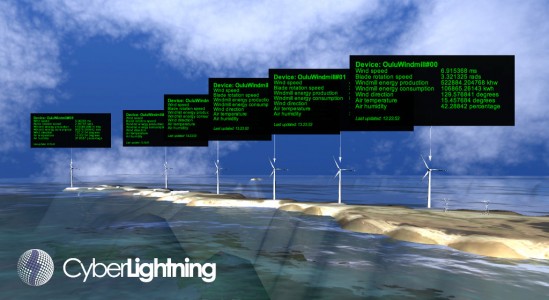 CyberLightning works in the large domain of Industrial Internet of Things, big data and 3D Internet. Its end-to-end software platform CyberVille allows corporate customers to capture data from numerous sensors and measurement points, to analyze the captured data, and to present it in business intelligence dashboards. Introduced in May 2014, the platform provides organizations with a strategic tool to control complex sensor and machine networks using a simple interface on any mobile device. The funding round allows CyberLightning to accelerate growth and push its international expansion.
Sami Lampinen, Managing Director at Inventure comments: "Industries are exploding with data; there is huge and growing demand for versatile, global data capture and data mining to produce mission critical business info. We believe that CyberLightning can become the leading software vendor in the Internet of Things domain, simplifying complex data and providing organizations with valuable real-time insights."
"By building on open-source, standards-based Internet technology and following a modular architecture approach, we are able to accommodate a very wide range of data sets and readily integrate with existing enterprise platforms and tools," said Ville Mickelsson, CEO of CyberLightning. "This is giving us terrific traction, both with initial customers and in discussions with potential partners in the global IoT ecosystem."
About CyberLightning
CyberLightning is paving the road to the 3D Industrial Internet of Things by offering tools to better understand complex information and improve business operations using stationary and mobile platforms. The company was founded in 2010 at the Center for Internet Excellence at University of Oulu, Finland. CyberLightning is a member of IPSO (Internet Protocol for Smart Objects) Alliance and a Tizen Association partner. More information is available at www.cyberlightning.com
About Inventure
Inventure is a leading early-stage venture capital company in the Nordics and Baltics. Inventure invests in innovative and fast-growing companies, led by exceptional entrepreneurs and willing to disrupt their industries. Inventure's team is a great mix of experienced entrepreneurs, industry experts, and investment professionals committed to help start-ups build global success stories. Inventure operates in Helsinki, Finland, and Shanghai, China. For more information, please visit www.inventure.fi.

Latest posts by Press Release
(see all)