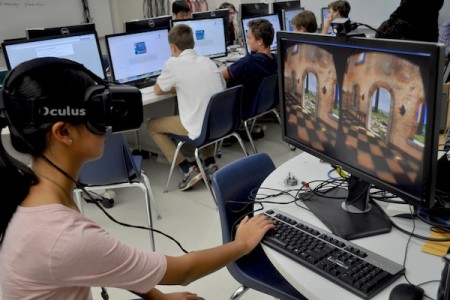 Press Release: First Classes in U.S. to Use Oculus Rift Virtual Reality System at Charlotte Latin School
CHARLOTTE, N.C. — The art, engineering and programming students at Charlotte Latin School are the first students in the U.S. to use the Oculus Rift virtual reality system in their classes, announced Arch N. McIntosh, Jr., the school's headmaster. The technology is integrated into formal Upper School engineering classes.
Students are developing simulated worlds using Blender and the Unity Game Engine software that run on the Oculus Rift headsets.
Students are enhancing their studies by using the Oculus Rift to program experiences where users become immersed in a virtual world.
Visual arts, engineering and computer science students are collaborating to create multidisciplinary projects.
Charlotte Latin's STEM program is developing into a STEAM program that fosters innovation and critical thinking skills.
Charlotte Latin was the first school in America to integrate the Raspberry Pi computer into its curriculum. The simple computer was first used by the school in 2012 in Middle School girls' engineering classes to teach Scratch programming.
Charlotte Latin School introduced an engineering curriculum in its Middle School in 1989. The program has evolved into a school-wide STEM (science, technology, engineering and mathematics) curriculum that is taught in the second through twelfth grades.
Founded in 1970, Charlotte Latin School is an independent, coeducational, non-sectarian, college-preparatory day school serving 1,400 students in transitional kindergarten through grade 12. Charlotte Latin does not discriminate on the basis of sex, race, color, age, religion, sexual orientation or national origin in the administration of its educational programs, admissions policies, employment practices or other school-administered programs. For more information, visit www.charlottelatin.org.
For teachers and students who are interested in learning more about Charlotte Latin's engineering program and the use of the Oculus Rift in the classroom, please contact Charlotte Latin engineering teacher Tom Dubick at [email protected].

Latest posts by Press Release
(see all)